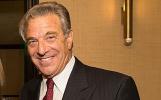 Report: Body Cam Footage Shows Paul Pelosi Opened Door For Police, Contradicting DOJ's Claims
The Department of Justice claimed in their indictment of Paul Pelosi's alleged nudist attacker that "two officers opened the door" to his San Francisco home before witnessing him getting attacked but body cam footage reportedly shows Pelosi himself opened the door for police and stayed inside the home with his alleged assailant rather than run to safety.
... (more)

---
---
Biden Says He Plans to Change 'Nothing' in Wake of Red Wave Evaporating
Joe Biden doesn't have to do anything to win over new voters in the next two years because he's just that good.
... (more)

---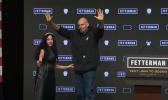 John Fetterman, Brain-Damaged Stroke Victim, Declared Victor in Pennsylvania Senate Race
John Fetterman, the brain-damaged stroke victim who needs a computer spitting out closed captions to understand speech and struggles to speak in complete sentences, was declared victor in Pennsylvania's Senate election late Tuesday night.
... (more)

---
Kanye: My Lawyer Told Me I'll Lose Custody of My Kids If I Keep Up The 'Anti-Semitic Rhetoric'
Ye said Sunday night on Parler that he was told by his custody lawyer Bob Cohen that he will lose custody of his children if he keeps up his "anti-Semitic rhetoric."
... (more)

---
Video Shows Charlamagne Tha God, Who Labeled Kanye 'A Nazi,' Saying Jews Run Hollywood And The Music Industry
Charlamagne tha God attacked Kanye "Ye" West as "a Nazi" earlier this week over his comments about Jewish control of the media and music industry but newly surfaced video shows Charlamagne himself saying exactly the same thing.
... (more)

---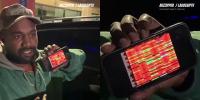 Kanye Criticizes The "Red Media," Asks "Why is Saying 'White Lives Matter' Anti-Semitic?"
Ye, formerly known as Kanye West, went off on the "red media" and questioned why saying "White Lives Matter" is considered "anti-Semitic" while speaking with press and fans in Los Angeles on Friday night.
... (more)

---
Israeli President Says He's 'Extremely Pleased' With Kanye Getting Canceled; Reveals He Met With Biden to Condemn Ye
Israeli President Isaac Herzog went on CNN with Wolf Blitzer on Wednesday to announce he's "extremely pleased" with Kanye "Ye" West being canceled for making "anti-Semitic" remarks and revealed he personally met with President Biden at the White House to discuss Ye's "anti-Semitism."
... (more)

---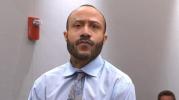 Anti-White Extremist Darrell Brooks Found Guilty in Waukesha Christmas Parade Massacre
Darrell Brooks, the anti-white extremist who murdered six white people and injured dozens of others at a Christmas parade in Waukesha last year, was found guilty of six intentional first-degree homicide counts and a host of other charges on Wednesday.
... (more)

---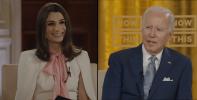 Biden Says It's 'Morally Wrong' For States to Ban Child Sex Changes
It is "morally wrong" for conservative states to ban child sex changes and puberty blockers, Joe Biden told a "transgender" TikToker who was dressed as a woman at the White House on Friday.
... (more)

---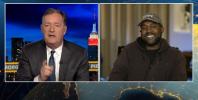 Kanye Mocks Piers Morgan as a 'Karen' in Contentious Interview [UPDATE: Full Interview Released]
Ye mocked Piers Morgan as a "Karen" during an interview on Wednesday and told the smarmy Brit, "You can't cancel me."
... (more)

---

Maryland's New 'Emmett Till Alert System' Issues First Alert at 'Severe' Level
The Caucus of African American Leaders in Maryland have resuscitated the Bush regime's "Terror Alert" system but instead of putting out vague warnings that Muslim terrorists are poised to strike at any moment they're putting out vague warnings insinuating that roving white gangs organized on the dark web are gearing up to mass lynch black people.
... (more)

---
Trump Praises Kanye in Wake of 'Anti-Semitism' Accusations
Former President Donald Trump had nothing but praise for Ye during an interview on Tuesday, despite him facing accusations of "anti-Semitism" for criticizing the "Jewish media."
... (more)

---
---

Ye Calls Out George Soros: 'Come And Meet With Me Directly' Instead of Sending Your Puppets to Attack Me
Ye, the artist formerly known as Kanye West, called out globalist billionaire George Soros by name on Tuesday and told him to "come and meet with me directly" instead of having his puppets in the "Jewish media" attack him.
... (more)

---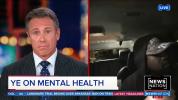 Chris Cuomo Admits He's On Antidepressants Seconds After Accusing Ye of Being Mentally Disturbed
Disgraced former CNN host Chris Cuomo, who now works for some random YouTube channel, had Ye on his show Monday and tried to accuse him of being mentally disturbed for holding "anti-Semitic views" before admitting he himself takes antidepressants "every day."
... (more)

---
Kanye Interview Pulled From YouTube, N.O.R.E. Apologizes For Airing Ye's 'Hurtful' Comments
Ye's interview with Revolt TV's Drink Champs was taken down from YouTube on Monday after amassing over 2 million views.
... (more)

---
"Y'all Done Poked The Bear Too F--king Long": Ye Goes Off On "Jewish Media" in Controversial Interview
Ye, the artist formerly known as Kanye West, went off on the "Jewish media" for slandering him as crazy and trying to take him down in a wild interview with Drink Champs released late Saturday night.
... (more)

---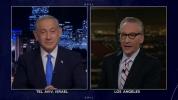 Bill Maher Asks Netanyahu if Israel 'Would Have to Become an Apartheid State' if Jews Became a Minority
HBO host Bill Maher asked former Prime Minister Benjamin Netanyahu on Friday if Jews becoming a demographic minority in Israel would necessitate Israel becoming "an apartheid state."
... (more)

---
Activist Confronts AOC at Town Hall Over Support for Ukraine War, Gets Suspended by Twitter for 'Harassment'
An anti-war activist confronted Rep Alexandria Ocasio-Cortez at a public town hall event on Wednesday over her "support for nuclear war and Ukrainian Nazis" only to get locked out of his account by Twitter for "harassment."
... (more)

---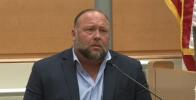 Alex Jones Ordered to Pay Nearly $1 Billion in Connecticut Sandy Hook 'Show Trial'
Famed radio talk show host Alex Jones on Wednesday was ordered by a Connecticut jury to pay an astronomical $965 million in damages to Sandy Hook families and an FBI agent for calling the mass shooting a "hoax" a decade ago.
... (more)

---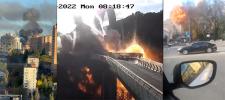 U.S. Condemns Russia For Conducting U.S.-Style 'Shock And Awe' Bombing of Ukraine
The US on Monday condemned the "utter brutality" of Russian president Vladimir Putin for conducting a US-style "Shock and awe" bombing campaign in Ukraine.
... (more)

---
NYT: Senior Ukrainian Official Confirms Ukraine Orchestrated Truck Bomb Attack on Crimean Bridge
The New York Times reported Saturday evening that a "senior Ukrainian official" corroborated Russian reports that Ukraine was behind the truck bomb attack on the Crimean bridge which killed at least three civilians.
... (more)

---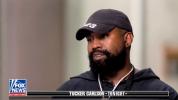 Kanye Slams Kushner Family, Says Israel 'Peace Treaties' Were 'To Make Money'
Kanye West went off on Jared Kushner and his brother Josh during his interview with Tucker Carlson on Thursday and said they only arranged the Abraham Accords "peace treaties" with Israel "to make money."
... (more)

---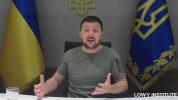 Zelensky Says NATO Must Launch 'Preemptive Strikes' on Russia
Ukrainian president Volodymyr Zelensky is calling for NATO to launch "preemptive strikes" on Russia "so that they know what awaits them if they use nuclear weapons."
... (more)

---

U.S. Buying $290M Worth of Anti-Radiation Drugs for Use in 'Nuclear Emergency'
The Biden regime is buying up $290 million in anti-radiation drugs for use in "nuclear emergencies" amid escalating tensions with Russia and heightened threats of a nuclear war.
... (more)

---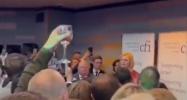 British PM Liz Truss: "I am a Huge Zionist and a Huge Supporter of Israel"
Newly appointed Prime Minister Liz Truss declared her undying support for Zionism and Israel during a conference with the Conservative Friends of Israel on Sunday.
... (more)

---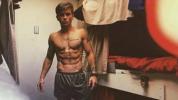 'Today is The Start of My New Life': Sailor Accused of Setting Fire to USS Bonhomme Richard Found Not Guilty
Ryan Sawyer Mays, the sailor accused of setting fire to the USS Bonhomme Richard in July 2020, was found not guilty on Friday by a military judge.
... (more)

---
UN Official Says 'We Own The Science' on 'Climate Change' And Work With Google to Suppress Opposing Viewpoints
A United Nations official told the World Economic Forum on Thursday that they "own the science" on "climate change" and have partnered together with Google to suppress opposing viewpoints in search results.
... (more)

---

Biden Thanks Coast Guard Diver For Saving Lives in Florida - Plans to Fire Him in Days Over Vax Mandate
"President Joe Biden on Friday personally called to thank a Coast Guard rescue swimmer -- who is facing discharge over Biden's vaccine mandate -- for saving people's lives during Hurricane Ian," Breitbart reports.
... (more)

---