---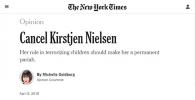 NYT's Michelle Goldberg: Kirstjen Nielsen Should Be Blacklisted, Made 'A Permanent Pariah'
New York Times writer Michelle Goldberg wrote a column on Monday calling for newly-resigned Homeland Security Secretary Kirstjen Nielsen to be blacklisted by Corporate America and made "a permanent pariah" due to her role in the Trump administration.
... (more)

Documents Detailing Google's 'News Blacklist' Show Manual Manipulation of Special Search Results...
---
---
---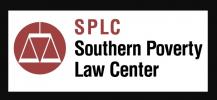 SPLC Calls On Corporate America to Blacklist Former Trump Officials
Will this finally make the GOPe give a damn about mass deplatforming and corporate censorship?
... (more)

---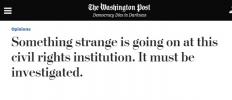 WashPo: 'The Feds Need to Investigate The SPLC's Finances'
The former managing editor of the Montgomery Advertiser, Jim Tharpe, has called for the Internal Revenue Service and the civil rights division of the Justice Department to investigate the Southern Poverty Law Center's tax-exempt status and shady money practices.
... (more)

---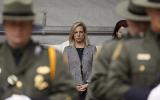 Kirstjen Nielsen Resigns in Disgrace
One week after making a fool out herself on Tucker Carlson's show Homeland Security Secretary Kirstjen Nielsen has announced she's resigning.
... (more)

---
---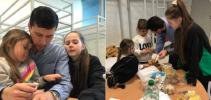 Sweden Seizes Russian Dad's Kids to Give to Muslim Family, Dad Takes Kids Back And Flees to Poland
A Russian father who had his three daughters taken away from him and placed with a Muslim foster family by Swedish social services took his daughters back and fled to Poland where he's now been given refuge.
... (more)

---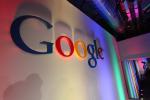 Leaked Emails Suggest Google Is A Leftist Cult
Google can't even buy off the Heritage Foundation without their cult-like leftist employees having conniption fits!
... (more)

---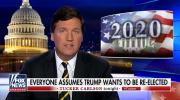 Tucker Points Out Trump Is Doing The Opposite Of What He Ran On
On his show Thursday night, Fox News host Tucker Carlson posed the question, "What if Trump doesn't want to be re-elected?"
... (more)

---

Study: Right-Wing 'Dominates Online Political Debate'
The right is crushing it on social media, according to a new study.

Naturally, the media is calling for mass censorship as a result and labeling said right-wingers as "far right."
... (more)

---
---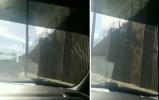 VIDEO: Migrant Clips Barbed Wire Off U.S. Border Fence In Broad Daylight
A Twitter user shared video on Wednesday of a migrant "clipping" down the barbed wire just recently added to the metal fence at our border separating Calexico and Mexicali.
... (more)

---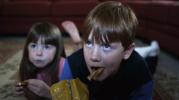 Pro-Trump Super PAC Releases 'Creepy Joe' Ad
I don't know if this melodramatic ad was intended to be funny but I couldn't stop laughing!
... (more)

---
---
Police Used 'Fake Bomb Threat' to Install Hidden Cameras at Florida Massage Parlor
Florida police used a "fake bomb threat" to clear out and install hidden surveillance cameras at the massage parlor where Patriots owner Robert Kraft and 24 others were busted for allegedly receiving sexual favors for cash.
... (more)

---

Jazz Jennings Accepted Into Harvard
Jazz Jennings could soon be joining David Hogg at Harvard.
... (more)

---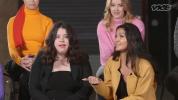 Progressivism, 2019
This short clip from a VICE roundtable aired last week has already racked up over 3 million views...
... (more)

---
---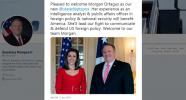 Morgan Ortagus Slammed Trump as 'Disgusting' in 2016. Now Pompeo Is Hiring Her For The State Dept.
Former Fox News contributor Morgan Ortagus slammed Donald Trump as "disgusting" and said she didn't want "someone with the temperament of a middle school pubescent boy in the president's office" in 2016 when it actually mattered.
... (more)

---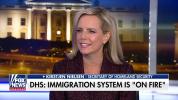 Clueless Kirstjen Nielsen Gives Embarrassing Interview to Tucker Carlson On Border Crisis
Homeland Security Secretary Kirstjen Nielsen's interview with Tucker Carlson on Tuesday was as cringe as it gets.
... (more)

---
---

YouTube Blacklists Tommy Robinson, Puts All His Videos In Limited State, Purges From Search Results
Google-owned YouTube effectively banned British activist Tommy Robinson on Tuesday by putting all of his videos in "limited state" and purging them from search results.
... (more)

---
VIDEO: Migrants Violently Shove Crying Children Through Arizona Border Fence
Disturbing video shows how migrants illegally invading America are treating the children they use as "golden tickets" to claim asylum under our terrible new immigration laws.
... (more)

---
Sayoc Says 'Hoax' Devices Were 'Not Ever Meant to Work,' Lawyer Convinced Him to Say Otherwise
Cesar Sayoc, the man who allegedly sent out a bunch of suspected hoax devices perfectly timed to help Democrats in the midterms, said in a newly released letter that he only told the government the devices could hurt people because his lawyer "instructed" him to.
... (more)

---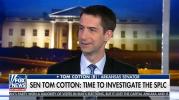 Sen. Tom Cotton Pushes IRS to Pull SPLC's Tax-Exempt Status
Senator Tom Cotton sent a letter to the Commissioner of the Internal Revenue Service on Tuesday urging him to investigate whether the Southern Poverty Law Center should retain its tax-exempt status as a 501(c)(3).
... (more)

---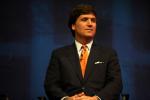 Tucker's Ratings Beat CNN's Entire Prime Time Line Up Combined. Now CNN Is Targeting His Advertisers.
Fox News host Tucker Carlson trounced CNN's entire prime time line up in the ratings last week and now they're responding by issuing veiled threats to his advertisers and pushing to get him kicked off the air.
... (more)

Maddow Craters to Lowest Weekly Ratings of The Year After Mueller Conclusion...
---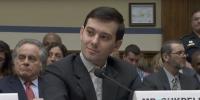 Martin Shkreli is Being Tortured in Prison
Though our media these days loves to complain about alleged injustices in our justice system, they're absolutely giddy that Martin Shkreli is reportedly being locked up in solitary confinement.
... (more)

---
---