Russia Puts Out Arrest Warrant For Senator Lindsey Graham Over Comment 'Celebrating Russians Dying'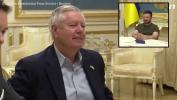 Russia issued an arrest warrant for Senator Lindsey Graham on Monday over his comments praising US aid to Ukraine as "the best money we've ever spent" and celebrating that "Russians are dying."
... (more)

---
'You Can Run But You Can't Hide': EU Official Threatens Elon Musk for Pulling Twitter Out of 'Disinfo' Pact
Thierry Breton, EU Commissioner for the Internal Market, is threatening Elon Musk once again, this time for pulling Twitter out of an EU pact supposedly aimed at combatting "disinformation."
... (more)

---
---
---
---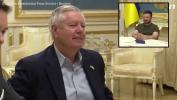 Lindsey Graham Says U.S. Aid to Ukraine Is 'The Best Money We've Ever Spent ... The Russians Are Dying' [UPDATED]
UPDATE: You can see Senator Lindsey Graham's full comments in context here.

Senator Lindsey Graham visited Ukrainian President Volodymyr Zelensky on Friday in Kiev to hail US aid to Ukraine as "the best money we've ever spent" and celebrate that "Russians are dying."
... (more)

---
Biden White House Calls for Banning 'Extremist Websites' and 'Hate Speech' in 'National Strategy to Counter Antisemitism'
The Biden White House on Thursday called on "all online platforms" to ban "extremist websites," ban "hate speech" and institute "zero tolerance" policies to protect Jews from antisemitism.
... (more)

---
Obama Judge Sentences Oath Keepers Founder Stewart Rhodes to 18 Years in Prison in J6 'Sedition' Case
Oath Keepers founder Stewart Rhodes, who came unarmed to DC and didn't even enter the Capitol Building on January 6th, was sentenced to 18 years in prison on Thursday for "seditious conspiracy" by Obama-appointed US district judge Amit Mehta.
... (more)

---
---

Twitter Crashes During Ron DeSantis Presidential Announcement [UPDATED]
Florida Governor Ron DeSantis' presidential announcement on Twitter was undermined on Wednesday by Elon Musk's "Twitter Space" crashing repeatedly before he could get out his schtick.
... (more)

---
Man Freed for Murder by Innocence Project and Given $4M 'Becomes Drug Dealer And Kills Man Over $1,200'
Shaurn Thomas, a black man who was freed for murder in Philadelphia by the Innocence Project and given $4 million in restitution by the state, allegedly became a drug dealer upon release, killed a man for owing him a $1,200 drug debt and told his accomplice it was his "third" homicide.
... (more)

---
---
Sai Varshith Kandula Identified As Suspect Who Crashed Truck Into White House Security Gate While Transporting Swastika Flag
Indian 19-year-old Sai Varshith Kandula has been identified by police as the man who allegedly crashed a U-Haul truck into the security gates outside the White House on Monday night while transporting a Swastika flag.
... (more)

---
Uber's Asian Diversity Chief Put on Leave After Hosting "Don't Call Me Karen" Event Addressing Anti-White Racism
Uber diversity chief Bo Young Lee has been suspended from her job for hosting a "Don't Call Me Karen" event for the company's White female employees to discuss the "American white woman's experience" in dealing with the anti-white "Karen" slur.
... (more)

---

Report: Jeffrey Epstein Attempted to Blackmail Bill Gates With Knowledge of Affair
Jeffrey Epstein attempted to blackmail Bill Gates into giving money to a JPMorgan Chase "charitable" fund by threatening to reveal an affair the Microsoft founder had with a Russian bridge player in 2010, emails obtained by the Wall Street Journal reveal.
... (more)

---
---
Transgender Mass Shooter Audrey Hale Shot Up Cathedral in Addition to Christian School
Transgender mass shooter Audrey "Aiden" Hale shot up a neo-Gothic cathedral attached to the Covenant School, sending seven bullets through a stained-glass figure of Adam, during her massacre of Christians in Nashville in March.
... (more)

---
Pregnant NYC 'Karen' Paid for Citi Bike at Center of Viral Dispute With Black Man, Lawyer Says
Sarah Jane Comrie, the hospital worker smeared in the media as the "Pregnant NYC Karen" who tried to "steal a black man's City Bike," produced receipts showing she paid for the bike at the center of the viral dispute, the NY Post reports.
... (more)

---
ADL Ran An 'Extensive, Multi-Dimensional Counterintelligence Operation' to Destroy The John Birch Society
The Anti-Defamation League ran an "extensive, multi-dimensional counterintelligence operation" complete with "undercover agents with code names" to destroy the influential anti-communist John Birch Society, internal ADL documents reveal.
... (more)

---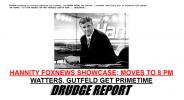 Drudge: Sean Hannity Replacing Tucker Carlson at 8PM, Jesse Watters And Greg Gutfeld Moving to Primetime
Tucker Carlson Tonight is going to be replaced with Sean Hannity bringing Fox News viewers all the latest news on "Sippy Cup Joe Biden," according to a scoop from the Drudge Report.
... (more)

---

Elon Musk: The ADL Should Drop The "A"
The Anti-Defamation League should just be called the Defamation League, according to Twitter CEO Elon Musk.
... (more)

---
U.S. Admits Russia Bombed America's Patriot Missile System in Ukraine
A US official confirmed to CNN on Tuesday that Russia bombed America's Patriot Missile system in Kiev, Ukraine.
... (more)

---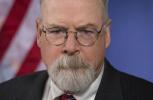 Durham Report Criticizes FBI's Trump-Russia Probe, Suggests 'Confirmation Bias' And Not Malice Drove Investigation
After four years of dragging his feet, Special Counsel John Durham released his much-hyped report on the FBI's Trump-Russia probe on Monday which largely confirms what we already knew but attributes malice on the part of the FBI to incompetence or bias, effectively shielding the agency from any culpability for their criminal actions.
... (more)

---

Daniel Penny Legal Defense Fund Raises Over $2 Million
Daniel Penny, the decorated Marine veteran who was indicted by Manhattan District Attorney Alvin Bragg last week for subduing violent schizophrenic child kidnapper Jordan Neely while on a subway in New York City, has raised over $2 million for his legal defense on GiveSendGo.
... (more)

---

Elon Musk Appoints Ad Exec Linda Yaccarino as New Twitter CEO
Twitter's new CEO Linda Yaccarino, who just left her job as NBCUniversal's advertising chief, told Elon Musk last month that advertisers should influence content moderation.
... (more)

---
Baltimore Sues Hyundai, Kia For Making Cars That Are Too Easy For Their Residents to Steal
The city of Baltimore is suing Korean automakers Hyundai and Kia for making cars that are too easy for their criminally inclined residents to steal.
... (more)

---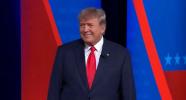 Trump Returns to Form in CNN Townhall
Former President Donald Trump delivered his best performance in years on Wednesday night during CNN's townhall.
... (more)

---
Hispanic "White Supremacist" Mass Shooter Mauricio Garcia Said White People Are "A Race I Don't Like"
Hispanic Texas mass shooter Mauricio Garcia, whom the media insisted was a "white supremacist," said white people are "a race I don't like" and fantasized about Mexico taking over America in a handwritten post uploaded to his social media profile on OK.RU.
... (more)

---

DOJ Seeks to Ban FBI Agents From Using Crime Stats in Law Enforcement
Attorney General Merrick Garland wants to ban FBI agents from using crime statistics to guide or inform law enforcement activities.
... (more)

---

'I Have Absolutely No Idea Who This Woman Is': NYC Jury Finds Trump Liable for Sexual Abuse in 30-Yr-Old Case
Former President Donald Trump on Tuesday was ordered by a New York City jury to pay $5 million in "damages" to E Jean Carroll for "sexually abusing" her three decades ago and then "defaming her" by calling her a liar.
... (more)

---