UConn Students Arrested And Charged With 'Ridicule' For Using N-Word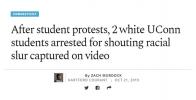 Two students at the University of Connecticut were arrested and criminally charged with "ridicule" for using the "N-word."
... (more)

---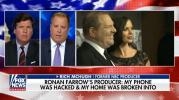 Tucker Speaks With Ex-NBC Producer On How Mossad Allegedly Tapped His Phones to Cover For Weinstein
Fox News host Tucker Carlson on Tuesday spoke with ex-NBC producer Rich McHugh on how NBC News chairman Andy Lack and NBC News president Noah Oppenheim allegedly shut down Ronan Farrow's story exposing Harvey Weinstein.
... (more)

---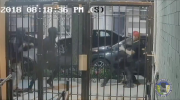 2 Proud Boys Get 4 Years In Prison Each For Defending Themselves Against Antifa
Two Proud Boys members were sentenced to four years in prison for defending themselves against antifa.
... (more)

---
---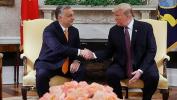 Report: White House And State Dept Officials Sought to Block Trump-Orban Meeting Over Fears They'd 'Get Along'
White House and State Department officials reportedly sought to block President Trump from visiting with nationalist Hungarian Prime Minister Viktor Orban because they feared they "would bond and get along."
... (more)

---
---
VIDEO: Catholics Seize Pagan Statues 'Blessed By Pope' And Throw Them Into A River
Viral video shows two Catholics entering a church in Rome, seizing several pagan statues which were allegedly blessed by the Pope as part of a bizarre global warming ritual and throwing them into a river.
... (more)

---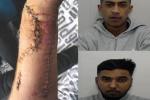 UK: 20-Strong 'Mob' Called Man A 'White Bastard' Before Chopping Off His Hand With An Ax
A "heavily-armed mob of up to 20 men" savagely attacked four Brits while spewing anti-white racial hate then tried to escape charges in court by falsely claiming they were the victims of "racist threats."
... (more)

---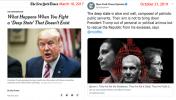 NYT Shifts From 'The Deep State Doesn't Exist' to It's Real And Here to 'Rescue The Republic' From Trump
The New York Times has gone from insisting the deep state "doesn't exist" to admitting it's real but insisting it's totally awesome and here to "rescue the Republic" from Dronald Blumpf.
... (more)

---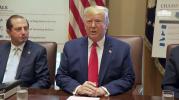 Trump: 'We're Bringing Our Soldiers Back Home... Lockheed Doesn't Like It'
President Donald Trump said during a wide-ranging impromptu press conference on Monday that he's "bringing our troops back home" and doesn't care if Beltway Republicans or military contractors like Lockheed Martin don't like it.
... (more)

---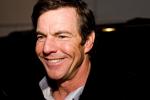 #LoveIsLove Crowd Outraged Actor Dennis Quaid Engaged to Woman 39 Years His Junior
If 65-year-old Dennis Quaid was marrying a 26-year-old man the media and the Twitterati would be celebrating, tweeting #LoveIsLove and attacking any and all "intolerant bigots" who frown upon their relationship.
... (more)

---
---
---
'Get The F*** Out Of The Way!' Extinction Rebellion Protesters Get Dunked On Worldwide
Extinction Rebellion climate protesters are indeed triggering a rebellion -- just not the one they intended.
... (more)

---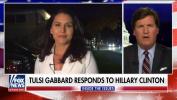 Tulsi Gabbard Blasts Hillary Clinton As The 'Queen Of Warmongers'
Democratic 2020 presidential candidate Rep Tulsi Gabbard slammed Hillary Clinton on Friday as the "queen of all warmongers" after the former secretary of state suggested Gabbard is an agent of the Russkies.
... (more)

---
---
---
---
---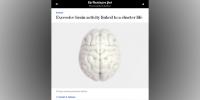 WashPo Warns Readers: 'Excessive Brain Activity Linked to a Shorter Life'
This news will no doubt come as a relief to readers of the Washington Post.
... (more)

---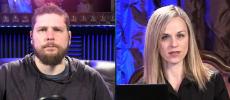 YouTube Bans 'Red Ice TV' Channel With Over 330K Subscribers, 45M+ Views
Red Ice TV on Thursday became the latest channel to be sent down the memory hole by our ruling oligarchs in Big Tech.
... (more)

---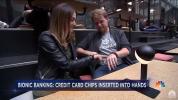 NBC News: Getting Microchipped Is The Wave Of The Future!
Nothing is more hip and cool than being microchipped like a dog and having your social credit score physically embedded within you!
... (more)

---
---
---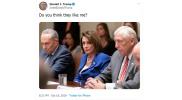 Dems Angry Over Syria Pullout Storm Out Of WH Meeting After Trump Calls Pelosi A 'Third-Rate Politician'
War-hungry Democrats furious over President Trump's decision to get our troops out of northern Syria stormed out of a meeting with Trump at the White House on Wednesday evening after Trump allegedly called Nancy Pelosi a "third-rate politician."
... (more)

---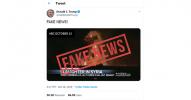 Trump Reveals ABC News Aired Fake 'Turkish Bombing' Video FIVE Times
President Trump shared video Wednesday evening on Twitter showing ABC News aired footage from a Kentucky gun range that they falsely claimed was "Turkey's military bombing Kurd civilians" after being "abandon[ed]" by Trump five separate times.
... (more)

Babylon Bee: 'ABC News Airs Authentic Footage Of 164-Foot-Tall Godzilla Rampaging Through Syria'...
---
Leftoids Celebrate 'International Pronouns Day'
Say goodbye to Columbus Day and hello to Indigenous Peoples' Day and International Pronouns Day!
... (more)

---

NBC Director 'Attacked By Mob' In Manhattan - NBC News Ignores The Story
A 72-year-old NBC director was beaten and bloodied by a nine-person-strong mob in Manhattan while heading to 30 Rockefeller Center on Monday but NBC News has chosen not to even cover the story.
... (more)

---
---
Tucker On CNN Leaks: 'Jeff Zucker is Dictating Every Detail of CNN's Programming'
Tucker Carlson shared footage from Project Veritas's undercover CNN tapes on Monday and said it appears that CNN president Jeff Zucker "is dictating every detail of CNN's programming and doing so with clearly partisan objectives in mind."
... (more)

---