Japanese Oil Tanker Owner Says 'Flying Object' Likely Caused Explosion, Not 'Mine' As U.S. Claims
From Common Dreams:

During a press conference just hours after the US released video footage that purported to show an Iranian boat removing an unexploded mine from the side of an oil tanker, the Japanese owner of that vessel said Friday that the ship was likely damaged by a "flying object" and cal
... (more)

---
---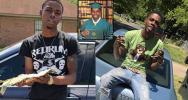 Memphis: Mobs Riot After Police Shoot 'Wanted Violent Felon' Who Said Cops 'Gone Have to Kill Me'
Mobs rioted in Memphis and attacked police on Wednesday night after 20-year-old Brandon Webber was shot and killed by police for allegedly ramming them with his vehicle and exiting his car with a weapon.
... (more)

---

Jordan Peterson Announces Free Speech Social Media And Patreon Alternative 'Thinkspot'
"An upcoming free speech platform promises to provide users the best features of other social media, but without the censorship," NewsBusters reports. ... (more)

---
---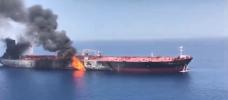 Tankers Hit in Sea of Oman: Iran Helps Rescue 23 Crew Members, U.S. Blames Iran For The Attack
Two tanker ships reportedly carrying Japanese goods were attacked in Sea of Oman on Thursday while Japanese Prime Minister Shinzo Abe was meeting with Iran's Supreme Leader Ayatollah Khamenei to try and deescalate tensions between Iran and the US.
... (more)

IRAN TO UN: 'The US and its regional allies must stop warmongering and put an end to mischievous plots and false flag operations in the region'...
---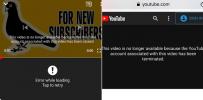 YouTube Bans Right-Wing Commentator Black Pigeon Speaks With Half Million Subscribers & No Strikes
Google-owned YouTube forged onward in their quest to purge all right-wing influencers in advance of the 2020 election by banning popular commentator Black Pigeon Speaks, who had nearly 500,000 subscribers and "no strikes" against his channel.
... (more)

SHOCK: Channel restored!
---
YouTube Censors Project Veritas Video Exposing Pinterest's 'Anti-Christian Censorship'
Google-owned YouTube decided to censor Project Veritas' viral video exposing Pinterest for allegedly censoring "pro-life and Christian content" by pulling the video down for "privacy violations."
... (more)

---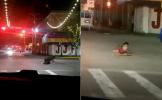 None Dare Call It An Invasion
Illegal aliens have allegedly been filmed popping out of manholes at busy intersections in El Paso, over 550 migrants from Africa have been caught in one week and released throughout the country without being screened for Ebola and over half a million illegal aliens are expected to be freed into the US this year -- but don't dare call it an invasion!
... (more)

---

Trump Says 'Thank Goodness We Can Fight Back On Social Media' As Supporters Are Banned
President Donald Trump on Wednesday criticized the "fake news" for being more dishonest than ever before saying "thank goodness we can fight back on Social Media."
... (more)

---
---
---
Kirk: Botswana Decriminalizing Homosexuality is 'Monumental Achievement' for Trump
Turning Point USA founder Charlie Kirk praised President Trump on Wednesday for the "monumental achievement" of potentially helping decriminalize homosexuality in Botswana, where the HIV rate is as least 25 percent.
... (more)

---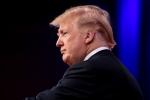 Report: Trump Orders 'Simpler Path' For Genetically Engineered Food
"President Trump wants to make it easier for genetically engineered plants and animals to enter the food supply, and he signed an executive order Tuesday directing federal agencies to simplify the 'regulatory maze' for producers," the AP reports. ... (more)

U.S. Formally Asks UK to Extradite Assange...
---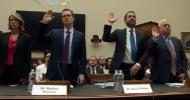 Antitrust Hearing Starts With Big Media Citing Junk Study to Demand Big Tech Hand Them Tons Of Money
Congress's antitrust probe into Big Tech started Tuesday with Big Media demanding the tech giants give them tons of money because of a junk study media industry lobbyists published in advance of the hearing.
... (more)

---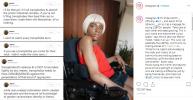 Instagram Promotes 'Trans Disabled Model' Who Is Calling For The Killing Of All 'Transphobes'
Facebook-owned Instagram on Monday promoted "trans disabled model" Aaron Philip, 18, across their platform and to their more than 304 million followers in honor of Pride Month.
... (more)

---
---
---
Jack Dorsey And 170+ CEOs Sign Letter Declaring Abortion Bans 'Bad For Business'
In order for businesses to keep "thriving day in and day out" women need constant, round the clock abortions, our prog-globalist overlords announced in a full-page ad in the New York Times on Monday.
... (more)

---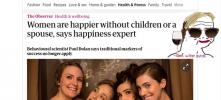 You'll Be Shocked to Learn That Book Claiming 'Married Women Are Less Happy' is Total Bull***t
"Happiness expert" Paul Dolan's claim that married women admit to being less happy than unmarried women when their spouse is out of the room was based off a misreading of the data, adjunct professor Gray Kimbrough has revealed.
... (more)

---
NYT YouTube Cover Story Falls Apart: 'Alt-Right' Caleb Cain Now Says He Was 'An Alt-Lite Civ Nat'
Caleb Cain, an unknown who was plastered on the front page of the New York Times on Saturday in a pro-censorship piece claiming he was "radicalized" by YouTube's recommended algorithms, said Sunday on Twitter that he was an "alt-lite civ[ic] nat[ionalist]."
... (more)

---
Report: Media Ran Dozens Of Articles From Iranian Dissident Who 'Does Not Exist'
Tons of media outlets from Forbes to The Daily Caller ran articles pushing for regime change in Iran which were written by an "Iranian activist" named Heshmat Alavi who "appears not to exist," according to a new report from The Intercept.
... (more)

---
Facebook Bans Natural News After One Hit Piece From The Daily Beast
One hit piece from The Daily Beast was apparently enough to get Facebook to ban Mike Adam's Natural News Facebook page with nearly 3 million followers.
... (more)

---
---
---
---
Tim Pool: 'Left Wing Media Activist Email Leak Shows How They Deplatform Political Rivals'
Independent journalist Tim Pool was leaked an email showing Slate journo April Glaser appearing to threaten Chase Bank with negative press if they don't deplatform the right-wing activist group The Proud Boys.
... (more)

The Trust Project: Big Media and Silicon Valley's Weaponized Algorithms Silence Dissent...
---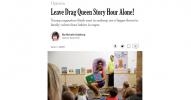 NYT: 'Leave Drag Queen Story Hour Alone!'
Drag Queen Story Hour is the epitome of family values, according to New York Times columnist Michelle Goldberg.
... (more)

---
NYT: 'The Case For Immigration As Reparations'
Mass third-world immigration is a form of divine punishment for the West's sins, according to The New York Times' Suketu Mehta.
... (more)

The Nation: 'Open Borders Must Be Part of Any Response to the Climate Crisis'
---
---