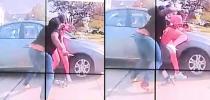 Bodycam Video Shows 16yo Ma'Khia Bryant Attempting to Stab Woman Before Being Shot by Police
Bodycam footage rushed out by Columbus police on Tuesday shows 16-year-old Ma'Khia Bryant was shot and killed by an officer after attempting to stab a woman with a knife and was not shot and killed just for being black as rumors on social media claimed.
... (more)

---
Chauvin Found Guilty On All Counts in Minneapolis Show Trial
Derek Chauvin on Tuesday was found guilty of all three charges he faced over the death of George Floyd -- second-degree unintentional murder, third-degree murder and second-degree manslaughter.
... (more)

---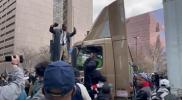 Black Lives Matter Mob Attacks Truck Driver During Victory Riots
Black Lives Matter rioters were filmed attacking a truck driver outside the Hennepin County Government Center on Tuesday, just minutes after Derek Chauvin was found guilty on all counts to satiate the mob.
... (more)

---
---
---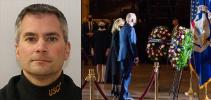 Officer Sicknick Died Of Natural Causes Day After Capitol Storming, DC Medical Examiner Reveals
DC's chief medical examiner revealed Monday that Officer Brian Sicknick died as a result of natural causes the day after the storming of the Capitol, once and for all destroying the media's false narrative that Sicknick was "killed by a pro-Trump mob."
... (more)

---

Jonathan Pentland Hate Hoax: Black 'Victim' Accused Of Groping Woman, Attempting to Snatch Baby 'Is Mentally Ill And Has Been Committed'
Army Sergeant Jonathan Pentland was thrown under the bus for defending his neighbors and family from a mentally ill man who was facing charges for trespassing and malicious injury to animals and was accused of groping a woman and trying to snatch a baby in his neighborhood.
... (more)

---
Jonathan Pentland Arrest: Incident Reports Say Black Suspect Sexually Harassed Woman, Tried to Snatch Baby
The Black Lives Matter saint seen getting pushed by Army Sergeant Jonathan Pentland on Monday in a viral out-of-context video reportedly sexually harassed a woman and attempted to snatch a baby in separate incidents in Pentland's neighborhood just days before the confrontation took place.
... (more)

---
Republican Utah Governor Says He's Proud Of The Utah Jazz For Racially Discriminating Against White Kids
Utah Governor Spencer Cox (R) said Thursday that he's proud of the Utah Jazz NBA team for racially discriminating against white children by excluding them from their scholarship program.
... (more)

---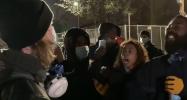 'You're White, You Already Don't Belong!' White Allies Scolded For 'Telling BLM Protesters to Stop Throwing Bottles At Police'
A group of "white allies" were filmed getting racially abused for reportedly telling a group of Black Lives Matter protesters to stop throwing water bottles at police during Thursday night's protest outside the Brooklyn Center Police Department.
... (more)

---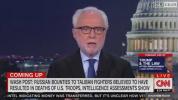 U.S. Intel Admits 'Russian Bounties' Story Was BS Now That Biden Aims to Pull Out Of Afghanistan
The US intelligence community on Thursday "walked back" their claim that Russia put "bounties" on American troops heads in Afghanistan.
... (more)

---
---

DOJ Letting Portland Rioters Off Easy May Jeopardize Political Persecution of Capitol Protesters
The Department of Justice's decision to let a bunch of Portland rioters off with a mere slap on the wrist may make the blatant political persecution of Capitol protesters more difficult, according to a report from Politico released Wednesday.
... (more)

---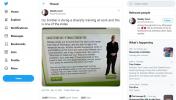 Diversity Training Done Right!
This slide purportedly from a workplace diversity training course is going viral on Twitter...
... (more)

---
Tucker: U.S. Has 'Two Systems Of Justice - One For The Allies of The People in Charge & One For Their Enemies'
Tucker Carlson on Wednesday night spoke out against the FBI's heavily-armed raid of Infowars reporter Sam Montoya and noted how the feds are dropping charges against the Portland rioters while aggressively prosecuting Capitol protesters.
... (more)

---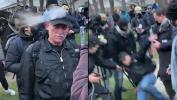 VIDEO: 'Peaceful Protesters' Assault CNN Crew, Chase Them Away From Brooklyn Center Protest
Mostly peaceful Black Lives Matter protesters were filmed attacking CNN's crew in Brooklyn Center, Minnesota on Wednesday night.
... (more)

---
---
Infowars Reporter Sam Montoya Raided By The Feds And Arrested For Covering Jan 6th Capitol Storming
Infowars reporter Samuel Christopher Montoya, who captured shocking footage of Capitol police executing Air Force vet Ashli Babbitt, was dramatically raided by the feds on Tuesday and indicted for entering the Capitol on Jan 6 without "Congressional press credentials."
... (more)

---
Daunte Wright Had Warrant Out For 'Choking And Holding A Woman At Gunpoint For $820'
Black Lives Matter martyr Daunte Wright "choked a woman and threatened to shoot her if she did not hand over $820 she had stuffed in her bra," court papers obtained by The Daily Mail allege.
... (more)

---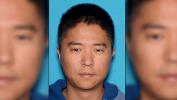 Asian Man 'Attacked Asian Woman He Thought Was White' In Retaliation For Rise In Anti-Asian Attacks
An Asian man is being charged with a hate crime for attacking an Asian woman that he mistook as White in retaliation for a rise in anti-Asian attacks (which the media has falsely blamed on Whites).
... (more)

---
---
---
VIDEO: Female Cop Accidentally Shoots Resisting Suspect With Gun Instead of Taser
Brooklyn Center Police on Monday released bodycam footage showing Daunte Wright fighting with police and resisting arrest before being accidentally shot by a female police officer who mistook her gun for her taser.
... (more)

---
---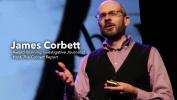 Corbett Report Banned From YouTube After 14 Years, 570k Subs And 92+ Million Views
James Corbett's The Corbett Report was purged from YouTube over the weekend for the crime of telling the truth.
... (more)

---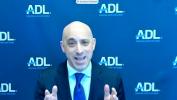 'Tucker Must Go': ADL Demands Tucker Carlson Be Fired For Discussing 'Replacement Theory'
Anti-Defamation League CEO Jonathan Greenblatt on Friday declared that Tucker Carlson "must go" for daring to calmly discuss how Democrats importing voters dilutes the voting power of current American citizens and is a form of disenfranchisement.
... (more)

American Jewish Congress Lobbies to Shut Down Gab, Says Free Speech Site is a 'Threat to Our Democracy'...
---

Biden's Equity-Focused 'Infrastructure' Plan Seeks to Crush Single-Family Zoning
President Trump's warning that Joe Biden wants to abolish the suburbs is proving to be accurate.
... (more)

---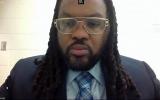 Man ID'ed As George Floyd's Drug Dealer Refuses to Testify For Fear He Could Be Charged With Floyd's Murder
Morries Hall, the man identified as George Floyd's drug dealer by Floyd's girlfriend Courtney Ross, refused to testify on Tuesday because his lawyer feared he could be charged with third-degree murder for drug delivery resulting in death.
... (more)

---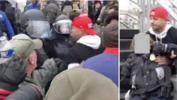 Capitol Protester Ryan Samsel 'Severely Beaten' By DC Jail Guards Who Allegedly Said They 'Hate All White People'
January 6th Capitol protester Ryan Samsel was "severely beaten" by DC correctional officers and is now "blind in one eye" and "has a skull fracture" and a "detached retina," according to his attorney.
... (more)

---
Capitol Protester Who Died of Heart Attack After Being Flashbanged by Police Died of 'Natural Causes,' DC Chief Medical Examiner Says
Fifty-five-year-old Capitol protester Kevin Greeson died of a heart attack on Jan 6 after reportedly being flashbanged and teargassed by Capitol police.
... (more)

---