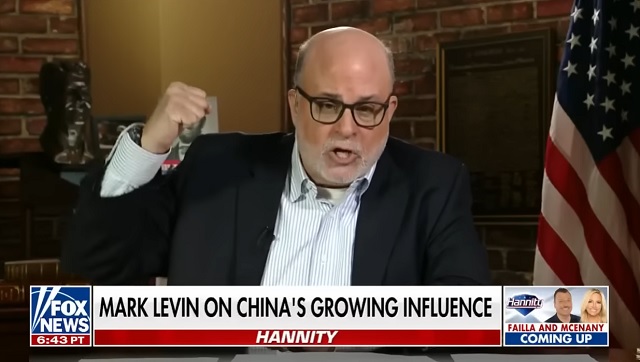 The entire crew at Fox News is going all-in on shilling for war with China.

Obese neocon warmonger Mark Levin told Sean Hannity on Monday that Americans need to prepare for a war with China because they're preparing to go to war with America.

The Israel-first neocon sold war with China to Hannity's boomer audience as a way to fight wokeness, Joe Biden, snooty French President Emmanuel Macron ("Freedom Fries" is back on the menu!) and protect our airspace from Chinese balloons.



From Mediaite, " 'We Must Prepare for War Against China': Mark Levin Gets Raucous Applause from Hannity's Studio Audience":

The host of Life, Liberty & Levin on Fox News weighed in on relations between the two countries and said China is itching for a war with the U.S. His remarks came on the third day of Chinese military drills taking place near Taiwan, which is self-governing but belongs to China as far as its communist government is concerned.

"Brazil now is with China," he told Sean Hannity, alluding to the countries' economic relationship. "That's in our own hemisphere. We used to have something called the Monroe Doctrine."

The Monroe Doctrine was a policy set forth by the fifth president, James Monroe, who warned European colonial powers not to meddle in the affairs of the Americas. Levin then went on to draw parallels between the contemporary U.S. and the Roman Empire.

"Invasion of foreigners, severe economic troubles, division of the empire, empire stretched too thin, government corruption and political instability, loss of traditional values, weakening of the legions, the military," he said. "That is what combined, destroyed the Roman empire. The Roman Empire lasted 1,000 years. We're not even close to 1,000 years. Every one of those seven or eight issues is something we are confronting today."

He went on to say China has been building up its military -- particularly its navy.

"You think they're building all that to defeat Taiwan?" Levin said. "They're building all that to defeat us. They're not gonna be satisfied with Taiwan. They're in battles now with the Philippines and Japan, even Vietnam. Australia's being threatened."
China is going to launch a ground invasion of a nuclear superpower separated by sea that's halfway across the globe, folks!

He added, "This is a big damn deal," before telling Hannity's studio audience the U.S. should prepare to battle China.

"And let me tell you something that viewers in this audience and others may not want to hear," he continued. "We need to prepare for war against China. I don't mean go to war. I don't mean initiate a war. But they are preparing for war. We are completely unprepared as a nation, psychologically."
The obese neocon warmonger doesn't want a war, folks!

He then griped about "woke ideology" in the military.

"I want to say it again so the backbenchers regurgitate it," said. "We must prepare for war against China. Not because we want war. Not because we're gonna cause war. But because they want war. They've only communicated it 10,000 different ways, whether it's violating their air space, navigable waters, threatening our ships, threatening our country, threatening our people."

Levin slammed President Joe Biden's handling of China and concluded, "It's absolutely unbelievable! That's it. I'm done."

As he finished speaking, Hannity's studio audience gave Levin an uproarious round of applause.
Hannity's obese boomer audience are ready for war because "The Great One" Mark Levin told them it's necessary to own the libs.

Fox News also said last month we need open borders for LGBTQIA+ Latinx illegal aliens and their homosexual lovers to own the libs.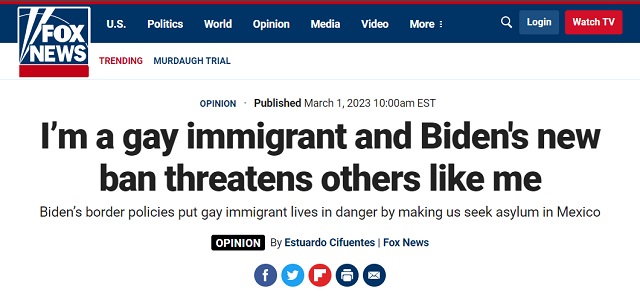 We're all supposed to ignore the fact the Biden regime is aggressively pushing for war with China and surrounding their country with US military bases.




With U.S. hegemony coming to an end, our globalist oligarchs are now desperate for a common enemy to unite the country and they've picked China as their target.

They need the "white MAGA extremists" they've spent the past seven years attacking as neo-Nazi white supremacists to fight three simultaneous wars with China, Iran and Russia and Fox News -- including Tucker Carlson -- is at the forefront of selling these wars to their audience just as they were at the forefront of selling the wars in Iraq and Afghanistan two decades ago.

Trump has many faults but he was entirely right when he said last month that our greatest threat is not China or Russia but "high level politicians that work in the United States government."


Levin wants you to think China, Russia and Iran are your enemy rather than the neocon parasites who've bled our country dry.

Levin said last year that if you're a "nationalist" and "America First" you're "schizophrenic."

Anyone who follows Mark Levin and believes the neocon propagandists at Fox News have the best interests of America at heart is a total moron.

Follow InformationLiberation on Twitter, Facebook, Gab, Minds and Telegram.