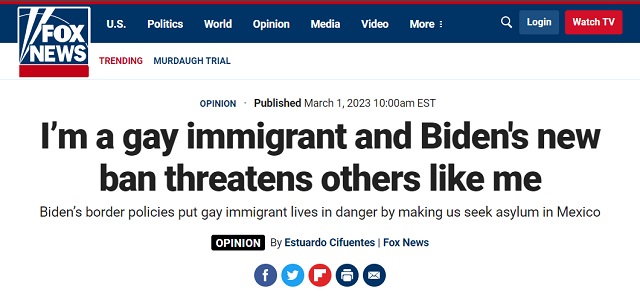 America needs open borders for LGBTQIA+ Latinx illegal aliens and their homosexual lovers to own the libs, Fox News reports.

From Fox News, "I'm a gay immigrant and Biden's new ban threatens others like me":

In 2019 a kiss almost cost me my life. It was just a peck on my boyfriendís lips as he left for work. But being a gay man in Guatemala City, Guatemala, that small display of affection attracted the attention of the police, who detained and beat me ó and then, after I reported the officers responsible, threatened me and stalked me. Their threats forced me to flee.
Sounds fake. Gay "marriage" is legal in Guatemala.
Fortunately, I was able to pursue asylum in the United States. Today, three years later, Iím still in the asylum process, but am proudly working as a client services manager with Lawyers for Good Governmentís Project Corazon in south Texas, helping other migrants seeking safety in America. My boyfriend, now my husband, has been able to join me and is working as a graphic designer. It hasnít been easy starting over, but Iím grateful to live and love in safety.
According to Influence Watch, Lawyers for Good Government hides their funders but held a conference in 2017 that was sponsored by the Southern Poverty Law Center and the George Soros-funded Alliance for Justice.

None of this would have been possible, though, under new asylum rules proposed by President Joe Biden. The administration has announced its intentions to create a "transit ban," which blocks asylum seekers from gaining sanctuary in the United States if they pass through any other country on their way here. Itís a rekindling of Trump-era asylum policies, and one that makes it far harder for people like me to reach safety.

When I fled Guatemala, I didnít immediately plan on coming to America. But as I frantically searched online for information about countries that might take me in, the only resources I found talked about the United States. In the rush to escape, I didnít have time to ask questions: I grabbed a bag, crossed into Mexico, and began the long journey northward.
Very believable.

It took more than two weeks to reach Reynosa, on the U.S. border. Sometimes I walked for 12 hours at a stretch. When I finally arrived, I was kidnapped by criminals who held me for 21 days until my family was able to raise a ransom for my release.
Receipts needed.

Only then could I finally approach a U.S. border crossing and request asylum. But because of Trumpís so-called Migrant Protection Protocols (MPP), I was immediately sent back to Mexico to wait while my case was processed.
Thank you, Donald Trump.

I spent over 18 months in a refugee camp in Matamoros, where I learned that in Mexico, just like in Guatemala, LGBTQ people often face discrimination and even physical harm. One transgender friend was forced into prostitution by criminal cartels while she waited for her asylum case to be heard.
Gay "marriage" is legal in Mexico.

It was clear to me that I was not safe in Mexico ó not only because I was kidnapped, but also because of the persecution that LGBTQ migrants like me faced. My experiences in the refugee camp provide me with lived knowledge that requiring migrants to seek asylum in transit, before they reach the U.S., is inhumane and dangerous.

If I had sought asylum in Mexico, I would have been forced to remain in a country where I had already been kidnapped and subjected to homophobic abuse. Many other migrants ó all with entirely legitimate reasons for fleeing their home country ó would similarly be put at risk if they were required to seek refuge in countries they passed through.

The Biden administration expects people to seek asylum in the very first place they reach after leaving their home country. But countries have widely varying asylum systems, which are often hard to understand ó especially for people who have had to drop everything and flee their home countries. In many cases ó mine included! ó asylum seekers are exploited by smugglers and traffickers, and pushed into dangerous routes to reach safety, without really knowing where theyíre headed. Itís unrealistic and unfair to ask people in such circumstances to hit pause and follow a list of legalistic requirements, especially in countries where they still face harm.
Imagine believing any of this crap. Imagine being an editor at Fox News and publishing this trash and thinking your readers are dumb enough to believe it.

Fox News ran a segment encouraging child transgenderism and sex changes for kids last year, hired Bruce "Caitlyn" Jenner to give on-air commentary posing as an anti-woke transgender, and now they're shilling for war with China and open borders for gay Latinx illegal aliens and their gay sex partners.

I've said it before but it bears repeating: Fox News is now the network of transgender neocons.

Follow InformationLiberation on Twitter, Facebook, Gab, Minds and Telegram.