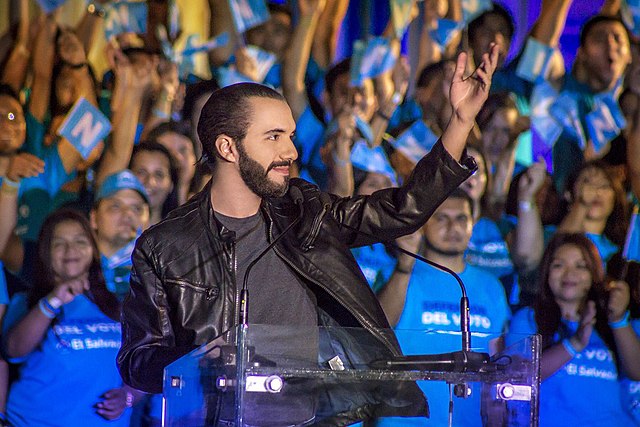 President Nayib Bukele's successful crackdown on MS-13 gang members has led to a dramatic reduction in the number of Salvadorans illegally crossing our southern border, the Wall Street Journal reports.

From The Wall Street Journal, "The Country With the Highest Murder Rate Now Has the Highest Incarceration Rate":

El Salvador, long whipsawed by gang violence that made it one of the world's most dangerous countries, turned things around by jailing huge swaths of its population. The country once known for having the world's highest murder rate now has the world's highest incarceration rate—about double that of the U.S.

Since March 2022, President Nayib Bukele's government has implemented a campaign to arrest en masse suspected members of the MS-13 and 18th Street gangs that have long terrorized the impoverished Central American nation, blocking economic growth and stoking U.S.-bound migration.

The strategy has helped lower homicides by 92% compared with 2015, giving Bukele the support of nine of every 10 Salvadorans, polls show. The number of Salvadorans illegally crossing the U.S.-Mexico border has dropped by 44%.
These numbers are even more significant considering illegal immigration overall has hit record levels thanks to the Biden regime's open borders policies.
It also has put some 68,000 people in this Massachusetts-size country of 6.3 million behind bars. That's more than 1% of the population, according to World Prison Brief, an online database on correctional systems. Rights groups said the campaign has swept up innocent people, especially among the country's poor and indigenous communities, who are held for long periods in harsh conditions without trial.

Responding to allegations of prisoner mistreatment, Bukele during a cabinet meeting in October said, "Yes, they'll have human rights. But the human rights of honest people are more important."

[...] Detentions of Salvadorans, once one of the largest groups trying to cross the southwestern border, illegally crossing have dropped to about 36,500 in the eight months through May of this fiscal year from more than 65,000 in the same period a year earlier, just before the campaign began.
It was reported in 2010 that around one fifth the entire population of El Salvador was living in the US.

MS-13 gang members make headlines every week for committing heinous murders in cities throughout the US.



We're supposed to believe these gang members have a "spark of divinity" inside them and the diversity they bring is "our greatest strength."

The success of Bukele's heavy-handed crackdown has made fools of our ruling elites who insist "restorative justice" and throwing open our nation's prisons is how you create peace.


According to the WSJ, other Latin American countries "grappl[ing] with their own high murder rates" are considering following in Bukele's footsteps:

Ecuadoreans, one of the largest nationalities heading to the U.S., have seen the homicide rate in their country quadruple from 2019 through 2022. Some politicians, such as Cynthia Viteria, who until May served as mayor of the violent Ecuadorean city of Guayaquil, encouraged Ecuador's government to mimic the Salvadoran leader's policies to bring down crime and stop the killing of police officers.

"It's simple, just copy him. Do what Bukele's doing," she said in September. "The solutions are out there, for those who have the guts to implement them."

Jan Topic, an independent presidential candidate in Ecuador and a Bukele admirer, said his experience as a French foreign legion sniper serving in Syria and Ukraine would help him bring order to the streets and gang-controlled prisons.

In Guatemala, several presidential candidates adopted a security agenda inspired on Bukele's policies in this summer's election.

In Colombia, beset by armed groups in much of the countryside, the opposition Democratic Center party recently invited Bukele to visit the country and showered him with praise after leftist president, Gustavo Petro, compared El Salvador's overcrowded jails to concentration camps.

"I think I'll go on vacation to Colombia," Bukele quipped on Twitter.
The scale of MS-13's extortion was tremendous:

Former central bank governor Carlos Acevedo said that gangs raked in an estimated $500 million a year from extortion paid by businesses and residents. Multilateral organizations estimated that crime cost El Salvador 15% of its $29 billion economy.

Those losses are now being reversed, business groups said. In a survey earlier this year by the National Association of Private Enterprise, the country's largest business group, members reported drops of 40% to 70% in extortion since mid-2022.

[...] more than 60% of Salvadorans said they didn't care if their government was democratic as long as it solved their day-to-day problems, according to a survey by Chile-based regional pollster Latinobarometro in 2021.

[...] Public-bus operators were robbed of at least $20 million a year through extortion, according to Genaro Ramírez, president of El Salvador's public transport bus association. Extortion had become so institutionalized that Ramirez said a bank asked him for detailed information on payments to gangs when he once applied for a business loan. Gangs also boarded buses to rob passengers.

Some 3,000 public transport workers and bus owners were killed in gang crossfire and attacks over the past two decades, Ramírez said. In 2010, after a bus owner refused to pay extortion, at least 17 people were killed when gangsters doused a bus full of passengers with gasoline and set it ablaze, then fired bullets at anyone who tried to run out. The incident transfixed Salvadorans.

Over the past year, extortion has fallen to "negligible sums," Ramírez said. He credited the anti-gang campaign, calling it harsh but necessary.

"Of course, there is going to be collateral damage, nothing is perfect," said Ramírez. "But I can't criticize what's working."
The Biden regime has had nothing but criticism for Bukele for undermining what they call "democracy."


The Biden regime can have their opposition arrested and censored on social media but Bukele can't throw a bunch of gang members in prison.

Incidentally, as the National Interest highlighted in May, they have no similar criticisms when it comes to the Dominican Republic's human rights abuses.

From The National Interest, "Behind the Biden Administration's Hypocritical Treatment of El Salvador And The Dominican Republic":

Since Salvadoran president Nayib Bukele began his crackdown on violent street gangs, the Biden administration, international media, and NGOs have made the small Central American republic the focal point of negative attention about accused corruption, civil liberties violations, and creeping authoritarianism. In contrast, the Dominican Republic, which is using much harsher forms of "preventative detention," has seen virtually no hand-wringing about "democratic backsliding," corruption, and human rights violations. Instead, the Biden administration has praised the Dominican Republic's criminal justice system. The media and U.S. government's disparate treatment of these two Latin American nations demonstrates a lack of consistency and principles in our diplomacy towards our neighboring countries.

After an unprecedented spike in gang-related homicides, El Salvador instituted a state of exception to address the violence. The crackdown increases the time someone can be detained without charge from three to fifteen days, restricted bail and other alternatives to pre-trial detention, and strengthened police powers. Even critics acknowledge the moves have popular support and have dramatically reduced violence. U.S. Secretary of State Antony Blinken criticized the crackdown because it "lends itself to attempts to censor the media, prevent reporting on corruption and other matters of public interest, and silence critics of the Salvadoran government." The United Nations Commissioner on Human Rights called it a violation of human rights law, focusing on the fact that "the previous two-year limit to pre-trial detention has been eliminated." International media has put the spotlight on these criticisms with heavy coverage for an otherwise obscure country of six million.

In contrast, there has been almost no attention given to the Dominican Republic's far more draconian "pre-trial detention" regime. According to the country's National Office of Public Defense (ONDP), 70 percent of the prison population in the country is held under the "preventive detention" mandate imposed by President Luis Abinader. Most of the inmates are imprisoned for extended periods, even years, without formal charges or court proceedings. A recent ONDP report acknowledges that half of these detainees remain in confinement even past the expiry of their preventive detention mandate, the exact issue raised by the United Nations.

While Blinken warns that El Salvador's pretrial detention can be used to silence critics of the government, the Dominican Republic has arrested nineteen members of the opposition leadership including Abinader's 2020 opponent, Gonzalo Castillo. Six of these leaders were ordered to serve eighteen months of preventive detention without any charges, as the investigation continued. These preventive orders do not expire until after the 2024 re-election, effectively neutering their ability to conduct a campaign.
The Biden regime must have been taking notes.

[...] Yet these reports are ignored and contradicted by the White House and State Department leadership. Instead of criticizing the pretrial detention of political opponents under the guise of anti-corruption, President Joe Biden recently praised Abinader for "moderniz[ing] its anti-corruption law." In contrast, there has been little evidence that El Salvador's gang crackdown has been used on political opponents. Under Secretary of State for Security, Democracy, and Human Rights Urza Zeya has called the Dominican Republic a "bright spot" for "combating corruption, improving citizen security" and "protecting human rights."
Bukele is a model leader for the world.

We could only be so lucky as to live under his "dictatorship" rather than our own.

Follow InformationLiberation on Twitter, Facebook, Gab, Minds and Telegram.