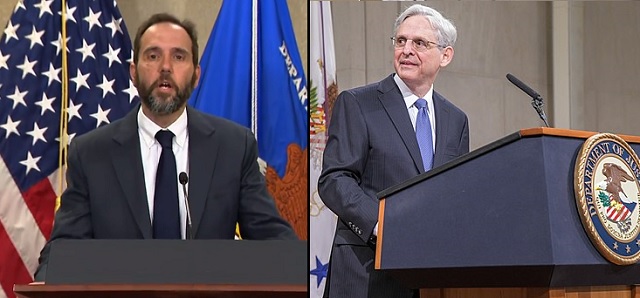 Former President Donald Trump is facing life in prison at the hands of Biden's Department of Justice after being indicted on 37 counts in relation to the alleged mishandling of government records.

As the NY Times noted yesterday, this indictment marks "the first time in American history that a former president has faced federal charges."

"It puts the nation in an extraordinary position, given Mr. Trump's status not only as a onetime chief executive but also as the front-runner for the 2024 Republican presidential nomination to face President Biden, whose administration will now be seeking to convict his potential rival."


The indictment is nakedly political.











From USA Today, "Donald Trump indictment unsealed: Detailing the charges the former president faces":

Donald Trump and one of his Mar-a-Lago staffers, personal valet Walt Nauta, were charged with dozens of counts of allegedly violating eight federal statutes related to the handling of classified documents after the former president left the White House, according to the 44-page indictment unsealed Friday.

In broad terms, Trump was charged with suggesting his lawyer falsely tell the FBI and grand jury that he didn't have classified documents and directing Nauta to move boxes of documents to hide them from the lawyer, the FBI and the grand jury.

He is accused of not just storing and hiding the documents, but showing them to guests at the Trump National Golf Club in Bedminster, New Jersey. He said one document as described a "plan of attack" and another had a map of a military installation, according to the indictment. He allegedly acknowledged knowing the documents were classified, saying "this is still a secret," according to the indictment.

"We have one set of laws in this country and they apply to everyone," said Justice Department special counsel Jack Smith, who led the investigation.
*Cue laugh track*

We have one set of laws and they only apply to enemies of the regime. Those laws will be stretched to the end of the earth to jail opponents of the regime and our jury system will be blatantly rigged to secure convictions.



US v Trump-Nauta 23-80101 by CBS News



It came out on Thursday that the feds allegedly tried to intimidate Nauta and his lawyer to secure their cooperation.


From The Guardian, "Lawyer for Trump valet in Mar-a-Lago documents case alleges misconduct":

The lawyer for Donald Trump's valet, under scrutiny in the Mar-a-Lago documents investigation, has submitted court papers describing a meeting at which a top federal prosecutor brought up his application to be a judge when they tried to gain the valet's cooperation last year, according to three people familiar with the matter.

The allegation, described in a letter filed under seal with the chief US judge in Washington, James Boasberg, could affect the investigation just as prosecutors are considering whether to bring charges.

Even though prosecutors have no control over the success of judicial applications, the fact that it was raised in the context of trying to persuade a lawyer for a witness to recommend cooperating could give the appearance of coercion in one of the justice department's most high-profile cases.

At issue is an incident that took place last year, around November, when prosecutors were trying to gain the cooperation of valet Walt Nauta, who has been under scrutiny because prosecutors suspected he helped the former president conceal classified documents that had been subpoenaed.

Nauta had already spoken to prosecutors in the investigation when they called his lawyer Stanley Woodward and summoned him to a meeting at justice department headquarters for an urgent matter that they were reluctant to discuss over the phone, the letter said.

When Woodward arrived at the conference room, he was seated across from several prosecutors working on the investigation, including the chief of the counterintelligence section, Jay Bratt, who explained that they wanted Nauta to cooperate with the government against Trump, the letter said.

Nauta should cooperate with the government because he had given potentially conflicting testimony that could result in a false statements charge, the prosecutors said according to the letter. Woodward is said to have demurred, disputing that Nauta had made false statements.

Bratt then turned to Woodward and remarked that he did not think that Woodward was a "Trump guy" and that "he would do the right thing", before noting that he knew Woodward had submitted an application to be a judge at the superior court in Washington DC that was currently pending, the letter said.

The allegation, in essence, is that Bratt suggested Woodward's judicial application might be considered more favorably if he and his client cooperated against Trump. The letter was filed after Trump's lawyers submitted a motion on Monday seeking grand jury transcripts, because of what they viewed as potential misconduct.
If the laws were applied equally in this country Attorney General Merrick Garland and his criminal clique would all be prison.



Follow InformationLiberation on Twitter, Facebook, Gab, Minds and Telegram.