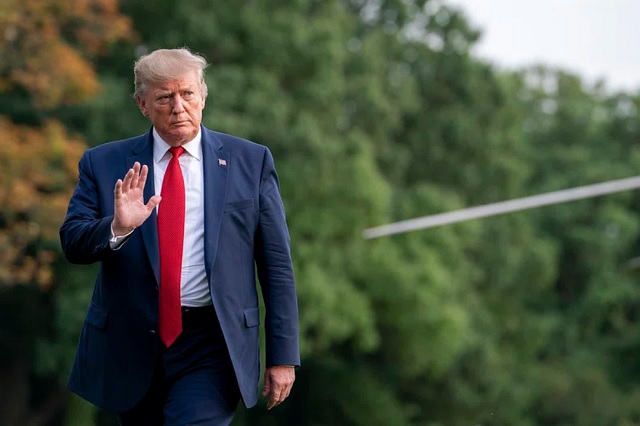 Special counsel Jack Smith is setting an "extraordinarily dangerous" precedent by piercing former President Donald Trump's attorney-client privilege using secret arguments the defense wasn't allowed to see or appeal and using questions Trump asked his own lawyers as evidence against him, former Trump defense attorney Timothy Parlatore told CBS News on Tuesday.

Via Michael Tracey:


From The New York Times, "Trump Indictment Shows Critical Evidence Came From One of His Own Lawyers":

The two indictments filed so far against former President Donald J. Trump — one brought by the Manhattan district attorney, the other by a Justice Department special counsel — charge him with very different crimes but have something in common: Both were based, at least in part, on the words of his own lawyers.

In the 49-page federal indictment accusing him of retaining classified documents after leaving the White House and scheming to block government efforts to retrieve them, some of the most potentially damning evidence came from notes made by one of those lawyers, M. Evan Corcoran.

Mr. Corcoran's notes, first recorded into an iPhone and then transcribed on paper, essentially gave prosecutors a road map to building their case. Mr. Trump, according to the indictment, pressured Mr. Corcoran to thwart investigators from reclaiming reams of classified material and even suggested to him that it might be better to lie to investigators and withhold the documents altogether.

Earlier this year, over Mr. Trump's objections, the special counsel overseeing the investigation, Jack Smith, obtained the notes through an invocation of the crime-fraud exception. That exception is a provision of the law that allows prosecutors to work around the normal protections of attorney-client privilege if they have reason to believe and can demonstrate to a judge that a client used legal advice to further a crime.

The ruling agreeing to the Justice Department's request by [Obama-appointed] Judge Beryl A. Howell, then the chief judge of the Federal District Court in Washington, was crucial to the shape and outcome of the investigation.

Mr. Trump's legal fate could now hinge on testimony and evidence from two men he paid to defend him: Mr. Corcoran, who is still a member of his legal team, and Michael D. Cohen, a former lawyer for Mr. Trump who has helped prosecutors in New York with their case related to the former president's payment of hush money to a porn star before the 2016 election. Mr. Cohen pleaded guilty to federal charges, including one related to that hush money payment, in 2018. Mr. Corcoran has not been accused of any wrongdoing.
Tracey has been on a roll highlighting the utter lunacy involved in this case.

"'Trump Attorney 1' is [Evan] Corcoran who was forced to testify to the grand jury and hand over notes memorializing conversations with his client, Trump. Abolishing bedrock principles of attorney-client privilege: another casualty of the principle of throwing Trump in prison," Tracey commented.


"'What happens if we just don't respond' is exactly the type of question you'd expect a client to ask his lawyer in the context of privileged, confidential communications. But here the DOJ decided to *seize* those communications and present them as evidence of criminal wrongdoing. Obliterating civil liberties and empowering the National Security State in the name of taking down Trump -- the neverending story," Tracey said.



Tracey shared more on Jack Smith:




The charges are laughable considering the President has the authority to declassify anything he wants.


Follow InformationLiberation on Twitter, Facebook, Gab, Minds and Telegram.