Russia Puts Out Arrest Warrant For Senator Lindsey Graham Over Comment 'Celebrating Russians Dying'
Chris Menahan
InformationLiberation
May. 29, 2023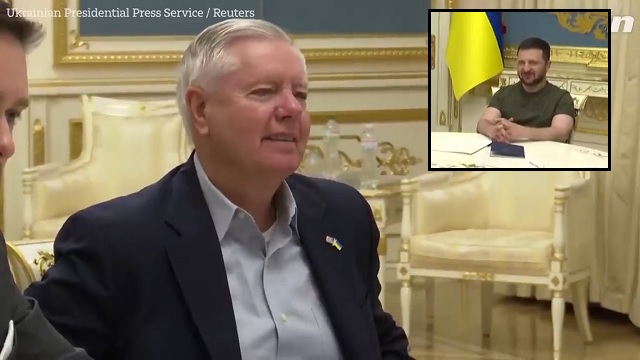 Russia issued an arrest warrant for Senator Lindsey Graham on Monday over his comments praising US aid to Ukraine as "the best money we've ever spent" and celebrating that "Russians are dying."

Graham said he will wear the arrest warrant as a "Badge of Honor" in a statement on Twitter but also told Reuters on Monday that his comments were taken out of context by Ukraine.



From Reuters, "Dismissing Russian criticism, U.S. Senator Graham praises Ukrainian resistance":

U.S. Senator Lindsey Graham disputed Russian criticism of his support for Ukraine on Sunday, saying he had simply praised the spirit of Ukrainians in resisting a Russian invasion with assistance provided by Washington.

Graham, shown in a video clip of his meeting with Ukrainian President Volodymyr Zelenskiy in Kyiv on Friday, acknowledged his host's praise for military assistance valued at $38 billion since the outset of the conflict in February 2022.

He described the help as "the best money we've ever spent".

Kremlin spokesman Dmitry Peskov denounced Graham, suggesting his comment on U.S. financial assistance was linked to a later remark that Russians "are dying" in the conflict.

But the release by the Ukrainian president's office of Graham's complete remarks showed there was no such link.

Graham said he was visiting on the 457th day of a war that Russia had assumed would be completed within three days and Graham said Ukrainians resisting the invasion reminded him of "our better selves in America. There was a time in America that we were this way, fighting to the last person, we were going to be free or die."

"Now you are free," Zelenskiy responded in the encounter. "And we will be."

Graham replied: "And the Russians are dying."
Here's the video as originally released by Ukraine...


And here's the longer clip Ukraine released after the controversy (the end is edited):


Graham celebrated "Russians dying" after saying US aid to Ukraine was the "the best money we've ever spent," not before it.

Though Ukraine should not have taken Graham's comments out of context, I don't know that him hailing US lethal aid to Ukraine as "the best money we've ever spent" before celebrating that "the Russians are dying" materially changes what he said.

He is clearly thrilled that Russians are dying in Ukraine and that Ukraine is "fighting to the last person" thanks to US aid (aka bribes to drag the US's proxy war out for as long as possible).

As I noted over the weekend, Graham has repeatedly called for Putin's assassination -- which I think most would agree is far more inflammatory.



Most Americans said at the start of the war they don't want any US boots on the ground and don't want the US to go to war with Russia directly and yet we know from the Pentagon leaks that the US does have boots on the ground in Ukraine and Under Secretary of State for Political Affairs Victoria Nuland blurted out just last week that the US is helping plan Ukraine's counteroffensive.

Follow InformationLiberation on Twitter, Facebook, Gab, Minds and Telegram.