Lindsey Graham Says U.S. Aid to Ukraine Is 'The Best Money We've Ever Spent ... The Russians Are Dying' [UPDATED]
Chris Menahan
InformationLiberation
May. 28, 2023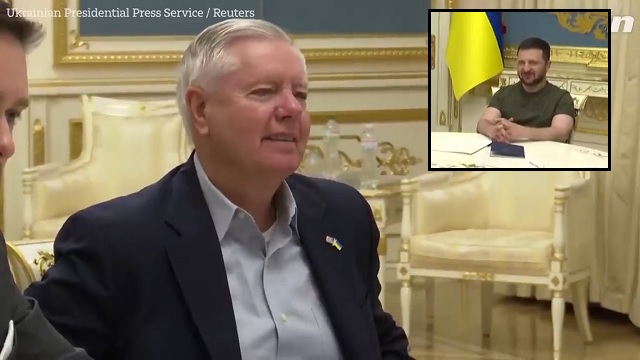 UPDATE: You can see Senator Lindsey Graham's full comments in context here.

Senator Lindsey Graham visited Ukrainian President Volodymyr Zelensky on Friday in Kiev to hail US aid to Ukraine as "the best money we've ever spent" and celebrate that "Russians are dying."

"Free or die, now we are free," Zelensky tells Graham in video of the meeting released by Andriy Yermak, the head of Ukraine's presidential office.

"Yes," Graham responds.

"And we will be," Zelensky says.

"The Russians are dying," Graham reportedly interjects. "It's the best money we've ever spent." [See update above]


UPDATE: Here's the longer clip Ukraine released after the controversy (the end is edited):


Newsweek carried a report claiming he may have said the Russians are "down" but Graham himself hasn't disputed anything.

Graham on Twitter celebrated that the "Russians have been bloodied and weakened" and said the US "must provide cluster munitions and additional long range artillery" to kill more Russians in the "counteroffensive."




The comments are not out of character for Graham considering he has repeatedly called for Russian President Vladimir Putin's assassination.



All that was missing from this scene was Graham holding up a sign reading, "More for Ukraine."


Follow InformationLiberation on Twitter, Facebook, Gab, Minds and Telegram.