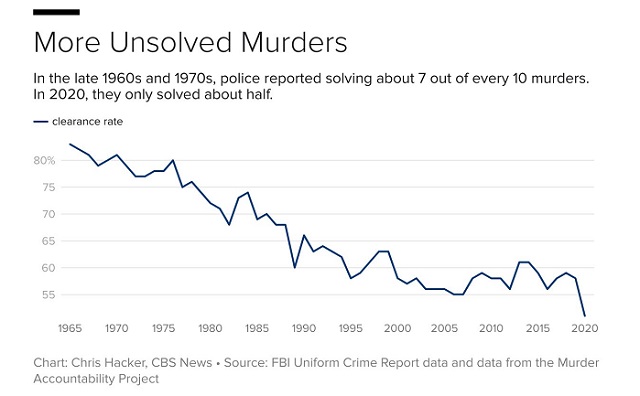 Welcome to the New America™.

From CBS News, "A 'coin flip': Nearly half of U.S. murders go unsolved as cases rise":

Across a nation that is already in the grips of a rise in violent crime, murders are going unsolved at a historic pace, a CBS News investigation has found. A review of FBI statistics shows that the murder clearance rate — the share of cases each year that are solved, meaning police make an arrest or close the case due to other reasons — has fallen to its lowest point in more than half a century.

"It's a 50-50 coin flip," says Thomas Hargrove, who runs the Murder Accountability Project, which tracks unsolved murders nationwide. "It's never been this bad. During the last seven months of 2020, most murders went unsolved. That's never happened before in America."

Police are far less likely to solve a murder when the victim is Black or Hispanic, according to CBS News' analysis. In 2020, the murders of White victims were about 30% more likely to be solved than in cases with Hispanic victims, and about 50% more than when the victims were Black, the data show.

In dozens of interviews across the country, police and criminal justice experts have offered a range of explanations for these trends.
They've got to find some way to blame white people.



Check out the roundabout way they addressed the real issue: snitches get stitches.
Some factors are evident when visiting communities such as Jackson, Mississippi, which has suffered from one of the nation's highest murder rates.

In that city of about 160,000 people, the police department responded to 153 murders in the past year but has just eight homicide detectives to work that caseload. FBI guidelines suggest homicide detectives should be covering no more than five cases at a time.

Police Chief James Davis said his department needs more of everything to keep up with the violence.

"The whole system is backlogged," Davis said. "I could use more police officers. I could use more homicide detectives, but if the state is backed up, the court is backed up, we will still have the same problem by developing these cases that we're already doing."

Police are also contending with a breakdown in trust between their officers and the communities they serve, a result of decades of tensions that spilled over during high-profile cases of police misconduct in recent years.

That has made it harder for police to receive tips or obtain help from witnesses, said Danielle Outlaw, the commissioner of the Philadelphia Police Department. Outlaw told CBS News there is a history of "systemic inequities that contribute to the mistrust" in many communities most affected by crime.
Gee, I wonder what could have caused this breakdown in trust?

Was there some sort of "Movement" in 2020 that came to a head which said police are all evil white racists who are oppressing black people for no reason whatsoever other than the color of their skin?

Did police and the FBI decide to take a knee and blame white people for all of society's ills rather than address our serious "inner city" crime problem?


Was the FBI/DOJ spending all their resources combatting the supposed threat of "white extremism" while violent crime was hitting record levels in major cities across America?

I must have just imagined all that because according to CBS News, the issue is "unequal justice" (i.e. white racism), the "pandemic" and a lack of "diversity" among police.

Look for the homicide rate to continue to rise and the homicide clearance rate to continue to fall as long as our ruling class continues to embrace such delusions.



Follow InformationLiberation on Twitter, Facebook, Gab, Minds and Telegram.