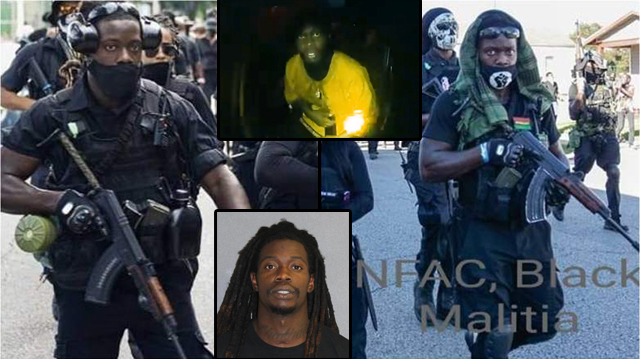 A black extremist who recently marched through the streets of Louisville, Tulsa and Stone Mountain armed with an AK-47 together with the militant black nationalist "Not F**king Around Coalition" stands accused of shooting a Daytona Beach police officer in the head on Wednesday night.



From Heavy.com:

Othal Wallace is a Florida man accused of shooting a police officer in Daytona Beach. Wallace is on the run, police say, and authorities have offered a $100,000 reward. Officer Jason Raynor was investigating a "suspicious incident" on June 23, 2021, when the Daytona Beach Police Department says he was shot in the head by Wallace.

The 29-year-old Wallace fled from the scene after the shooting and a "multi-agency manhunt," was launched, police said. Wallace could be driving "a gray 2016 Honda HRV with a California tag of 7TNX532," Daytona Beach Police said. Wallace is a member of the NFAC (the Not F****** Around Coalition), a Black militia, according to his Facebook profile, which is under the name O-Zone Wallace. He has a criminal record in Florida including domestic violence, aggravated battery with a deadly weapon and aggravated battery on a pregnant person charges.

[...] Raynor has been an officer for three years. The Daytona Beach Police said, "Paramedics took the officer to Halifax Health Medical Center for treatment. He is now out of surgery and remains in critical condition. ... Please keep him and his family in your prayers." Young added in a tweet, "No change in the status of my hero who was shot in the line of duty last night. He's fighting while all of us are praying 🙏🏾 The manhunt continues for the coward responsible for this."
Raynor has a lengthy arrest record but managed to stay out of prison and avoid any felony charges despite our so-called "white supremacist criminal justice system":

Wallace has been arrested multiple times in Volusia County, Broward County and Brevard County dating back to 2012, according to online records obtained by Heavy. His most recent arrest was in 2019. There is no indication from a records search that Wallace has ever been convicted of a felony charge, so he was still able to be a legal gun owner.

In October 2019, Wallace was arrested in Volusia County on a misdemeanor domestic violence battery charge, according to court records. The charging documents show the victim was the mother of Wallace's two children. Police said Wallace asked her to let him use her car and when she refused, he tried to grab her keys. According to police, the victim said Wallace then grabbed her by the hair and pulled her to the ground. In November 2019, the county state attorney's office elected to not file charges against Wallace for unknown reasons.

In July 2018, Wallace was charged with felony domestic battery in Volusia County, but the charge was later reduced to first-degree misdemeanor domestic battery by prosecutors. In that case, Wallace entered a deferred prosecution agreement in September 2018 and completed a pre-trial intervention program in August 2019.

In February 2017, Wallace was charged in Volusia County with aggravated battery on a pregnant person, burglary of an occupied dwelling and criminal mischief, but prosecutors dropped the charges a month later. According to court documents, Wallace was accused of grabbing the arm of the mother of his unborn child during an argument and scratching her near her bicep, causing cuts. Wallace was also accused of kicking down a door to the victim's apartment after he had left because she would not let him come get a backpack he had forgotten, police said.

Wallace has other arrests in Volusia County on charges including driving with a canceled or revoked license, obstructing an officer without violence, habitual driving with a revoked license, fleeing or attempting to elude police, trespassing, criminal mischief and violating probation.

Wallace was arrested on a domestic violence warrant in Brevard County in 2018, records show, and on charges of aggravated battery with a deadly weapon and driving with a suspended license in Broward County, also in 2018.
Is there any question that the feds could have taken this guy down with ease if they went after him like they're going after the Jan 6 protesters or inflammatory Omegle trolls?


As I reported earlier this month, Attorney General Merrick Garland declared white extremists the greatest "violent extremist threat" right as a black extremist was being charged for going on a shooting spree "targeting white men" in Georgia and Alabama.


On the same day this Daytona cop was shot, the FBI was busy sending a large team of FBI agents with guns drawn to arrest a 73-year-old pastor and Purple Heart veteran and his son for allegedly entering the Capitol on Jan 6.


From The Gateway Pundit, "BREAKING EXCLUSIVE: 73-Year-Old Pastor and Purple Heart Veteran Arrested For Being at Capitol, His Son Also Arrested in Front of 3-Year-Old Daughter (VIDEOS):

A 73-year-old Purple Heart Vietnam veteran and pastor James Cusick has been arrested at his home in Florida for being at the Capitol on January 6, though he was not involved in any violence or vandalism.

His son Casey, was also arrested in front of his distraught 3-year-old daughter who asked why they were locking her dad's hands. He is also not accused of any violence or vandalism. Videos of the heartbreaking scene were provided to the Gateway Pundit.

The arrests took place on Thursday morning.
"This morning I saw a sheriff pull up in our driveway with his lights on and there was about four or five other cars with them," his daughter Staci told the Gateway Pundit. "They came up to our front door and I told my dad to go answer it. As he started towards the door they started banging and banging and saying 'open up we have a warrant.' He opened the door and they asked him his name and to step outside."

"They asked me my name and I told them I was his daughter Staci. They said they were not looking for me, but told me to put my hands on the back of the sheriff's vehicle. My dad asked what it was about and they told him it was because he entered the Capitol building on January 6."

James Cusick was shocked, she said, to find out what the arrest was about. When he was at the Capitol he was friendly with officers, who directed him to a bathroom. His daughter says that they never told him to leave. He began to defend himself, but the agents and sheriffs reminded him that everything he says can be used against him and to wait until he has a lawyer.

"I asked him if they would take the handcuffs off of him because I was upset seeing my 73-year-old father in handcuffs. They said no," Staci said.
The murder rate is through the roof and people are being dragged out of their car and executed in the streets of Chicago but the DOJ/FBI is focused on punishing grandma for walking into "the People's House."


Imagine how many of the crimes we're seeing daily could be prevented if the feds were using their limited resources to go after the hardcore criminals terrorizing our streets instead of spending all their time trying to crush their political opposition!

Follow InformationLiberation on Twitter, Facebook, Gab, Minds, Parler and Telegram.