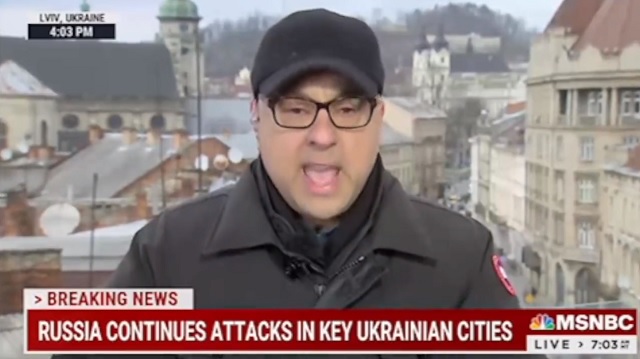 MSNBC host Ali Velshi on Sunday invoked the Holocaust to demand the US kick off World War III by launching "direct military involvement" in Ukraine.



Velshi called for the US to enter the war in response to atrocity propaganda from the Ukrainian government which has been caught pushing lie after lie after lie to lobby for NATO intervention and forced all men aged 18-60 to take up arms and become enemy combatants.

Velshi on Sunday invoked the Holocaust and called for the US to launch "direct military involvement" in Ukraine.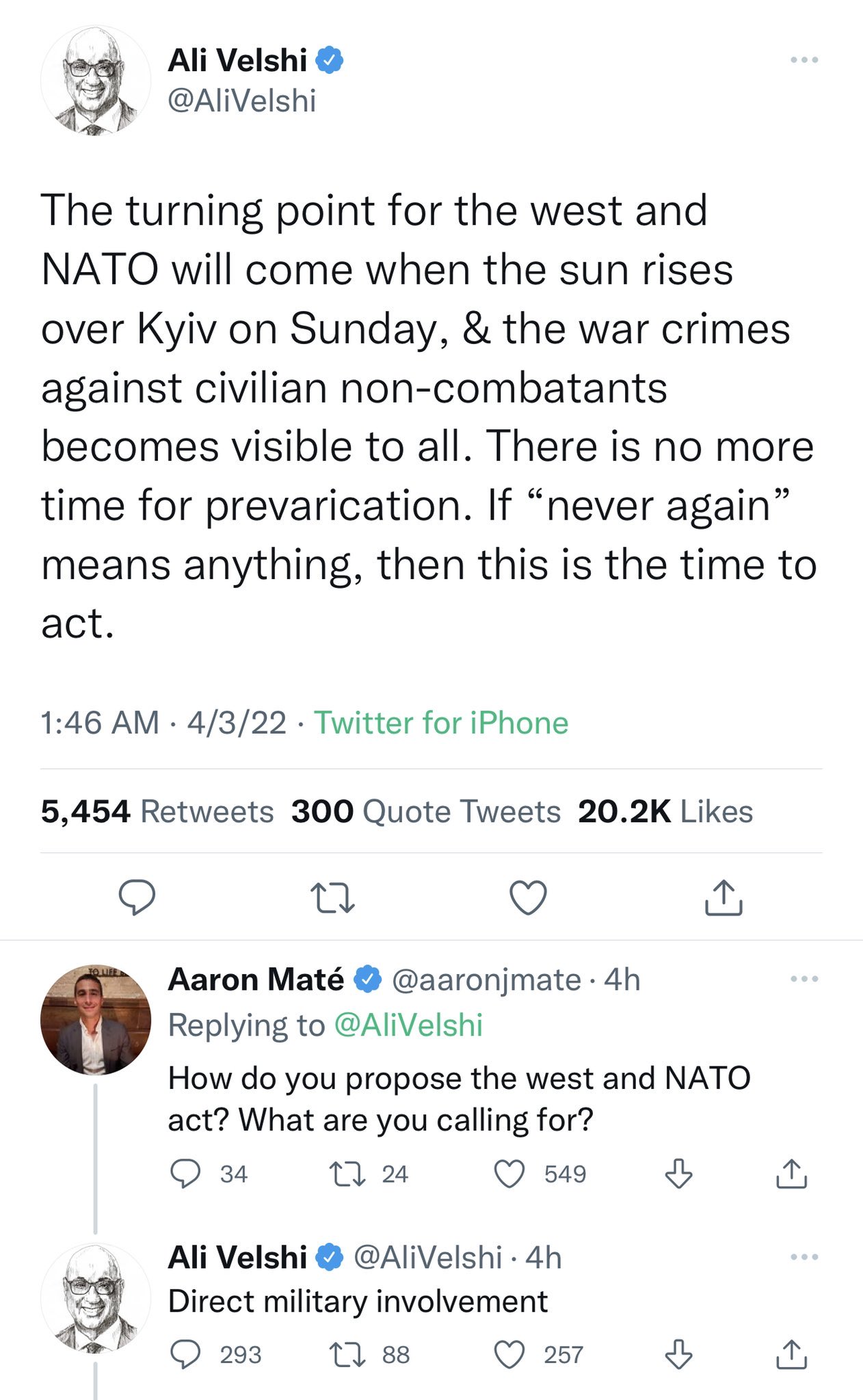 Russia said Sunday that the alleged "Bucha massacre" is "fake news."

From RT:

The Russian military has firmly denied accusations of mass killings of civilians in Bucha, a Ukrainian town northwest of Kiev. The claims have been raised by Ukraine itself, some Western media outlets and human rights groups, after Moscow had withdrawn its troops from the outskirts of Ukraine's capital.

"All photographs and video materials published by the Kiev regime, allegedly showing some kind of "crimes" by Russian military personnel in the town of Bucha, Kiev region, are yet another provocation," the Russian Ministry of Defense said Sunday.

Russian troops had been pulled out from the area on March 30, the military said, pointing out that "the so-called 'evidence of crimes' in Bucha appeared only on the fourth day" after the withdrawal, when Ukrainian intelligence and "representatives of Ukrainian television arrived in the town."

"Moreover, on March 31 the mayor of Bucha, Anatoly Fedoruk, confirmed in his video address that there was no Russian military in the town, but did not even mention any local residents laying shot in the streets with their hands tied," the Russian military also pointed out.

It's particularity concerning that all the bodies of people whose images were published by the Kiev regime, after at least four days, have not stiffened, do not have characteristic cadaveric spots, and have fresh blood in their wounds," the military noted, adding that all these inconsistencies show that the whole Bucha affair "has been staged by the Kiev regime for Western media, as was the case with the [fake news from the] Mariupol maternity clinic."
This incident has every indicator of being yet more atrocity propaganda.



None of what the Ukrainian government is claiming took place has been proven but that isn't stopping our controlled media from demanding World War III.

MSNBC and Fox News are now both united in directly lobbying for World War III.

As Sean Hannity said last week, we mustn't "cower in fear" over the prospect of a global nuclear holocaust triggered by "mutually assured destruction!"


All these lying propagandists should be forced to register as foreign lobbyists!

Follow InformationLiberation on Twitter, Facebook, Gab, Minds, Parler and Telegram.