Ukrainian Navy Admits Snake Island Soldiers Were All Captured Alive
Chris Menahan
InformationLiberation
Feb. 28, 2022


The Ukrainian Navy on Monday admitted the Snake Island story was a load of crap.

From People, "Defiant Snake Island Soldiers Are Actually 'Alive and Well' Despite Earlier Reports, Military Says":

Despite earlier reports to the contrary, the Ukrainian military now says that soldiers attacked by a Russian warship on Snake Island last week are "alive and well," though all the infrastructure on the island has been demolished.

According to a post shared to the Ukrainian Navy's official Facebook page on Monday, officials said, per a translation: "The Marines and frontier guards captured by the Russian occupiers on Snake Island. ... are alive and well!"

Ukrainian President Volodymyr Zelenskyy had said last week all 13 Ukrainians were killed in Thursday's attack on the island and would be posthumously awarded the title of Hero of Ukraine.
From the Ukrainian Navy's post on Facebook: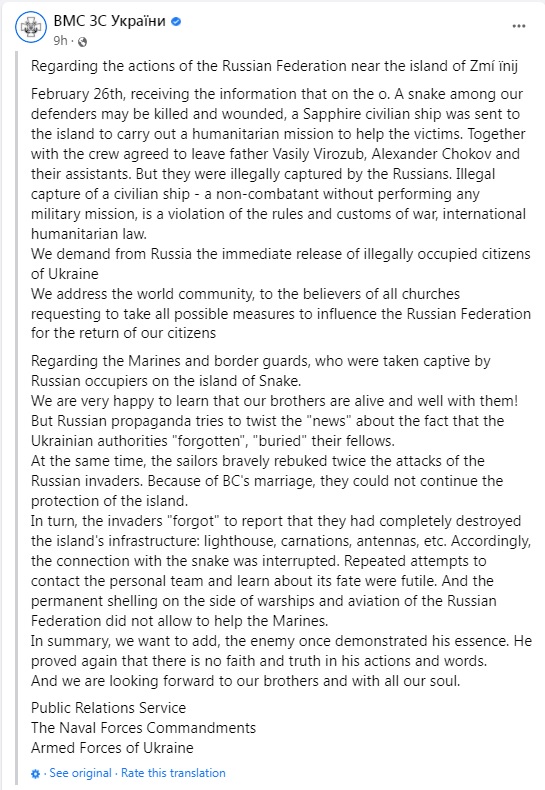 As I reported on Saturday, the Snake Island tale was shown to be fraud after Russia released video showing dozens of soldiers who were stationed on the island peacefully surrendering.



The media spread Zelensky's lies to tens of millions of people and held up the "13 Ukrainian soldiers" "defiant last stand" as the ultimate act of heroism.

We now know it was nothing more than war propaganda.


Follow InformationLiberation on Twitter, Facebook, Gab, Minds, Parler and Telegram.