Babi Yar Holocaust Memorial Was NOT Damaged by Russian Missile Strike, Contrary to Zelensky's Claims
Russian missile strike was carried out on a nearby communication tower, Holocaust memorial was left "unscathed"
Chris Menahan
InformationLiberation
Mar. 02, 2022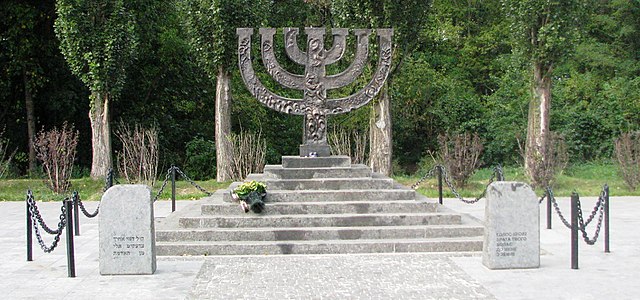 Ukrainian president Volodymyr Zelensky claimed on Monday that Russia carried out an airstrike on Babi Yar Holocaust memorial in Kiev in order to "erase our history" and said the destruction was "beyond humanity" but an Israeli journalist who visited the site on Wednesday found it's "unscathed."

"[The Russians] have orders to erase our history, our country and all of us," Zelensky said. "You killed Holocaust victims for the second time."


The memorial is actually "unscathed" according to Israeli Ynet News reporter Ron Ben Yishai, who visited the site on Wednesday and took photographs.

The memorial was "not harmed and no bomb, missile or artillery shell hit the site itself," Ynet News reported.

"The damage was caused to nearby Kyiv's communications and television tower complex, some 300 meters [984 feet] away from the new memorial and a kilometer [3280 feet] from the old one."


"Three missiles - launched from aircraft flying above the cloud cover - did land around the compound surrounding the communications tower, causing great damage to buildings belonging to its administrators," Ynet News reported. "But the massive tower itself remained unharmed, but for some minor impact from shrapnel and stains caused by black smoke."

The false claim Russia bombed a Holocaust memorial was perhaps the top story on social media on Tuesday and was repeated by virtually every major controlled media outlet as though it was fact.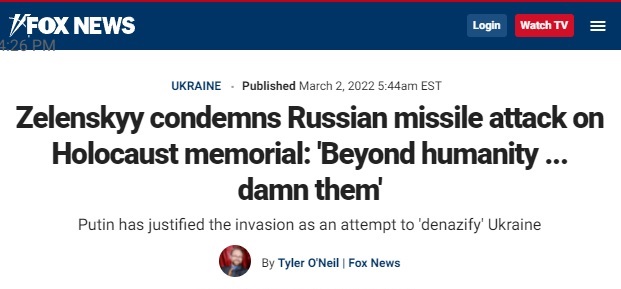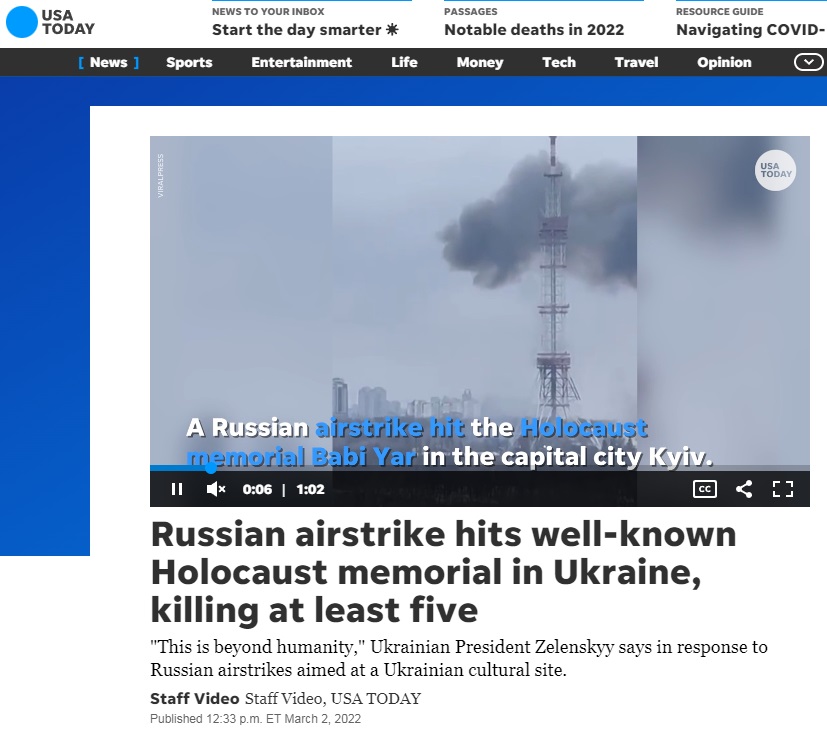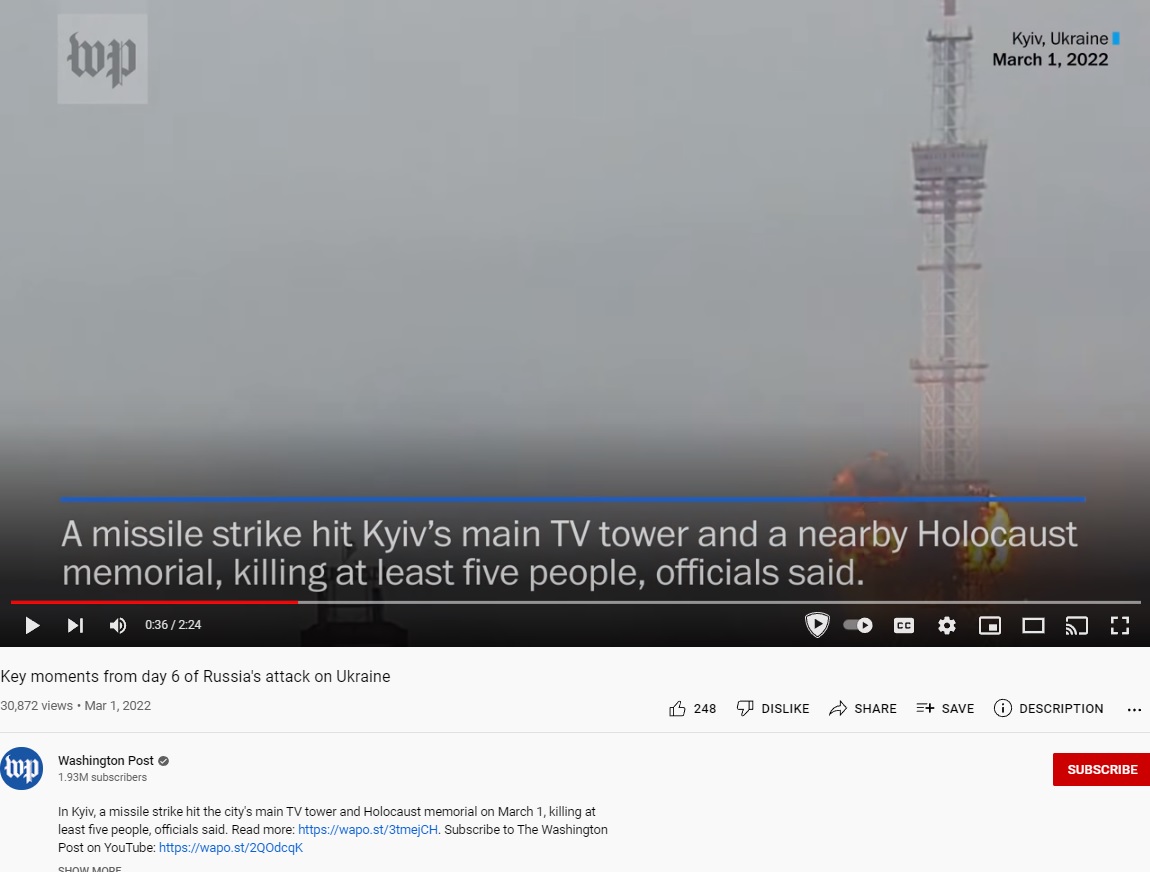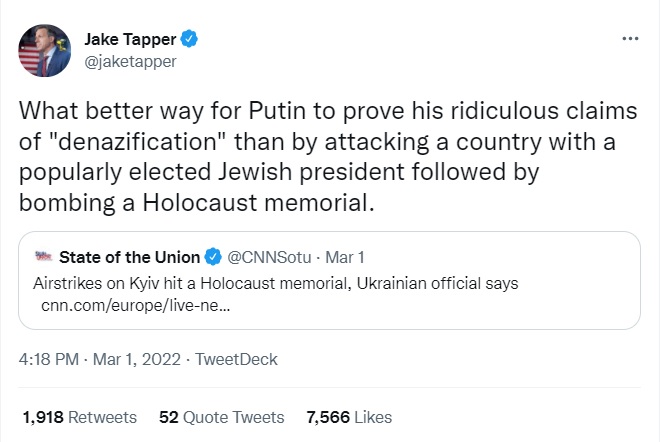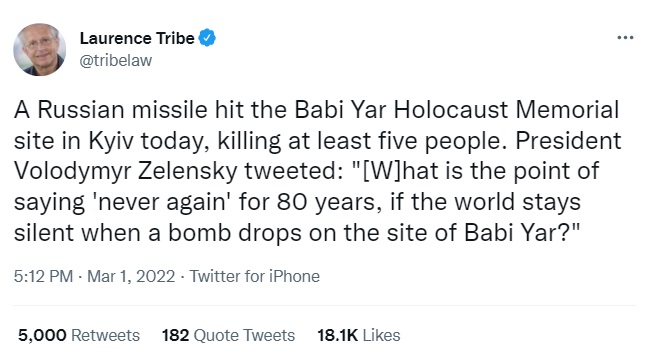 Fox News' Jennifer Griffin, who laundered the war propaganda that Russia had deployed "mobile crematoriums" to "evaporate" war dead in Ukraine, also put out the false story about Russia bombing a Holocaust memorial on Special Report with Bret Baier.



Griffin has not issued corrections to either story.

[Header image by Alex Long via Wikicommons, CC BY-SA 4.0]

Follow InformationLiberation on Twitter, Facebook, Gab, Minds, Parler and Telegram.