The FBI lied about seizing a "fully constructed US Capitol Lego set" from an alleged Jan 6 Capitol protester in order to justify holding him under indefinite detention, federal prosecutors' latest court filing revealed.


"In original detention memoranda, the undersigned stated that law enforcement found a 'fully constructed U.S. Capitol Lego set,' " the new filing states. "Please note that after a review of the photographs from the search, there appears to have been a miscommunication and that statement appears to be inaccurate. The Lego set was in a box and not fully constructed at the time of the search, as pictured below."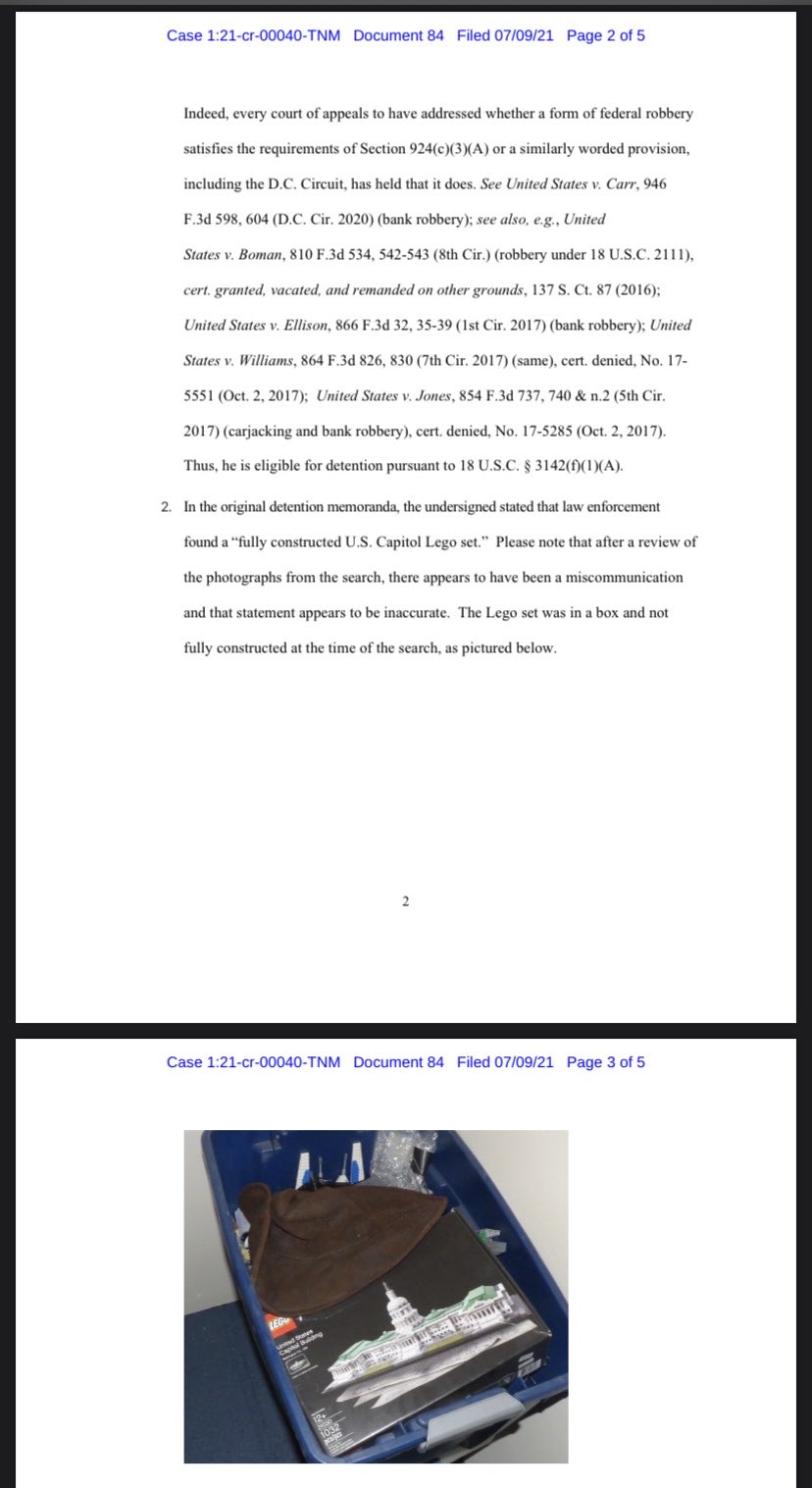 From American Greatness last week:

No Relief for Lego Man or Other January 6 Detainees
Prospects look dim for those caught up in Merrick Garland's Capitol protest witch hunt.

By Julie Kelly | July 8, 2021

Joe Biden's Justice Department wants the Lego Man kept behind bars—indefinitely.

Federal agents seized a plastic replica of the Capitol building from the Pennsylvania home of Robert Morss during his arrest on June 11. Justice Department officials are citing the Lego model as evidence in the criminal case against Morss for his involvement in the January 6 protest: "During his arrest, law enforcement recovered some clothing and other items that appear to match those he carried with him on the 6th—including a 'Don't Tread on Me' flag, a neck gaiter, a military utility bag, a black tourniquet, and military fatigues. (Law enforcement also recoverd [sic] a fully constructed U.S. Capitol Lego set.)"

So wrote government prosecutors in a July 2 filing asking the D.C. District Court to deny Morss' release while he awaits trial on nine counts, including assaulting police officers and disorderly conduct.

While dangerous criminals daily threaten the safety of innocent people in cities across the country—and many are released on bail—the FBI continues its nationwide manhunt for Capitol protesters while the Justice Department repeatedly petitions the court to keep the accused incarcerated for months on end.

Attorney General Merrick Garland, who despicably compares January 6 to the Oklahoma City bombing, recently bragged his office reached a "benchmark" of 500 arrests. (Who knew criminal investigations had quotas?). In more than 100 cases and counting, Garland's prosecutors have sought and often received pretrial detention for first-time offenders, including defendants not accused of committing any violent crimes.

"Morss's dangerousness is not limited to his past actions, but presents a future threat," assistant U.S. Attorney Melissa Jackson warned in the July 2 detention motion. "It is difficult to fathom a more serious danger to the community—to the District of Columbia, to the country, or to the fabric of American Democracy—than the one posed by someone who knowingly and eagerly engaged in a violent insurrection to occupy the United States Capitol and abort the certification of a lawful and fair election."

Really? It's "difficult" to think of a worse threat than unarmed and often nonviolent Americans who participated in what they believed to be a legitimate protest against a clearly rigged presidential election? Perhaps Jackson can explain her logic to the heartbroken mother of Max Lewis, a 20-year-old University of Chicago student who was shot and paralyzed while riding a CTA train on July 1 and who had to instruct his parents by blinking at them to take him off life support. Or to the other family members of victims killed in America's surging crime wave.

But what Jackson and her fellow prosecutors want more than justice is revenge—to punish Americans who repudiate the election of Joe Biden. It's unimaginable to think any other president or attorney general could get away with such a politically flagrant use of the most destructive government legal powers, but here we are.
Mass arrests of political opposition, labeling opposition "domestic terrorists" and "white extremists" in order to strip them of their rights and put them on the No Fly List, shutting down opposition bank accounts under "Operation Chokepoint," banning opposition from all social media and partnering with Big Tech to silence all dissent using AI, telling Americans to rat out their friends and family to the FBI if they detect signs of "extremism..."

Is this what a "return to normalcy" looks like?

Is this what "rejecting Trump's fascism" and "restoring human rights" looks like?

It looks more like the groundwork is being laid for another Bolshevik reign of terror!

Follow InformationLiberation on Twitter, Facebook, Gab, Minds, Parler and Telegram.