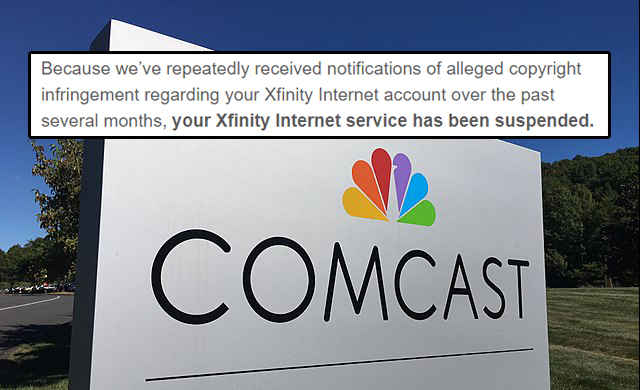 Comcast under CEO Brian Roberts is reportedly now cutting off their users' internet for allegedly downloading copyright-infringing torrents.

From Torrent Freak, "Comcast Suspends Internet Connection For Downloading Torrents":

Yesterday, a Comcast subscriber revealed that they had received a special notice from Comcast headed "Action is required" and informing the user that the document is an "alert under our DMCA repeat infringer policy."

"This alert is to let you know that this month, we again received notifications of alleged copyright infringement associated with your Xfinity account. That means your Internet service may have been used repeatedly to copy or share a movie, show, song, game, or other content without any required permission," it reads.

Comcast notes that the customer should have received separate emails or letters from Xfinity which provided specific details of these claims under the heading 'Notice of Action under the Digital Millennium Copyright Act (DMCA)'. These will have contained the specifics of the alleged infringement so with those having been sent, Comcast is taking the next step.

Comcast Suspends Alleged Pirate's Service

Quite how many notices of alleged infringement were previously received against the subscriber's account remains unclear. Comcast advises that it had "repeatedly received notifications" of alleged copyright infringement "over the past several months" and as a result, action must now be taken.

"[Y]our Xfinity Internet service has been suspended. This suspension will last for up to 8 hours or until you call us," the alert reads.
TorrentFreak has contacted the recipient of the alert for additional information, including precisely how many times they had previously received a DMCA notice and whether the temporary suspension caused any hardship. At the time of writing we have yet to receive a response but Comcast indicates that should any additional complaints come in, action against the account will be escalated.

"Your next repeat infringer alert will result in the suspension of your Xfinity Internet service for up to 12 hours. Further notifications may result in your Xfinity Internet account being suspended again or terminated. Your other Xfinity services could be terminated, as well," the company warns.

[...] Effectively, this is what the entertainment industries broadly hoped to achieve with their abandoned 'six strikes' regime but with the addition of punitive measures. That project was shut down in 2017 but subsequent developments, including a $1 billion damages award against ISP Cox, means that ISPs are now effectively forced to take action against repeat infringers.

Cox previously handed out a six-month Internet ban to one of its subscribers for being a repeat infringer, something that had the potential to cause chaos in that individual's household. That's something opponents believe should be avoided.

As highlighted by amici curiae briefs in support of Cox's appeal against the $1 billion damages award it incurred for not dealing appropriately with repeat infringers, such terminations have the potential to disrupt everything from distance learning to telework and telemedicine.
"Sorry, you can no longer go to telework/teleschool or telemeet with your doctor because someone on your shared IP address got a DMCA notice from an automated bot farm run by Disney or Comcast NBC Universal."

If Comcast is cutting people's internet off for civil copyright infractions, whose to say they won't start cutting people off for "hate speech" next?

The same measures the US government used to seize the domains of torrent sites a decade ago are now being used to seize Middle East news websites the Biden regime doesn't fancy.




The same censorship/blacklisting regime created to censor torrents from Google search is now used to censor all independent media.

Google went from using an AI system to block copyrighted content from YouTube to using their AI system to censor everything the ADL deems "hate speech."



Everything our overlords do in the name of fighting "copyright infringement" is eventually used to suppress their political opposition.

Cutting off someone's internet, just like cutting off someone's power, should be illegal!

Follow InformationLiberation on Twitter, Facebook, Gab, Minds, Parler and Telegram.