'This Is Overt Political Persecution': Conservative Commentator Nick Fuentes 'Placed On No Fly List' by Biden Regime
Chris Menahan
InformationLiberation
Apr. 27, 2021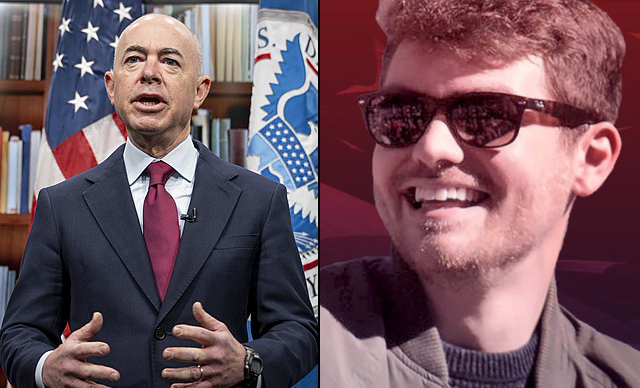 America First host Nick Fuentes reported Tuesday that he was blocked from flying to a rally against Big Tech censorship in Florida because he has been placed on the No Fly List in an act of "overt political persecution."

"I can't get to Florida today because they will not let me get on the plane, I am on a no fly list," Fuentes said on Telegram.

"So I'm on my way to a press conference to discuss how I've been banned from nearly all social media and tech services, and then I find out that I can't even get there because I've been put on a no-fly list," Fuentes said in a follow-up post on Twitter. "This is overt political persecution. America is not a free country."

[UPDATE: Fuentes was banned from Twitter over his political views. I've posted a mirror of his video being told he's not allowed to fly below.]




Nick Fuentes is a 22-year-old political commentator who has not been convicted of, nor charged with any crime.


Fuentes attended Trump's Jan 6th rally but did not enter the Capitol building.

Earlier this year, the Biden regime threatened to put their opposition on the "no fly list" after labeling them "suspected domestic extremists" for their political views.

As Politico reported last month:

The week after January 6, a top FBI official said the Bureau was ďactively looking atĒ adding the names of Capitol attackers to the No Fly List. And the week before Inauguration Day, the head of the TSA said the agency was working ďto ensure those who may pose a threat to our aviation sector undergo enhanced screening or are prevented from boarding an aircraft.Ē His statement did not mention the No Fly List.

According to the officials who spoke to POLITICO, conversations about domestic extremism and the No Fly List arenít just limited to people who attacked the Capitol on January 6.
Now, it appears they're following through!


While Americans are being stripped of their right to travel, illegal aliens are being flown in and dropped throughout the country!


The No Fly List is a blatantly unconstitutional measure that blocks Americans from being able to fly on planes or even fly over US airspace with zero due process.

The ACLU is currently suing the government over the No Fly List on behalf of a Muslim man who was placed on the list after he "refused to become an FBI informant."

UPDATE:



Follow InformationLiberation on Twitter, Facebook, Gab, Minds, Parler and Telegram.