U.S. Embassies Fly BLM Flags In Greece, Spain, Cambodia And Bosnia After Push From State Dept Head Antony Blinken
Chris Menahan
InformationLiberation
May. 25, 2021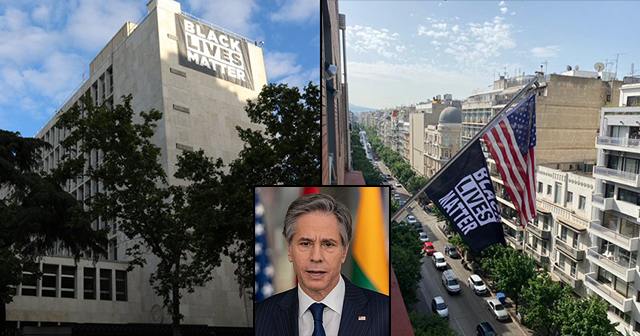 US embassies in Greece, Spain, Cambodia and Bosnia have put up Black Lives Matter flags after being encouraged to show support for the movement in a secret memo from State Department head Antony Blinken.

The flags were put up on Tuesday to celebrate George Floyd Day and ritually humiliate the American people as part of what Soviet defector Yuri Bezmenov called the "process of demoralization."

Spain:


Greece:


Cambodia:


Bosnia:


Tokyo:


A leaked State Department memo obtained by Human Events showed Secretary of State Antony Blinken gave "blanket written authorization" to all US embassies to fly the new flag of the Globalist American Empire (GAE).

"The Department supports the use of the term 'Black Lives Matter' in messaging content, speeches, and other diplomatic engagements with foreign audiences to advance racial equity and access to justice on May 25 and beyond," the memo stated. "We encourage posts to focus on the need to eliminate systemic racism and its continued impact."

Biden's handlers are working to "eliminate systemic racism" by implementing systemic racism against white people and declaring them all terrorists.

Earlier this year, Blinken said he would also authorize embassies to fly the GAE's LGBT pride flag.


While our embassies on Tuesday were busy throwing up BLM flags on Blinken's orders to "advance racial equity," Blinken himself was meeting with Benjamin Netanyahu in Israel to pledge his "ironclad commitment to Israel's security" just days after Israel bombed the hell out of Gaza and Jewish supremacists carried out anti-Arab pogroms in the streets and sang songs calling for the genocide of Palestinians while a fire raged outside the Al-Aqsa Mosque.


According to Blinken, "systemic racism" in America must be "eliminated" but systemic racism in Israel must be protected with billions of U.S. taxpayer dollars and $735 million in new precision-guided missiles.

Follow InformationLiberation on Twitter, Facebook, Gab, Minds, Parler and Telegram.