Biden to Replenish Israel's Iron Dome Missile Supply in Addition to Sending $735M in Arms
Chris Menahan
InformationLiberation
May. 21, 2021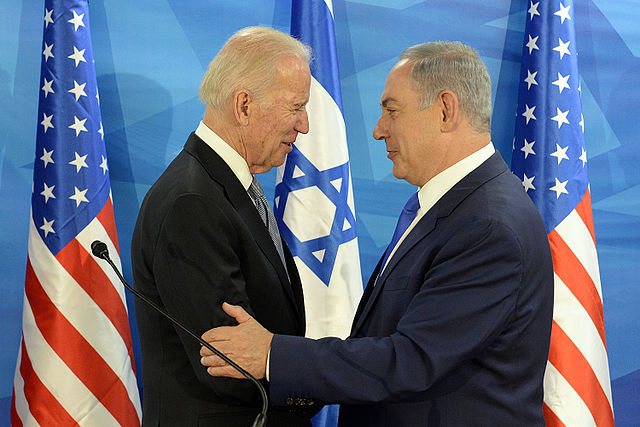 Joe Biden has agreed to arm Israel to the teeth and replenish their Iron Dome missile supply as "Israel has the right to defend itself" but indicated the people of Gaza will only get US aid if they give up their right to defend themselves and accept being conquered.



"The United States fully supports Israel's right to defend itself against indiscriminate rocket attacks from Hamas and other Gaza-based terrorist groups that have taken the lives of innocent civilians in Israel," Biden said in a speech from the White House on Thursday.

"The Prime Minister also shared with me his appreciation for the Iron Dome system, which our nations developed together and which has saved the lives of countless Israeli citizens, both Arab and Jew," he continued. "I assured him of my full support to replenish Israel's Iron Dome system to ensure its defenses and security in the future."


As a reminder, the US army was forced to abandon its $1 billion Iron Dome missile defense system last year because Israel refused to hand over the source code that we effectively paid for by giving them over $142 billion in aid.

From The New York Times, "U.S. looks to rebuild Gaza, but aid could hinge on Hamas' rocket arsenal":

With a cease-fire between Israel and Palestinian militants on the horizon, the Biden administration is turning to how it can help rebuild the besieged Gaza Strip — and in turn bring pressure, through promises of financial support, on Hamas not to resume fighting.

President Joe Biden had urged Prime Minister Benjamin Netanyahu of Israel to accept a cease-fire, but by the time any halt in fighting takes effect, the violence will have forced more than 72,000 Palestinians from their homes in Gaza, pockets of which are now just piles of rubble where tall buildings once stood.

A senior Biden administration official said the United States was planning to be at the fore of an international response, most likely costing billions of dollars, to include restoring health and education services, and other reconstruction.

[...] "In a sense, you need to put Hamas in a position where they have to choose between their rockets and the well-being of Gaza," said Dennis B. Ross, a veteran American negotiator of peace efforts between Israel and the Palestinians and Middle East policy for at least four U.S. presidents.

[...] "The issue is massive reconstruction for no rockets," Mr. Ross said. "There has to be enough oversight of this process to know that it's working the way it's intended. And the minute you see irregularities, everything stops."
American taxpayers are paying for Israel to bomb the hell out of Gaza with US missiles they bought with our money and then we're supposed to pay for Gaza to rebuild.




America and Europe also get all their refugees.



This is "our" foreign policy.



Follow InformationLiberation on Twitter, Facebook, Gab, Minds, Parler and Telegram.