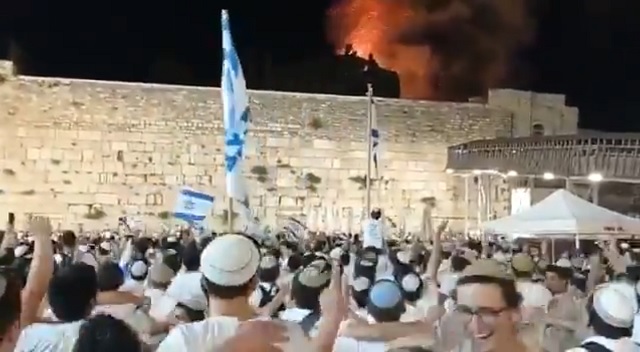 Israelis were filmed celebrating Monday night on Jerusalem Day at the Western Wall by singing for God to "take vengeance on the Palestinians" and "erase" them and their "progeny" from all of history.

"Today's Jerusalem Day march ends in an orgy of hate at the Western Wall," Elizabeth Tsurkov reported. "They sing: 'Remember me! Strengthen me! Just this once, God, that I may with one blow take vengeance on the Palestinians (may their progeny be erased!) for my two eyes!' (altering Judges 16:28)."



From The Washington Post, "American officials call for 'calm' in Israel. But the U.S. is part of the problem.""

On Monday night, militants in the Gaza Strip and the Israeli military exchanged rocket fire and airstrikes amid a deadly escalation of violence. Hamas and Islamic Jihad, armed groups based in blockaded Gaza, launched a barrage of rockets that landed near Jerusalem and in parts of southern Israel, injuring at least one person. Israeli airstrikes in retaliation killed at least 20 people in Gaza, according to Gaza's Health Ministry, including nine children.

Israeli Prime Minister Benjamin Netanyahu said the "terrorist groups" in Gaza had "crossed a red line" with their rocket attacks. But the latest explosion of hostilities has a long tail, following numerous aggressive actions by both Israeli security forces and far-right Jewish supremacist groups in Jerusalem. Two weeks ago, bands of Jewish extremists, including some settlers from the West Bank, marched through Palestinian-populated areas of the holy city, chanting "Death to Arabs," attacking bystanders and damaging Palestinian property and homes. Israeli attempts to evict a number of Palestinian families in the East Jerusalem neighborhood of Sheikh Jarrah — a microcosm of what Palestinians view as part of a long history of dispossession and erasure at the hands of the Israeli state — had stirred Palestinian solidarity protests in various parts of the occupied territories and Israel proper.

It also raised tensions ahead of the commemoration of Jerusalem Day on Monday, an official Israeli holiday celebrating the capture of the city during the 1967 Arab-Israeli War. A planned annual march by far-right ultranationalist Israelis was called off after authorities rerouted its path at the last minute. Large numbers still made their way to the Western Wall and sang an extremist vengeance song against Palestinians.

"The Hamas rocket attacks, which included the first strikes against Jerusalem in several years, came after running clashes among Israeli police, Palestinian protesters and far-right Jewish Israelis around the Old City," my colleagues reported. "Among the hundreds injured were seven who were hospitalized in serious condition, according to the Palestinian Red Crescent. Video footage circulated on social media of Israeli police officers brutally beating a detained Palestinian man."


In a State Department statement, the United States appealed for "calm," urging "de-escalation on all sides," while singling out Hamas for condemnation and defending Israel's right to self-defense. This followed a previous statement after Israeli forces stormed the compound of the al-Aqsa Mosque, firing tear gas and stun grenades at hundreds gathered there both in protest and prayer, in which U.S. officials urged "both sides" to eschew unilateral actions. Palestinian protesters threw stones at police and some Jewish Israeli citizens, injuring a couple dozen Israelis. Meanwhile, the Palestinian Red Crescent said more than 600 Palestinians were injured in the Jerusalem altercations.




To pro-Palestinian activists, the Biden administration's position reflects the broader legacy of U.S. policy in the region. A growing list of rights groups now see the status quo of Israeli military occupation over millions of Palestinians as tantamount to apartheid and see the United States as enabling a morally unacceptable status quo.

"There is no both sides here," Jinan Deena, national organizer for the Arab American Anti-Discrimination Committee, told the Middle East Eye. "Palestinians are under occupation, and the United States has systematically supported this — whether through funding Israel's military with our tax dollars or narratives such as this where blame is placed on both sides."
These conflicts could spiral out of control and kickstart a larger war (which America would be expected to fight).

Nonetheless, Israel told the Biden administration to "stay out" of it, according to Axios.


Of course, they'll demand we fight the war for them once a wider conflict breaks out!

Middle East Eye has a backgrounder on the latest battles:


Our tax money is funding all of this.



"Twenty-four people, including nine children, were killed in Gaza overnight, most of them in Israeli strikes," the AP reported early Tuesday morning. "More than 700 Palestinians were hurt in clashes with Israeli security forces in Jerusalem and across the West Bank in 24 hours, including nearly 500 who were treated at hospitals. The Israeli military said six Israeli civilians were hurt by rocket fire Tuesday morning."



As a reminder, America had to abandon its Iron Dome project last year after Israel refused to share their source code for it with us (which was effectively paid for with our tax dollars).

Of course, the Palestinians have no protection at all (GRAPHIC):


You can see the video uncensored here.






This was a remarkable demonstration of how propaganda and influence operations work:


Cop rescues a man from lynching from r/ActualPublicFreakouts



Here's more context:


Israel also bombed Syria on Monday night:


State Department spokesman Ned Price on Monday defended Israel's "legitimate right to defend itself."


Price refused to say Palestinians have a right to defend themselves.

"I'm not in the position to debate the legalities from up here," Price said.


Follow InformationLiberation on Twitter, Facebook, Gab, Minds, Parler and Telegram.