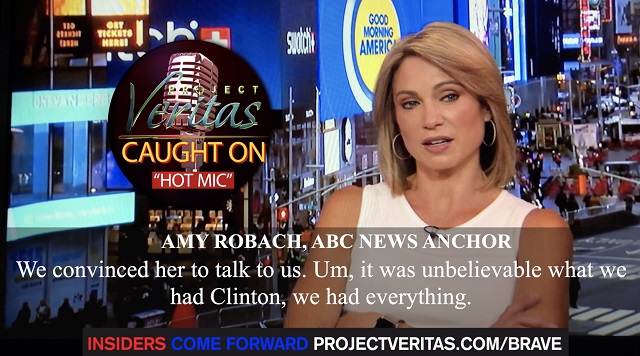 Leaked video obtained by Project Veritas shows ABC News anchor Amy Robach lamenting how her network allegedly suppressed a bombshell story she got three years ago exposing Jeffrey Epstein and implicating Alan Dershowitz, Bill Clinton and Prince Andrew.

From Project Veritas:

Amy Robach, 'Good Morning America' Co-Host and Breaking News Anchor at ABC, explains how a witness came forward years ago with information pertaining to Epstein, but Disney-owned ABC News refused to air the material for years. Robach vents her anger in a "hot mic" moment with an off-camera producer, explaining that ABC quashed the story in it's early stages. "I've had this interview with Virginia Roberts (Now Virginia Guiffre) [alleged Epstein victim]. We would not put it on the air. Um, first of all, I was told "Who's Jeffrey Epstein. No one knows who that is. This is a stupid story."
WATCH:



From Town Hall:

"I've had the story for three years. I've had this interview with Virginia Roberts, we would not put it on the air. First of all, I was told 'who's Jeffrey Epstein? No one knows who that is this is a stupid story'," Robach said exasperatingly to her producer.

"Then the Palace found out that we had her whole allegations about Prince Andrew and threatened us a million different ways," she said regarding the British Royal Family. Virginia Roberts Guiffre has long alleged that she was forced to have sex with Prince Andrew while underage on multiple occasions. The two are photographed together, but the Royal family has long denied these claims.

"We were so afraid we wouldn't be able to interview Kate or Will, I think that also squashed the story," she said in reference to Kate Middleton and her husband Prince William.

"And then Alan Dershowitz was also implicated because of the claims. (Roberts Giuffre) told me everything. She had pictures she had everything. She was in hiding for 12 years we convinced her to come out we convinced her to talk to us. It was unbelievable what we had. Clinton -- we had everything. I tried for three years to get it out, to no avail," Robach continued. "And now it's all coming out and it's like 'these new revelations.' And I freaking had on all of it. I'm so pissed right now like every day I get more and more pissed. Because I'm just like 'oh my god, we...what what we had was unreal'. Other women backing it up... Brad Edwards the Attorney, three years ago, saying like like there will come a day where we will realize Jeffrey Epstein was the most prolific pedophile this country has ever known. I had it all three years ago."

It has been alleged that Dershowitz also had illicit ties to Epstein.

Epstein reportedly died in July via suicide in a New York federal prison. However, the circumstances surrounding his death were very suspicious -- sleeping guards, broken cameras, seemingly physically impossible suicide with a paper thin bed sheet while on suicide watch. Robach says she absolutely believes he was killed by someone.

"Yes I do. Because made his whole living blackmailing people. Yeah there were a lot of men in those planes, a lot of men who visited that Island, a lot of powerful men who came into that apartment," Robach said.

"I knew immediately," Robach said regarding his death and her belief he was killed. "And then they made it seem as though he made that suicide attempt two weeks earlier. His lawyers claimed that he was roughed up by his cellmate around the neck, that was all like to plant the seed and then that's why I really believe it like really believe it."

Robach also claims that she had proof that Epstein's righthand woman, Ghislaine Maxwell, would recruit the girls for the sex operation.

"I had all sorts of stuff on her too. I love it. I really I'm like it's so funny to hear everyone say her name, because I'm like oh my god. And everybody's like 'who's that? who cares?' I kept getting that, 'who cares um she knows everything? She knows. She knows. She should she should be careful as well she was his like, she went out and recruited all of these girls. She should watch her back because if she goes...I mean I'd have like security guards all around me," Robach said hinting that Maxwell could be murdered.
As Project Veritas noted at the end of their report, James Goldston was the president of ABC News at the time this story was allegedly suppressed.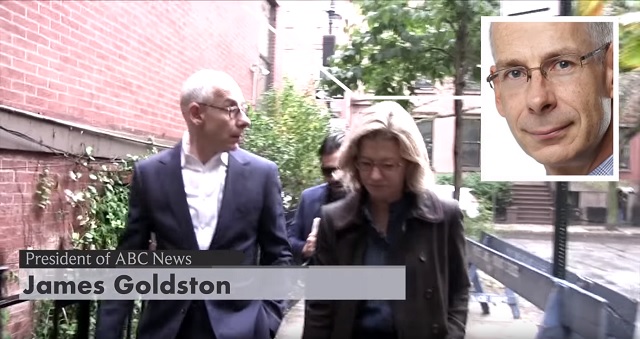 Goldston was appointed president of ABC News in April 2014 and is still the president today.

ABC News responded to the story by claiming the story didn't meet their "standards":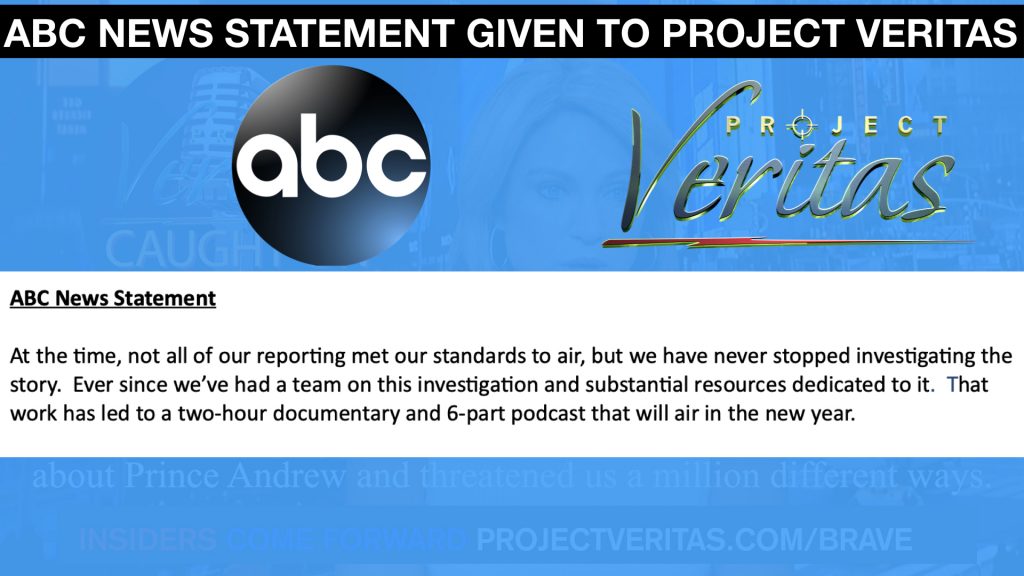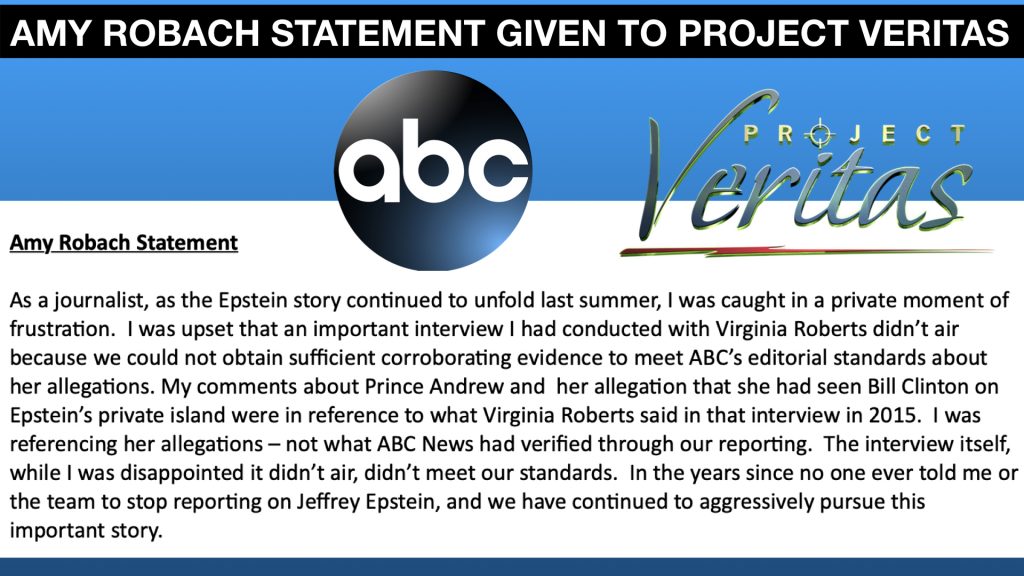 They had no problem smearing Brett Kavanaugh with baseless allegations from Julie Swetnick and they had no problem airing video from a Kentucky gun range they falsely claimed was footage of "Turkey's military bombing Kurd civilians" after being "abandon[ed]" by President Trump.




The New York Times covered in August how two sisters, Annie Farmer and Maria Farmer, reported Jeffrey Epstein to the FBI and NYPD in 1996 for child sex crimes and they did nothing in response.

In September, NBC News buried the lead of their own bombshell report featuring former Palm Beach Police Chief Michael Reiter saying he suspects Jeffrey Epstein was tipped off to their first raid on his house in Palm Beach in 2005 and had the police's case against him leaked to his defense.


As NBC News reported:

Epstein, who had a massive bankroll and extensive connections, had assembled a high-powered team of lawyers, including Kenneth Starr, Alan Dershowitz, Jack Goldberger and Jay Lefkowitz. Around this time, Reiter said, the investigation took another strange turn; Epstein's defense team seemed to know details about the probe before they were made public.

"We believed that the content of our probable cause affidavit eventually, some time after we presented it to the state attorney's office, ended up with the defense attorneys," Reiter said. "Because minute details that nobody else knew that were in those documents were being refuted and contrary information provided by the defense."

"This," Reiter said, "never happened to me before in my career."

Reiter was so frustrated that he took the unusual step of asking the state attorney, Barry Krischer, to remove himself from the case, citing the office's "highly unusual" treatment of the investigation.
I'm sure it's just a coincidence that Barry Krischer, who was allegedly the man most responsible for shutting down the case, was recently given an award from the ADL.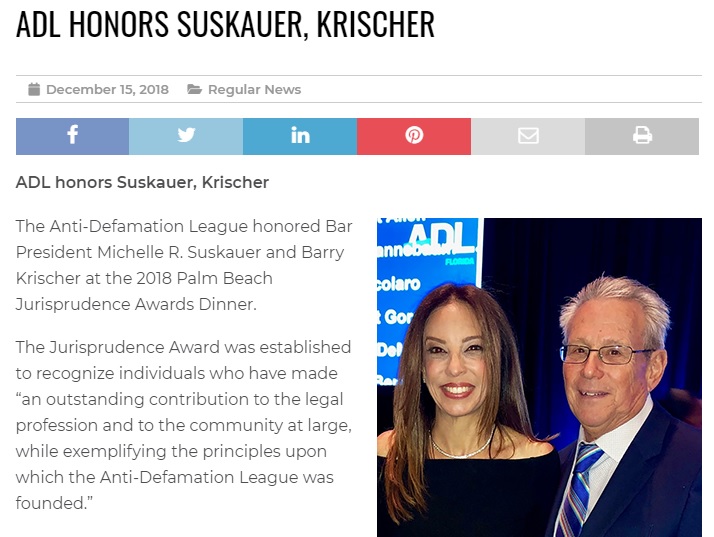 It's noteworthy that Robach recognizes all the evidence points to Epstein being part of a blackmail operation as the media has refused to even touch on that angle because of who it implicates.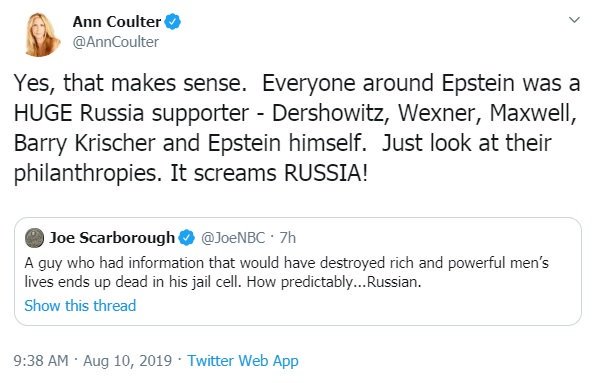 Vanity Fair reported in July that "prominent Republicans" think Epstein "was a Mossad agent" -- though not one of them to this day have dared to express this view publicly.

Follow InformationLiberation on Twitter, Facebook, Gab and Minds.