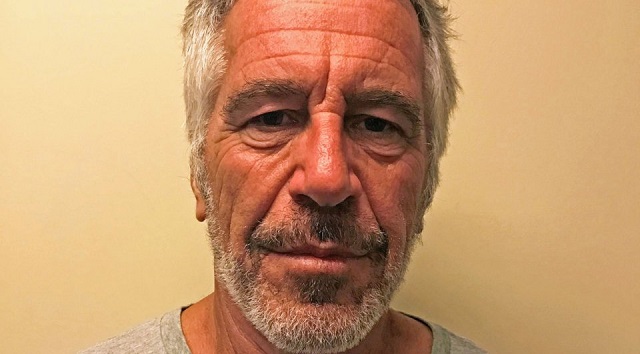 "Prominent Republicans" are theorizing that Jeffrey Epstein was an Israeli intelligence agent, according to a report from Vanity Fair.

The revelation was included near the end of an article from Gabriel Sherman on how elites are panicking over Epstein's indictment and his ever-expanding list of accusers.

From Vanity Fair, "'It's Going to Be Staggering, the Amount of Names': As the Jeffrey Epstein Case Grows More Grotesque, Manhattan and DC Brace for Impact":

The Jeffrey Epstein case is an asteroid poised to strike the elite world in which he moved. No one can yet say precisely how large it is. But as the number of women who've accused the financier (at least, that's what he claimed to be) of sexual assault grows to grotesque levels—there are said to be more than 50 women who are potential victims—a wave of panic is rippling through Manhattan, DC, and Palm Beach, as Epstein's former friends and associates rush to distance themselves, while gossiping about who might be ensnared. Donald Trump's labor secretary, Alexander Acosta, architect of the original 2007 non-prosecution agreement that let Epstein off with a wrist slap, has already been forced to resign.

[...] among the most pressing queries is which other famous people might be exposed for committing sex crimes. "There were other business associates of Mr. Epstein's who engaged in improper sexual misconduct at one or more of his homes. We do know that," said Brad Edwards, a lawyer for Courtney Wild, one of the Epstein accusers who gave emotional testimony at Epstein's bail hearing. "In due time the names are going to start coming out." (Attorneys for Epstein did not respond to a request for comment.)

Likely within days, the U.S. Court of Appeals for the Second Circuit will release almost 2,000 pages of documents that could reveal sexual abuse by "numerous prominent American politicians, powerful business executives, foreign presidents, a well-known prime minister, and other world leaders," according to the three-judge panel's ruling. The documents were filed during a civil defamation lawsuit brought by Epstein accuser Virginia Roberts Giuffre, a former Mar-a-Lago locker-room attendant, against Epstein's former girlfriend and alleged madam, Ghislaine Maxwell. "Nobody who was around Epstein a lot is going to have an easy time now. It's all going to come out," said Giuffre's lawyer David Boies. Another person involved with litigation against Epstein told me: "It's going to be staggering, the amount of names. It's going to be contagion numbers."

Epstein remained a fixture in elite circles even after he was a registered sex offender. A few years ago, for example, he was a guest at a dinner in Palo Alto hosted by LinkedIn cofounder Reid Hoffman for the MIT neuroscientist Ed Boyden. At the dinner, Elon Musk introduced Epstein to Mark Zuckerberg. [...]

One source who's done business with Epstein told me that Epstein's 21,000-square-foot townhouse on East 71st Street welcomed a steady stream of the Davos crowd in the past decade. The source said Bill Gates, Larry Summers, and Steve Bannon visited the house, which has been called one of the largest private residences in Manhattan. "Jeffrey collected people. That's what he did," the source said. Gates and Summers did not respond to requests for comment.

[...] Thus far, the name most publicly associated with Epstein's alleged crimes is famed lawyer Alan Dershowitz, who's been waging a public battle with David Boies for years. In April, Boies's client Giuffre sued Dershowitz for defamation after Dershowitz called her a liar (a strategy similar to that of seven of Bill Cosby's accusers). In the days since the FBI arrested Epstein at Teterboro Airport a week and a half ago, Dershowitz has been going on television and dialing up friends and reporters to profess his innocence and label Giuffre and Boies liars. "I want everything to come out! I'm not afraid of anything because I did nothing wrong," Dershowitz told me on the afternoon of July 15.

He called me a minute after I had emailed him for comment. He said he'd been friends with Epstein since 1996, when they were introduced at a party on Martha's Vineyard by Lynn Forester de Rothschild. "She begged me to meet him. She told me, 'here's this smart academic.'" A few days later, Epstein invited Dershowitz to Les Wexner's 59th birthday party at Wexner's mansion in New Albany, Ohio. "It's a tradition that Jeff invited the smartest person he met that year. He told them I was the smartest." They remained close for years. Dershowitz strenuously denied ever participating in Epstein's underage sex ring and said he'd only been in Epstein's presence with his wife. "I got one massage!" he told me. "It was from a 50-year-old Russian woman named Olga. And I kept my shorts on. I didn't even like it. I'm not a massage guy."

[...] Similarly, DC is on edge. "Epstein bragged about his contacts in Washington," Boies said. Reporters are likely to dig into why the Justice Department decided not to prosecute Epstein and kept the deal secret from his victims. One theory circulating among prominent Republicans is that Epstein was a Mossad agent. Another is that the George W. Bush White House directed Acosta not to prosecute Epstein to protect Prince Andrew on behalf of the British government, then the U.S.'s closest ally in the Iraq war. "The royal family did everything they could to try and discredit the Prince Andrew stuff," Boies told me. "When we tried to follow up with anything, we were stonewalled. We wanted to interview him, they were unwilling to do anything." (Prince Andrew could not be reached for comment).
The former Prime Minister of Israel and the head of Israeli Military Intelligence, Ehud Barak, was seen "hiding his face" while entering Epstein's lavish New York City townhouse in 2016.


Epstein also "entered a partnership worth millions" with Barak in 2015 in a company called Reporty Homeland Security (they changed the name to Carbyne in 2017), which "develops call-handling and identification capabilities" for emergency response services (and coincidentally would be perfect for spying).

Epstein's alleged madam was Ghislaine Maxwell, the daughter of media mogul and alleged Israeli Mossad agent Robert Maxwell.

Footage from November 1992 released by NBC News appeared to show Ghislaine Maxwell was partying it up with Jeffrey Epstein, Donald Trump and other high-rolling elites just one year after arriving in America from London.



Gordon Thomas and Martin Dillon's 2002 book "Robert Maxwell: Israel's Superspy" states definitively that her father Robert Maxwell (né Ján Ludvík Hyman Binyamin Hoch) was a Mossad agent.

Maxwell died under mysterious circumstances at age 68 after "going overboard from his yacht" and was buried on the Mount of Olives in Israel with then Prime Minister Yitzhak Shamir and President Chaim Herzog and other elites attending his funeral.





It's quite interesting to hear that "prominent Republicans" suspect Epstein may be a Mossad agent even though our media is studiously ignoring his and Ghislaine Maxwell's connections.

How many prominent politicians do they think our "greatest ally" has blackmail on?

Follow InformationLiberation on Twitter, Facebook, Gab and Minds.