EcoMap Technologies CEO Pava Marie LaPere, a self-described "anti-racist" and Black Lives Matter supporter who spoke out against the "criminalization of Black bodies," was allegedly beaten to death in her own home in Baltimore on Monday by a black male who was released early from prison under the criminal justice reform policies she championed.

From USA Today, "'Will kill, will rape': Murder of tech exec in Baltimore prompts hunt, dire warnings":

A murder suspect labeled by police as willing to "do anything he can to cause harm" is the target of an all-out search after a 26-year-old software development company founder was found slain at her Baltimore apartment.

Baltimore Police said Pava Marie LaPere was found around 11:30 a.m. after someone called for help. She died from blunt-force trauma.
Authorities announced an arrest warrant at a news conference Tuesday afternoon for Jason Dean Billingsley, 32. He is charged with first-degree murder in LaPere's killing.

Officials said Billingsley is believed to be armed and extremely dangerous.

"We implore residents to be aware of your surroundings at all times," Acting Police Commissioner Richard Worley said at a news conference. "This individual will kill, and he will rape. He will do anything he can to cause harm."
From NBC News, "Baltimore CEO was killed by repeat offender who should have never been on the street, officials allege":

In 2015, Billingsley was sentenced to 30 years in prison, with 16 years suspended, after he pleaded guilty to a first-degree sex offense, court records show.

The Maryland sex offender registry shows he was released from prison in October [2022]. The registry classified him in "tier 3," which includes the most serious charges and requires offenders to register for life.
Billingsley was released early on "good-time credits" under Soros-funded State's Attorney Marilyn Mosby, the Baltimore Banner reports, citing parole commission Chairman David R. Blumberg.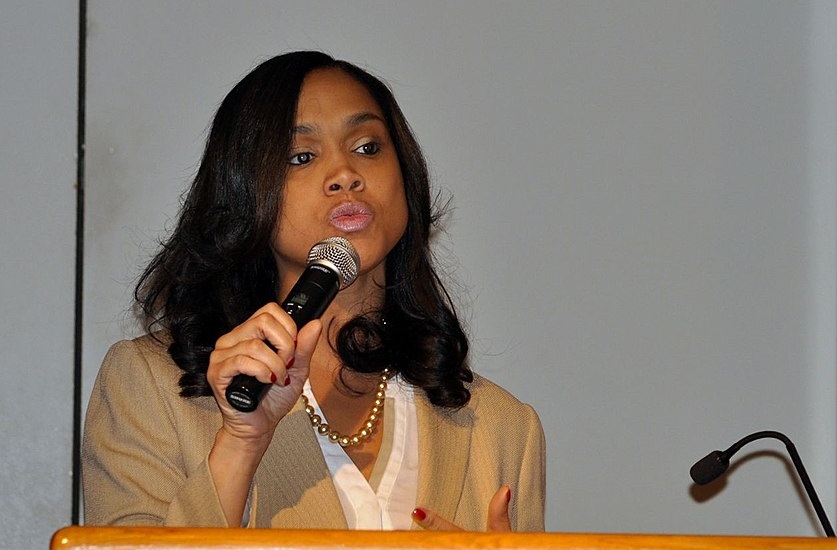 [Pictured: Former Baltimore State's Attorney Marilyn Mosby. Photo by Edward Kimmel via Flickr commons, CC BY-SA 2.0]


"The state corrections department lists Billingsley as a registered sex offender who lives in the 1500 block of Baker Street in the Sandtown-Winchester neighborhood of West Baltimore," the Banner noted. "According to the department, he was released on Oct. 5, 2022 and is listed as 'non-compliant,' though it was unclear why."

The Banner also reported that "police found LaPere's partially clothed body with signs of blunt-force trauma on the roof of her apartment building in the 300 block of West Franklin Street in the Mount Vernon neighborhood late Monday morning, according to sources with knowledge of the investigation."

Though police are not stating it outright, the implication appears to be that she was raped in addition to murdered.

LaPere touted her anti-racist bonafides on her Instagram.

"EcoMap Technologies stand against systemic racism, bigotry, and a police state that criminalizes Black bodies," LaPere wrote. "We stand in support of the Black Lives Matter movement, now and always. We commit to being anti-racist in all aspects of what we do ... We encourage all other startups to speak out and do the same."




According to the Banner, "[Delali Dzirasa, founder and CEO of Fearless] said LaPere had recently hit a personal milestone in her company: hiring 50% people of color and 50% women."

"She sent me an email — she got there, I was so proud of her," Dzirasa said.

UPDATES:

Jason Billingsley, Suspect Wanted in Murder of Tech CEO, Strangled and Raped Woman at Knifepoint in 2013 After Posing as a Good Samaritan...

Jason Billingsley Evaded Manhunt in Separate Rape And Attempted Murders Case For Days Before Murder of Pava LaPere...

Pava LaPere Let Accused Murderer Jason Billingsley Into Her Apartment Building After He 'Acted As Though He Had Forgotten His Keys'...

[This post has been expanded with additional information.]

Follow InformationLiberation on Twitter, Facebook, Gab, Minds and Telegram.