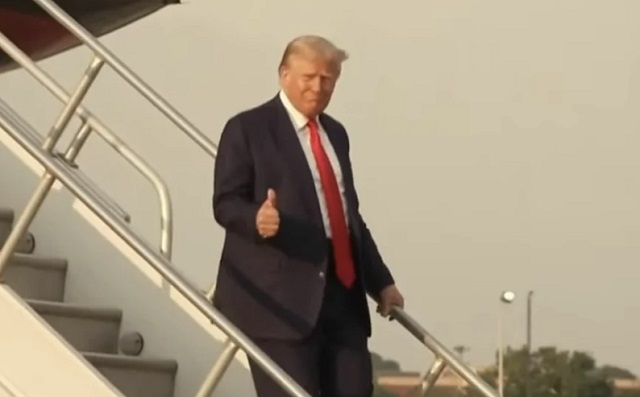 Former President Donald Trump was arrested on Thursday, treated like a common criminal and booked at a "notoriously violent jail" as part of Fulton County District Attorney Fani Willis' insane RICO case against him and 18 associates.

No former president has ever been indicted in American history but Trump has now been indicted four times by the Biden regime and allied Soros-funded DAs over complete nonsense and is facing up to 717 years in prison.



MSNBC host Nicolle Wallace had to hold back laughter while she remarked "that Trump is heading to a jail where three people have died over the last month," Bill D'Agostino reported.


CNN reported on the "deplorable" conditions in the jail, which perfectly reflects the New America™.


From Mediaite:

"This [jail] is really nothing short of a hulking, sprawling nightmare," [CNN correspondent Brian Todd] noted. "Just last month, the Justice Department announced an investigation into this place because of, quote, allegations of unsafe, unsanitary living conditions, excessive force and violence."

The CNN anchor then presented images inside the jail showing dirty hallways, wall grime, and broken air conditioning.

"And we have some images of just the horrible conditions, grime, dirt all over the place, toilets overflowing, air conditioning, broken lice, bedbugs, other insects everywhere. Look at that. It's just absolutely horrible," Todd added.
Trump was processed and released after using a bonding agent to post 10% of his $200,000 bond, Mediaite reports.


Trump spoke out against his arrest in a fundraising appeal on WinRed's website:

Today, I will be going to the notoriously violent jail in Fulton County, Georgia where I will be ARRESTED despite having committed NO CRIME.

Isn't it interesting that I went my entire life without ever getting arrested…

…But suddenly out of nowhere, once I decided to run for president as a political outsider and fight for the forgotten citizens of our country, I get ARRESTED FOUR TIMES within the span of just 5 months?

Not only that, a judge has ruled that today's spectacle may be televised for the entire world to see.

The American people know what's going on.

This is a punishment handed down from the Deep State for daring to challenge the status quo and give a voice to the Silent Majority.

The Left wants to intimidate YOU out of voting for a political outsider who puts the American people FIRST.

But today, I'm walking into the lion's den with one simple message on behalf of our entire movement: I WILL NEVER SURRENDER OUR MISSION TO SAVE AMERICA.

When I walk into the jail to get wrongfully arrested, I will not cower, I will not sulk. I will stand tall and remain resolute in our mission to save America.

And if you see me on TV during my sham arrest, just remember that YOU are the source of my courage, my hope, and my resolve to save our country.

If you are doing poorly due to the sinister people in control of our country right now, don't even think about donating!

But if you can, please make a contribution to SAVE AMERICA during this dark chapter in our nation's history.
Trump also addressed his arrest on Truth Social: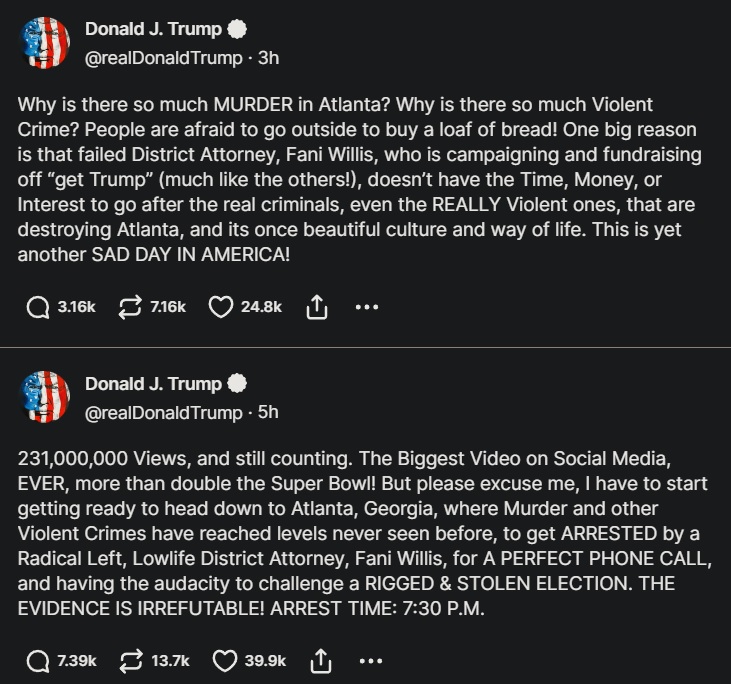 This article was updated to reflect that severe punishment Trump is facing does not include the death penalty.

Follow InformationLiberation on Twitter, Facebook, Gab, Minds and Telegram.