Trump And 18 Allies Indicted in Georgia Under Anti-Mafia RICO Law, Accused of Criminal Conspiracy
Chris Menahan
InformationLiberation
Aug. 15, 2023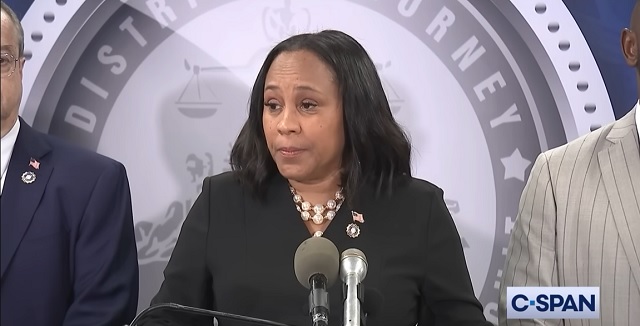 Former President Donald Trump together with Rudy Giuliani, Mark Meadows and others stand accused of taking part in an elaborate criminal conspiracy in Georgia for which they're being prosecuted as a group under an anti-mafia RICO law by Fulton County District Attorney Fani Willis.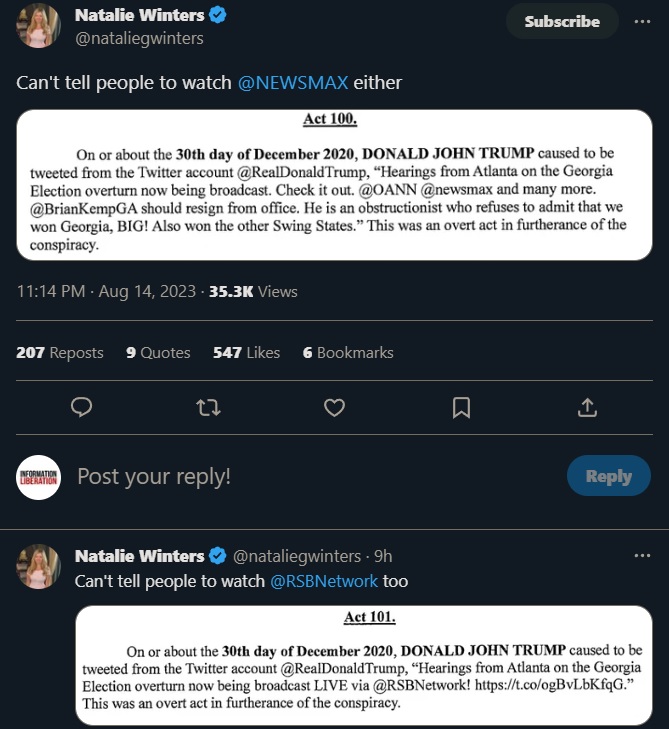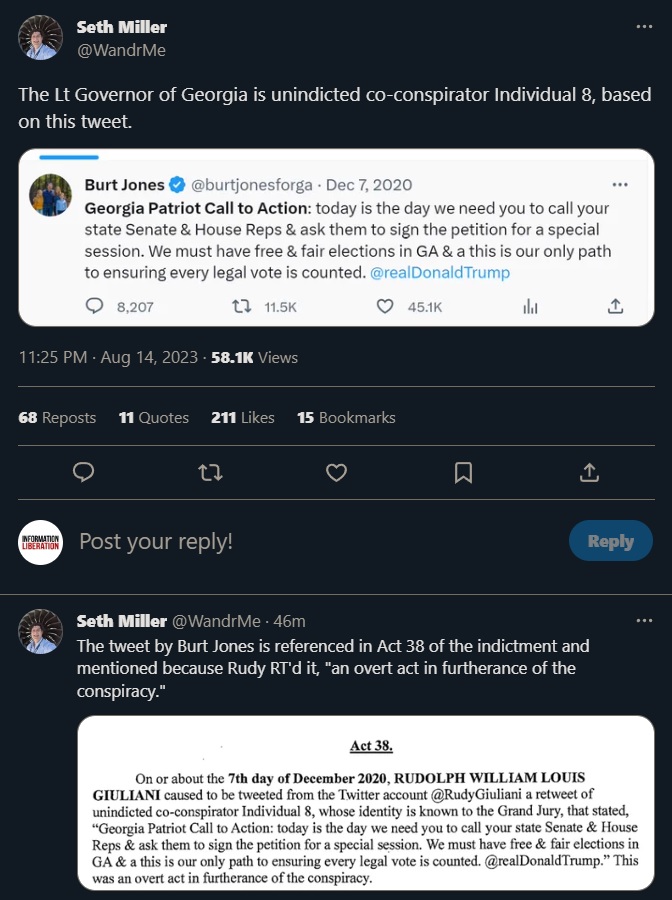 This has to be the dumbest indictment yet (which is not to say it won't succeed in the New America™).

From NBC News, "Trump and 18 co-defendants charged with racketeering in Georgia 2020 election probe":

Former President Donald Trump and top allies, including his lawyer Rudy Giuliani and his former White House chief of staff Mark Meadows, and a top former Justice Department official, Jeffrey Clark, were indicted Monday on felony charges in connection with efforts to overturn the 2020 presidential election results in Georgia.

The sweeping 41-count indictment also names lawyers John Eastman, Sidney Powell, Kenneth Chesebro, Jenna Ellis and Ray Smith, along with several others. All were charged with violating Georgia's RICO (Racketeer Influenced and Corrupt Organization) act.

In an indictment handed up to the judge around 9 p.m. and made public just before 11 p.m., Trump was charged with felony racketeering and numerous conspiracy charges, court filings show.
The racketeering charge carries a sentence of five to 20 years, while a conspiracy conviction can result in a minimum sentence of one year in prison with a variable maximum sentence.

"Trump and the other defendants charged in this indictment refused to accept that Trump lost, and they knowingly and willfully joined a conspiracy to unlawfully change the outcome of the election in favor of Trump," the indictment says.

Trump has denied all wrongdoing, as Giuliani did hours before the indictment was made public. Eastman, Meadows, Chesebro, Ellis and Smith all did not immediately respond to requests for comment.

Fulton County District Attorney Fani Willis said at a late-night news conference that arrest warrants have been issued for all of the defendants and that each has until Aug. 25 to surrender voluntarily.

Willis said she intends to try all 19 defendants together.
As I reported yesterday, Willis' office leaked a document listing a host of charges against Trump before the grand jury she convened had even voted on the case.

Trump responded to the indictment in a statement on Truth Social: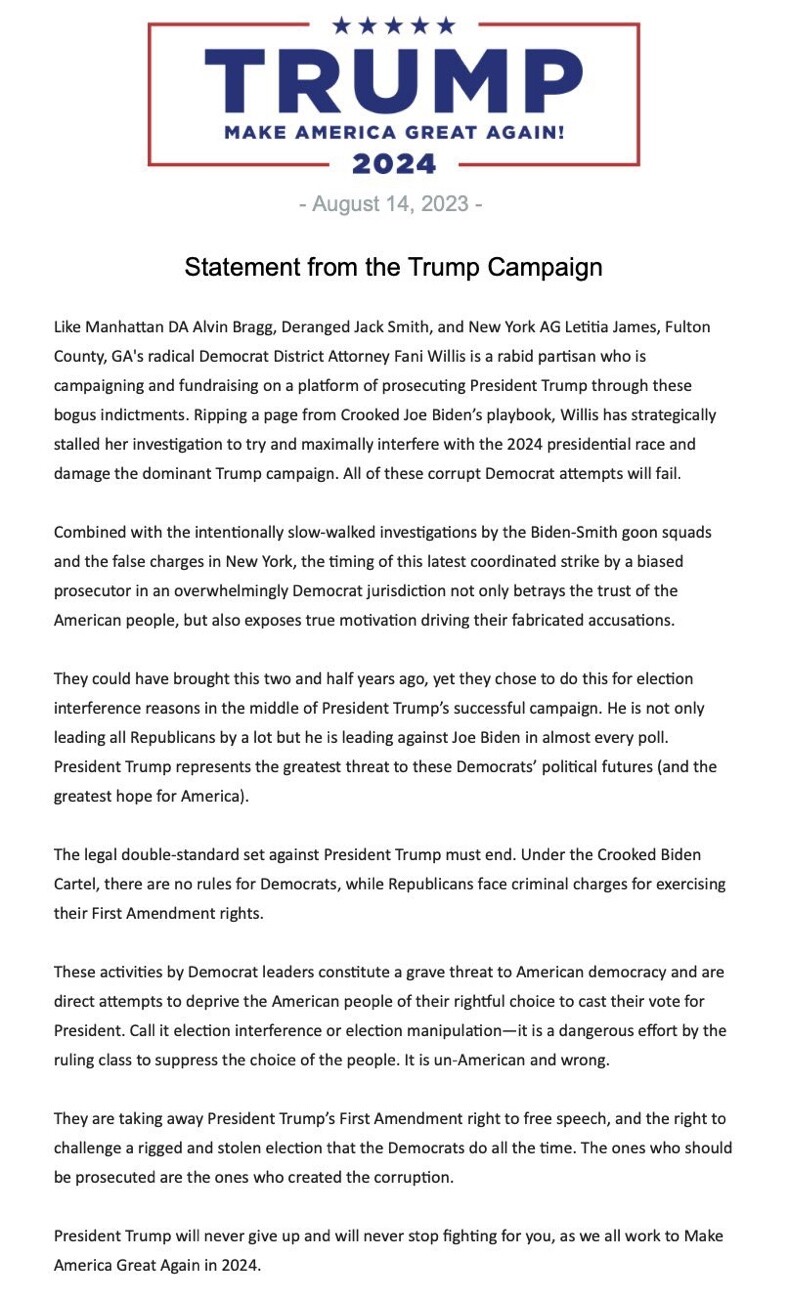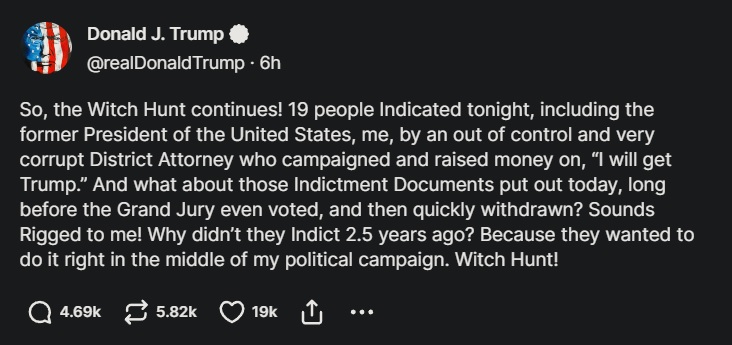 Follow InformationLiberation on Twitter, Facebook, Gab, Minds and Telegram.