Drudge: Sean Hannity Replacing Tucker Carlson at 8PM, Jesse Watters And Greg Gutfeld Moving to Primetime
Chris Menahan
InformationLiberation
May. 17, 2023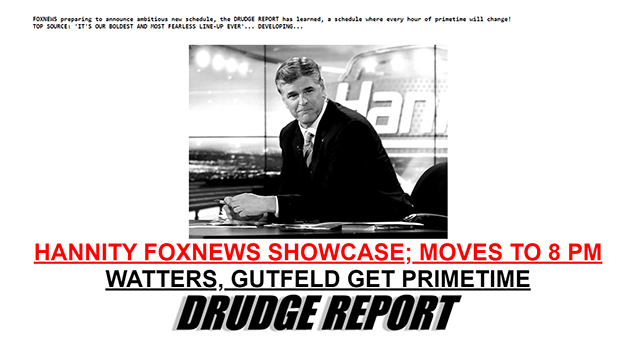 Tucker Carlson Tonight is going to be replaced with Sean Hannity bringing Fox News viewers all the latest news on "Sippy Cup Joe Biden," according to a scoop from the Drudge Report.

"FOXNEWS is preparing to announce an ambitious new schedule, the DRUDGE REPORT has learned, a schedule where every hour of primetime will change!" the Drudge Report said on Tuesday afternoon.

"TOP SOURCE TELLS DRUDGE: 'IT'S OUR BOLDEST AND MOST FEARLESS LINE-UP EVER,'" Drudge continued.

"HANNITY FOXNEWS SHOWCASE; MOVES TO 8 PM," Drudge's main headline read. "WATTERS, GUTFELD GET PRIMETIME."

This sounds painfully boring and thoroughly unambitious. I wonder if Hannity will suddenly become "based" and start criticizing the war in Ukraine and talking about Jeffrey Epstein's connections to the Mossad to attract new viewers?

If he opens his show talking about how it's "Day 625 from Sippy Cup Joe's disastrous pullout of Afghanistan" I can't imagine it's going to be very successful.

That said, with Tucker gone Fox News has reportedly been able to attract new advertisers with their painfully boring, brand-safe content, so they may actually make similar money despite losing around half their audience.

Follow InformationLiberation on Twitter, Facebook, Gab, Minds and Telegram.