Fox News Boasts '40 New Advertisers' For 8PM Time Slot After Firing Tucker Carlson
Chris Menahan
InformationLiberation
May. 09, 2023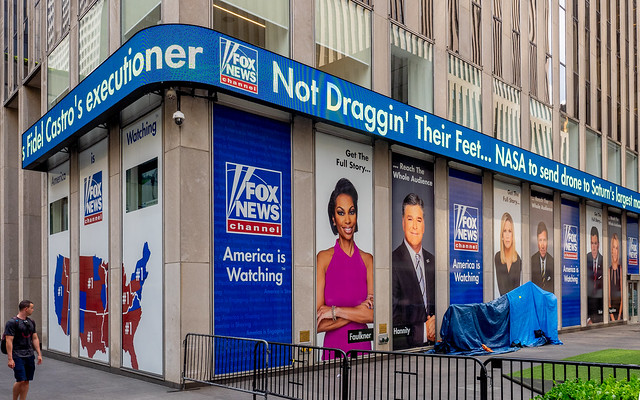 Fox News is boasting that they have "40 new advertisers" for their new 8PM "Fox News Tonight" program which no one is watching.

From Mediaite, "40 Advertisers Return to Tucker Carlson's Old Hour After Fox News Gives Him the Boot: Report":

Variety's Brian Steinberg reported on Monday that after Carlson's abrupt ouster, some "Madison Avenue stalwarts" returned to advertise on Fox News Tonight, the program which has replaced with a new host each week.

"Procter & Gamble, one of the nation's largest and most influential advertisers, has been running ads in 'Fox News Tonight,' the network's new 8 p.m. program, for female-skewing products like Venus razor blades by Gillette and Secret underarm deodorant. Also showing up in commercial breaks: Novo Nordisk's trendy medication Ozempic, and Scotts Miracle-Gro," reported Steinberg.

Fox News Media's Executive Vice President of Ad Sales Jeff Collins told Steinberg, "We have had over 40 new advertisers come into the hour since we launched the new program, including some of the largest in the country and, really, across all major categories. We have seen new advertisers come in, and new demand."
Incidentally, Media Matters' Angelo Carusone said Steinberg's report isn't even true.



Regardless, Fox News is bragging about it.

Anti-Defamation League CEO Jonathan Greenblatt pushed the World Federation of Advertisers to boycott Tucker Carlson's show in 2021 for discussing The Great Replacement.

Greenblatt also lobbied Rupert and Lachlan Murdoch to have Carlson fired.



The decision to fire Carlson reportedly came straight from Rupert Murdoch.

Though Tucker Carlson in his prime was drawing in excess of 5 million viewers a night and drew over 3 million viewers a day in the week before he was unceremoniously fired, Fox News Tonight is currently getting only around 1.3 million viewers a night and is even losing to MSNBC.

[Header image by Ajay Suresh via Flickr, CC BY 2.0]

Follow InformationLiberation on Twitter, Facebook, Gab, Minds and Telegram.