'I Have Absolutely No Idea Who This Woman Is': NYC Jury Finds Trump Liable for Sexual Abuse in 30-Yr-Old Case
Chris Menahan
InformationLiberation
May. 09, 2023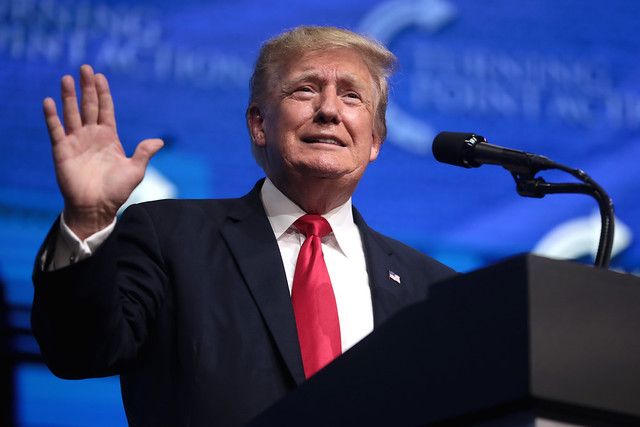 Former President Donald Trump on Tuesday was ordered by a New York City jury to pay $5 million in "damages" to E Jean Carroll for "sexually abusing" her three decades ago and then "defaming her" by calling her a liar.

Carroll was represented by Roberta A. Kaplan and the judge in the case was Lewis A. Kaplan. Roberta A. Kaplan and Carroll's suit was financed by billionaire LinkedIn co-founder and Democrat megadonor Reid Hoffman, who the WSJ reported just days ago visited Jeffrey Epstein at his "Pedophile Island" and spent a night at his New York City townhouse.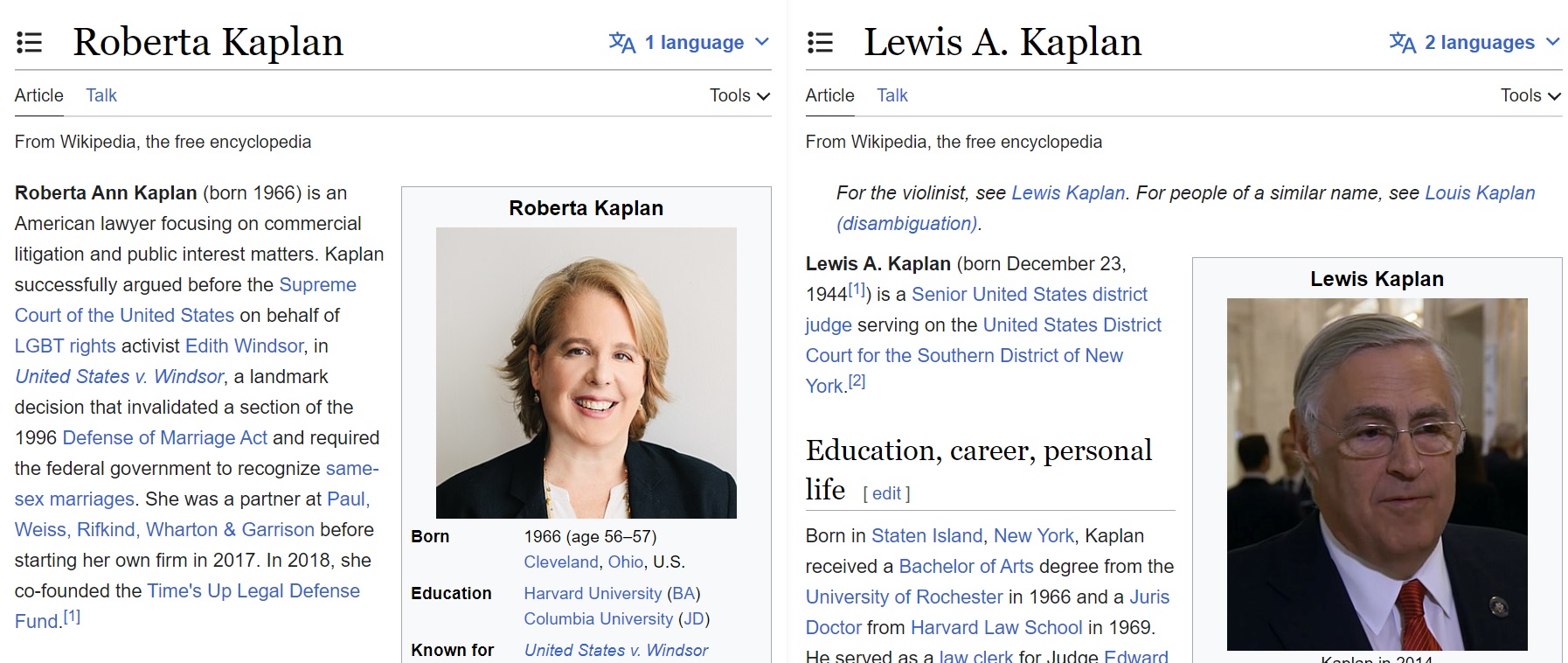 Roberta A. Kaplan herself was forced to resign from the Time's Up organization leading the #MeToo movement in 2021 after it came out that she worked with New York Gov. Andrew Cuomo to try and discredit one of his accusers.



From the AP, "Jury finds Trump liable for sexual abuse, awards accuser $5M":

A jury found Donald Trump liable Tuesday for sexually abusing advice columnist E. Jean Carroll in 1996, awarding her $5 million in a judgment that could haunt the former president as he campaigns to regain the White House.

The verdict was split: Jurors rejected Carroll's claim that she was raped, finding Trump responsible for a lesser degree of sexual abuse. The judgment adds to Trump's legal woes and offers vindication to Carroll, whose allegations had been mocked and dismissed by Trump for years.

She nodded as the verdict was announced in a New York City federal courtroom only three hours after deliberations had begun, then hugged supporters and smiled through tears. As the courtroom cleared, Carroll could be heard laughing and crying.

Jurors also found Trump liable for defaming Carroll over her allegations. Trump did not attend the civil trial and was absent when the verdict was read.
"I HAVE ABSOLUTELY NO IDEA WHO THIS WOMAN IS," Trump said on TruthSocial after the verdict came in. "THIS VERDICT IS A DISGRACE - A CONTINUATION OF THE GREATEST WITCH HUNT OF ALL TIME!"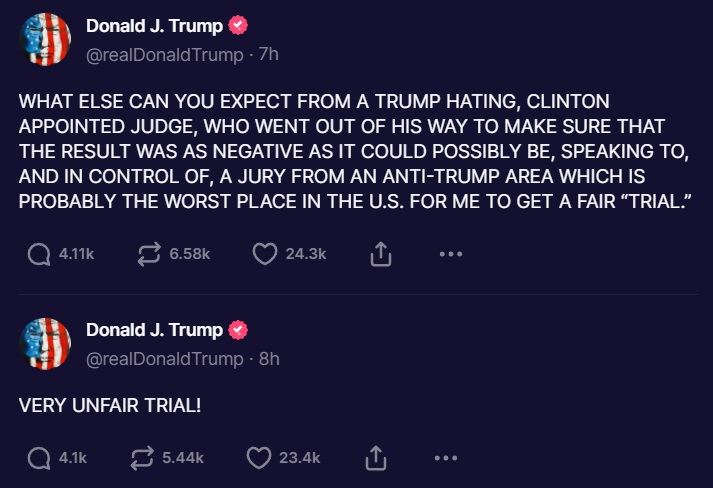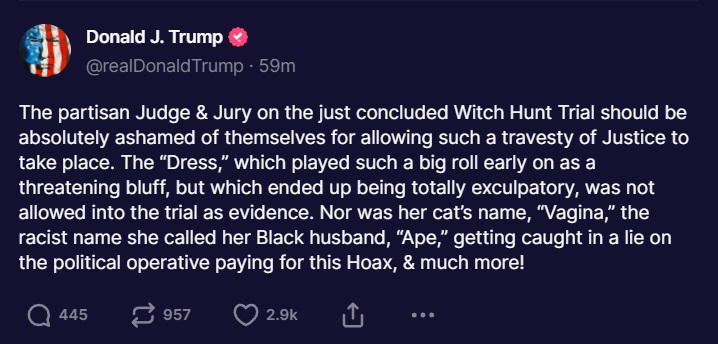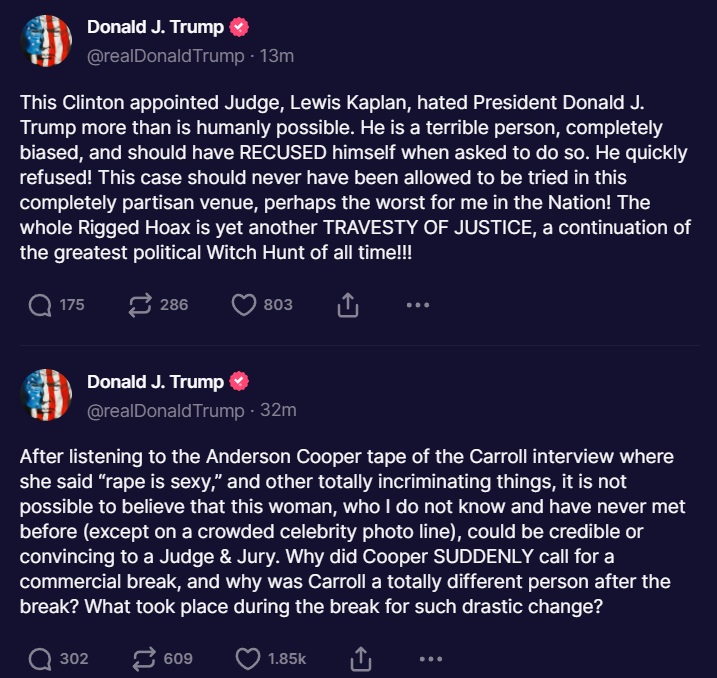 The rulings coming out of NYC and DC are just comical at this point.

Soros-funded prosecutors and their biased juries are throwing Trump's supporters in prison en masse and positioning to throw the former President himself in prison next.

[Header image by Gage Skidmore, CC BY-SA 2.0]

Follow InformationLiberation on Twitter, Facebook, Gab, Minds and Telegram.