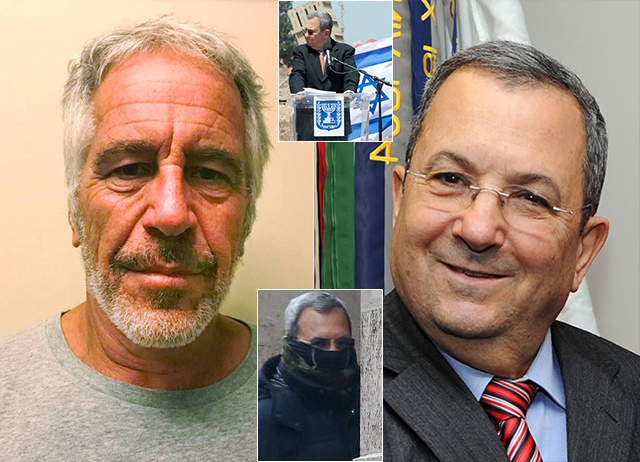 Former Israeli Prime Minister and head of Israeli Military Intelligence Ehud Barak visited Jeffrey Epstein's New York City apartment dozens of times between 2013 and 2017, documents obtained by the Wall Street Journal reveal.

"After Epstein was arrested in 2019, photos were published in newspapers showing Mr. Barak, the Israeli politician, entering Epstein's townhouse in 2016," WSJ reported.

"The documents provide new details about his scheduled meetings," WSJ continued. "They show that between 2013 and 2017, Epstein planned at least three dozen meetings with Mr. Barak. They had appointments every month for 11 consecutive months starting in December 2015, the documents show."

Mr. Barak told the Journal he was introduced to Epstein in 2003 by Shimon Peres, another former prime minister of Israel, at a social event with U.S. dignitaries, and that he would regularly visit Epstein when he traveled to New York. "Quite often, I came to the townhouse with my wife," Mr. Barak said. Mr. Peres died in 2016.

Mr. Barak also took flights on Epstein's private jet, the documents show. In January 2014, he met Epstein at his Palm Beach mansion and then they flew together to Tampa, where Epstein dropped him off and continued on to New York.

"I flew only twice on his airplane, together with my wife and Israeli security detail," Mr. Barak said. He said he remembers the trip in Florida was to visit a U.S. military installation in Tampa.

"I never participated in any party or any other improper event around [Epstein], and never met him with girls or minors, or even adult women in improper context or behavior," Mr. Barak said.
Barak was photographed "hiding his face" while entering Epstein's New York City townhouse in 2016.


Barak didn't say he was with his wife after getting exposed by the Daily Mail but did claim that he "never met Epstein in the company of women or young girls."

Epstein "entered a partnership worth millions" with Barak in 2015.

Pro-Israel billionaire Leon Black, who funded Epstein together with pro-Israel billionaire Les Wexner to the tune of hundreds of millions of dollars, "scheduled more than 100 meetings with Epstein from 2013 to 2017," the WSJ reported.

Epstein also met with former US Secretary of the Treasury Larry Summers after his conviction for child solicitation:

Lawrence Summers wanted $1 million to fund an online poetry project his wife was developing. The former Treasury secretary and onetime Harvard University president turned to Jeffrey Epstein.

"I need small scale philanthropy advice. My life will be better if i raise $1m for Lisa," Mr. Summers said in an email to Epstein in April 2014, referring to his wife, Elisa New, a Harvard professor. "Mostly it will go to make it a pbs series and for teacher training. Ideas?"

Epstein replied that they could meet in Cambridge, Mass. Mr. Summers invited him to dinner, according to a trove of documents reviewed by The Wall Street Journal. Two days later they made plans to meet at The Fireplace, a cozy restaurant in nearby Brookline, one of several meetings the two men scheduled that year.

In 2016, a nonprofit linked to Epstein donated $110,000 to Ms. New's nonprofit, which develops video content about poetry, according to tax records.
Billionaire LinkedIn co-founder Reid Hoffman, who was caught staging a false flag operation with fake Russian bots to influence the Alabama Senate election in 2017, visited Jeffrey Epstein's "Pedophile Island," Epstein's records show.

Hoffman has been using his wealth to pour money into electing pro-Israel Democrats, fund the E. Jean Carroll's rape lawsuit against Donald Trump and work with George Soros to censor the internet.


From The Wall Street Journal:

[Reid] Hoffman, the LinkedIn co-founder, has apologized for his interactions with Epstein, including inviting him in 2015 to a dinner in Palo Alto with Silicon Valley leaders. After Epstein was arrested in 2019, Mr. Hoffman said he had met with him to help raise funds for MIT at the request of the then director of MIT's Media Lab, Joi Ito.

The documents reveal that Epstein had plans for Mr. Hoffman and Mr. Ito to visit his private island in March 2014 and in November 2014. On the second date, Epstein planned to travel with both men from Palm Beach to the island for a weekend and then fly together to Boston.

When the venture capitalist had a flight scheduled to land late at night in New York on Dec. 4, 2014, Epstein arranged for Mr. Hoffman to stay overnight in his townhouse, the documents show. The following morning, Mr. Hoffman was scheduled to attend a "breakfast party" with Epstein, Mr. Gates and others, according to the documents.

Mr. Hoffman told the Journal he only once visited Epstein's island residence, Little St. James, for an MIT fundraising trip with Mr. Ito. He said he regrets ever meeting with Epstein and his last interaction with Epstein was in 2015.

"It gnaws at me that, by lending my association, I helped his reputation, and thus delayed justice for his survivors," Mr. Hoffman said in an email. He said he met with Epstein to discuss science projects at universities. "While I relied on MIT's endorsement, ultimately I made the mistake," he said, "and I am sorry for my personal misjudgment."

Mr. Ito said in an email: "Reid attended a few fundraising events at my request, including one trip to Little St. James, after I confirmed to Reid that Mr. Epstein had been an approved donor target for MIT in accordance with university rules and regulations."
Mr. Hoffman here is the real victim, folks!

I guess it's just a coincidence that Epstein was in bed with the former Israeli Prime Minister and head of Israeli Military Intelligence, was funded by pro-Israel billionaires and was giving large donations to the man who Netanyahu wanted to run the Bank of Israel.

Epstein must have been working for the Russians!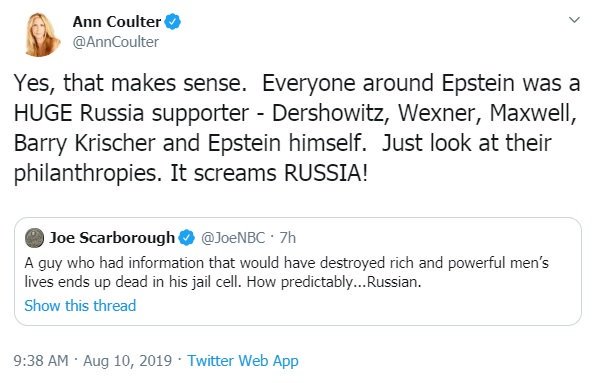 Follow InformationLiberation on Twitter, Facebook, Gab, Minds and Telegram.