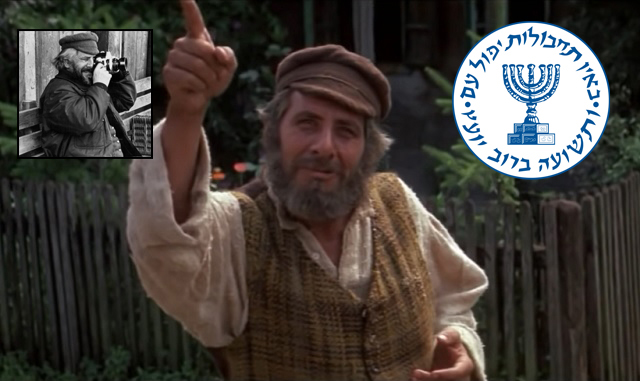 Fiddler on the Roof star Chaim Topol was secretly an Israeli Mossad intelligence agent who used his position as an award-winning actor to spy on Israel's enemies.


From The Daily Mail, "Israeli actor Chaim Topol lived a double life as a Mossad agent using his VIP status to gain entry to sensitive sites on daring missions around the world, his family reveals after his death aged 87"

Fiddler on the Roof star Chaim Topol was actually a Mossad agent who went on daring missions around the world, his family have revealed weeks after his death.

The Israeli actor, who died last month aged 87, lived a secret double life of 'adventure and courage' in between stints on the stage.

[...] [Topol's] family say he used his London home as a base to welcome Mossad spies sent from Israel, who he plotted with to use his VIP status to gain entry to sensitive locations.

The trips usually targeted the embassies, airports and airlines of Israel's Arab enemies, as revealed by his widow Galia, and children Adi and Omer in an interview with Israeli newspaper Haaretz.

Omer told the publication: 'I don't know exactly what the appropriate definition is for the missions and duties he performed. But what is clear is that Dad was involved in secret missions on behalf of the Mossad.

'His status in those years was that of an international star, and he could go anywhere he wanted. He had the ability to deliver documents and take pictures without anyone questioning anything.'

[...] The family claim much of his work was carried out when he moved to London in the 1970s for a stint of Fiddler on the Roof on the West End.

He would regularly visit the Israeli embassy, where he would meet his friend, Mossad officer Peter Zvi Malkin. The family said Mr Malkin would visit their home by sneaking in through the back garden.

Topol 'was a kind of cover for [Malkin's] operations,' Galia said. 'He would come to London and live with us when he needed to'.

One of the most amazing tales of Topol's double life was a mission that involved bugging an Arab country's embassy in an undisclosed European capital city.

Topol and Malkin rented an apartment next door to the embassy to drill holes in the shared wall and insert listening devices, the family revealed.

But the mission was only successful thanks to Topol's acting skills.

The apartment was dressed as a dental clinic and when the Arab embassy security came to check on the drilling noise next door, Topol lay down on the dentist's chair.

Topol's accomplice, Zvi Zamir, who later became the head of Mossad, was quick to assume the role of the dentist while Topol acted as the patient, and the security guards quickly left, having been convinced by the pair.

According to the family Zamir regularly visited their London home.

They claim that the day before the Yom Kippur war broke out in 1973, Zamir arrived at the family home to tell them about the upcoming war.

Following the war, Topol joined the Israeli Defence Force's information unit where he worked to build relationships with foreign journalists, covering peace talks between Israel and Egypt.

During this time, he came to know Egyptian generals and other top security figures. When the First Lebanon War began in 1982, he was sent to Beirut to meet with foreign agents and journalists to gather information on missing Israeli soldiers.
"At the height of his fame, Topol was in demand all over the world, including places that Israelis couldn't enter at the time, such as China and the Soviet bloc, which had severed relations with Israel after the 1967 Six-Day War," Haaretz reported. "As a VIP, however, all borders were open to Topol, a situation he exploited to bring in sensitive surveillance equipment. His family says he took the Minox camera and the recording gear on every trip."

"Topol remained a darling of the security establishment," Haaretz continued. "During the 1982 Lebanon war, he got to Beirut with Malkin, Dagan and Rafi Eitan, who was the prime minister's adviser on combating terrorism (and the agent who would recruit American spy Jonathan Pollard). This group -- some held official positions and some didn't -- wouldn't always follow procedures. They came up with ideas, some quite loony, for assassinating PLO leaders, including the use of car bombs. Fortunately most of their ideas were blocked by their superiors and the political leaders."

What other famous actors could secretly be Mossad agents?

The first that comes to my mind is Sacha Baron Cohen, the comedian-turned Anti-Defamation League partner and pro-censorship advocate not only helps to boost the Mossad's image by playing a Mossad agent on Netflix but also uses Mossad-like tactics to try and catch politicians like Ron Paul and Rudy Giuliani in compromising positions to take down their political careers.




Rather comically, Cohen tricked several Republican politicos into making fools out of themselves by posing as an Israeli terror expert and asking them to prove their loyalty to Israel (which they dutifully did).



Perhaps it's all just a coincidence -- or perhaps we'll learn in 30 or so years after Cohen's death that he too was operating as a foreign agent.

Follow InformationLiberation on Twitter, Facebook, Gab, Minds and Telegram.