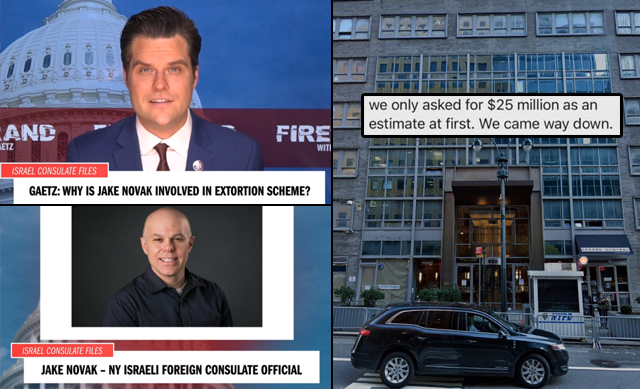 The Department of Justice officially declined to charge Florida Rep Matt Gaetz in a sex trafficking investigation on Wednesday after leaked texts revealed the Israeli government appeared to be implicated in a $25 million extortion plot targeting Gaetz's family.

From The Palm Beach Post, "Justice Department drops sex trafficking probe of Rep. Matt Gaetz without charges, lawyers say":

The Justice Department has formally decided not to charge firebrand Republican Rep. Matt Gaetz in a sex trafficking investigation, the lawmaker's lawyers said Wednesday.

"We have just spoken with the DOJ and have been informed that they have concluded their investigation into Congressman Gaetz and allegations related to sex trafficking and obstruction of justice, and they have determined not to bring any charges against him," attorneys Marc Mukasey and Isabelle Kirshner said.

Gaetz's office also issued a brief statement acknowledging the Justice Department's contact with the lawmaker's attorneys.

The department did not immediately comment. The decision was first reported by CNN.

[...] The Gaetz inquiry was launched following the arrest of Joel Greenberg, formerly a Gaetz family friend and Florida tax collector. As part of a plea agreement, Greenberg was sentenced to 11 years in prison for sex trafficking of a minor and other offenses. He pleaded guilty to six federal crimes, including identity theft, stalking, wire fraud and conspiracy to bribe a public official. Prosecutors said he paid at least one girl to have sex with him and other men.
Joel Greenberg, a potential Jeffrey Epstein-esque figure who had worked as a tax collector for Seminole County, Florida, appears to have tried to entrap Gaetz into having sex with a 17-year-old girl for blackmail purposes.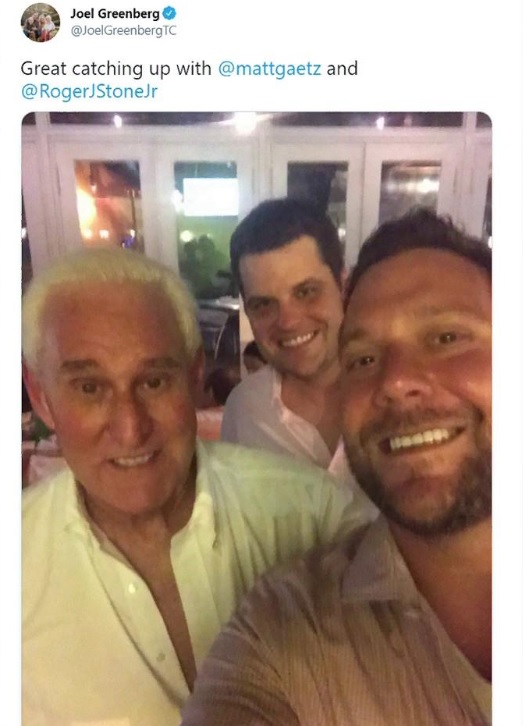 Unfortunately for Greenberg, the evidence the DOJ compiled indicated she had actually turned 18 when she was alleged to have taken a trip with Gaetz to the Bahamas in 2018.

Gaetz's case took a wild turn in April 2021 after Scott Adams of Dilbert fame released texts from Jake Novak, media director of the Israeli consulate in New York City, showing Novak had prior knowledge of Gaetz's sex trafficking investigation before any news had come out and appeared to be involved in a $25 million extortion plot to shake down Gaetz's father to get the case to go away.

From The American Conservative, "Leaked Texts From Israeli Consulate Employee Show More Details In Gaetz-Levinson Funding Scheme":

Three screenshots of texts between Scott Adams, creator of Dilbert, and Jake Novak, media director of the Israeli consulate in New York City were shared with TAC. The messages were authenticated by one of the parties to them.

In the first screenshot, Novak messaged Adams last Saturday to tell him about the investigation into Gaetz. The New York Times story on the Gaetz investigation was not published until Tuesday.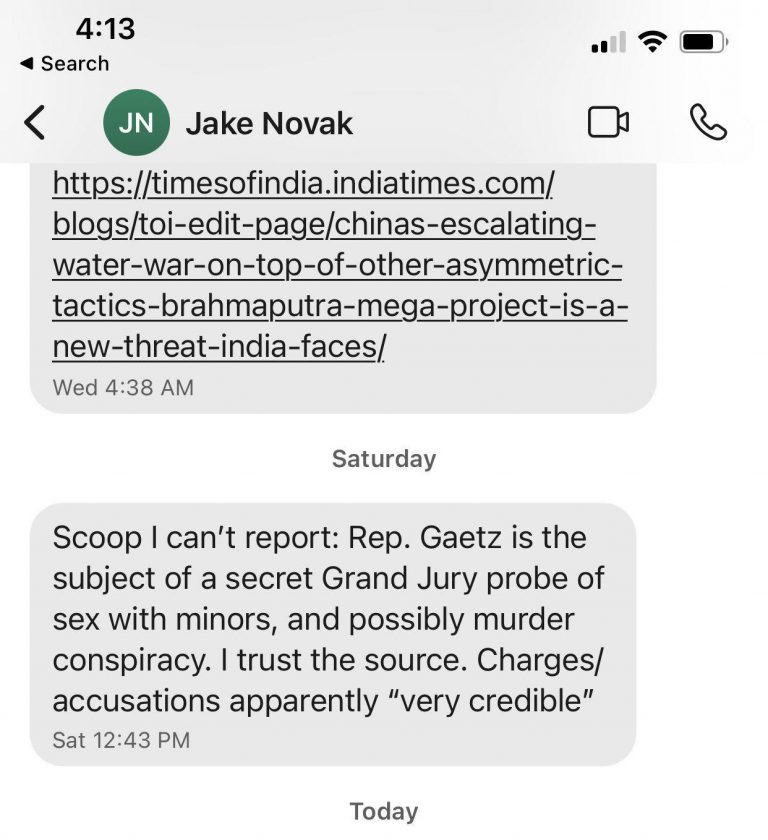 In the second, Novak appears to represent himself as deeply involved in the efforts to free Bob Levinson from Iran, telling Adams "this is screwing up my efforts to free Bob Levinson."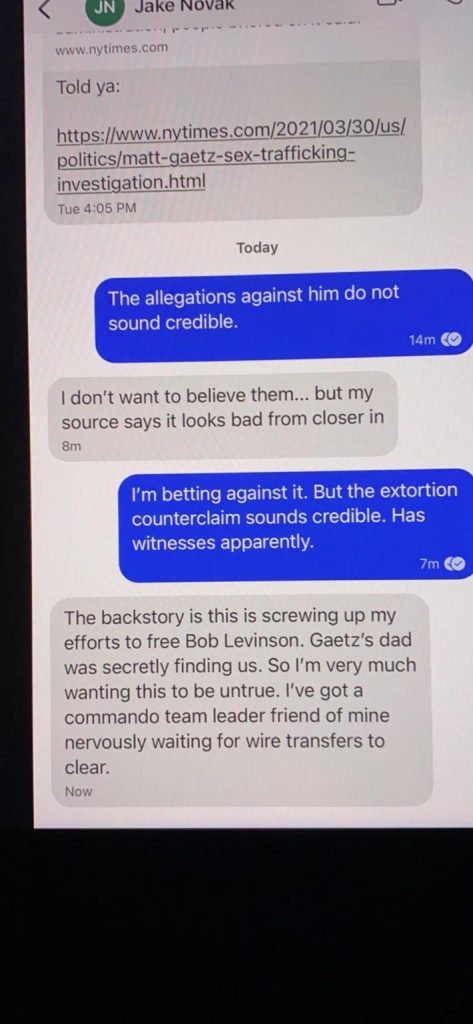 "Gaetz's dad was secretly finding [sic] us," he continues. "So I'm very much wanting this to be untrue. I've got a commando team leader friend of mine nervously waiting for the wire transfers to clear."

In the third screenshot, Novak casts doubt on Gaetz's claims that he is being extorted. "The real documents do not extort," he writes, "And we only asked for $25 million as an estimate at first. We came way down."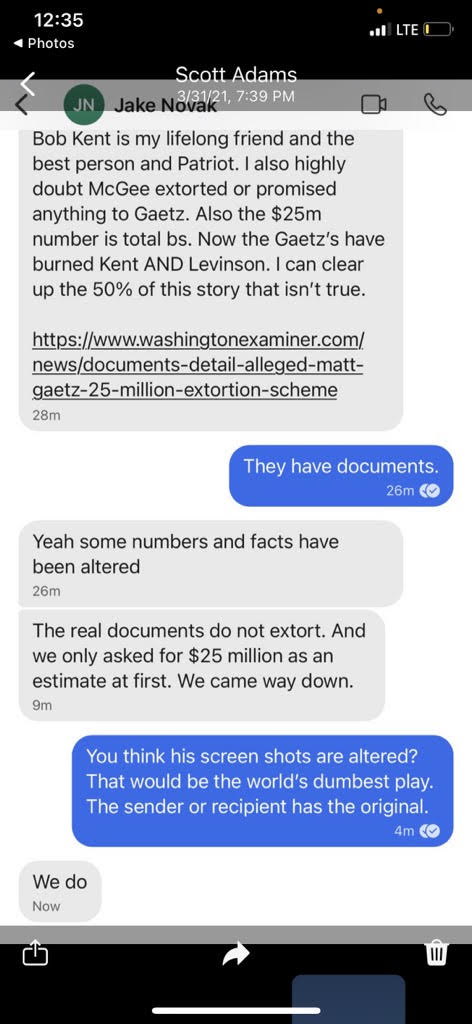 Gaetz went public questioning if the Israeli government was trying to blackmail him and his father.

"Why is [Jake Novak] @jakejakeny (an Israeli Consulate Official) involved in an effort to extort my family?" Gaetz asked on Twitter. "@FBI should ask him."


"@IsraelinNewYork, care to comment on @JakeJakeNY's involvement in an extortion scheme against a U.S. congressman?" Gaetz said in another tweet tagging the Israeli embassy in New York.

Gaetz explicitly questioned whether the real hidden hand behind the extortion scheme targeting him and his father was "the government of Israel" itself.


He also discussed the extortion scheme on his online show (skip to 18:47):



After Gaetz's name was dragged through the mud and the extortion plot was exposed, Attorney General Merrick Garland declined to charge Gaetz with anything.

Gaetz unquestionably deserves to be treated as entirely innocent until proven guilty, as do all Americans, but I suspect even if Greenberg did get something on him the DOJ wouldn't want to risk it coming out in court that the Israeli government was behind yet another Jeffrey Epstein-style blackmail plot targeting our elected leaders.

According to a Vanity Fair report in 2019, "prominent Republicans" believe that child-trafficking blackmail operative Jeffrey Epstein "was a Mossad agent."

The former Prime Minister of Israel and the head of Israeli Military Intelligence, Ehud Barak, was seen "hiding his face" while entering Epstein's lavish New York City townhouse in 2016.


Epstein also reportedly "entered a partnership worth millions" with Barak in 2015.

Epstein's alleged madam/handler, Ghislaine Maxwell, is the daughter of alleged Mossad agent Robert Maxwell, who has been dubbed "Israel's Superspy."

Epstein received at least $200 million in funding from from pro-Israel billionaires Les Wexner and Leon Black.

Former Israeli spy Ari Ben-Menashe claimed in late 2019 that Epstein and Ghislaine Maxwell were "Israeli spies" who blackmailed politicians through "honey trap" operations with underage girls.

Scott Adams deserves huge credit for exposing this shady extortion scheme.

Follow InformationLiberation on Twitter, Facebook, Gab, Minds and Telegram.