Rep. Matt Gaetz: Why Is An Israeli Consulate Official Involved In An Effort to Extort My Family Of $25M?
Gaetz questions if "the government of Israel" itself was behind "an extortion scheme against a U.S. congressman"
Chris Menahan
InformationLiberation
Sep. 24, 2021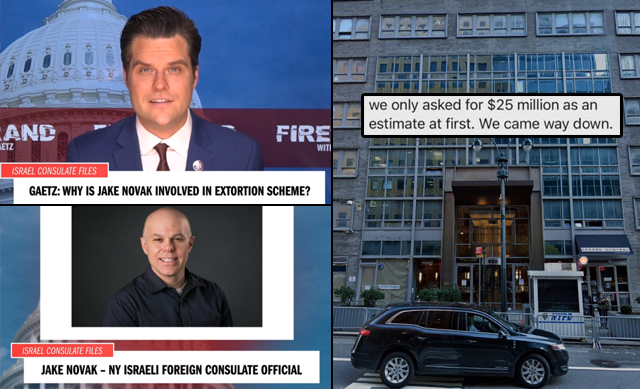 Florida Rep Matt Gaetz (R) on Thursday questioned why Israeli consulate official Jake Novak was reportedly involved in the $25 million extortion scheme targeting him and his father.

"Why is [Jake Novak] @jakejakeny (an Israeli Consulate Official) involved in an effort to extort my family?" Gaetz asked on Twitter. "@FBI should ask him."

Gaetz linked to a story from Politico released Thursday where they finally got around to covering the Israeli consulate official's involvement in the extortion scheme five months late.


From Politico:

Of the many only-in-Florida aspects of the Rep. Matt Gaetz sex-crimes investigation, one stands out for its utter weirdness: the story of the Israeli consulate staffer, the cartoonist who created Dilbert and a complicated shakedown scheme tied to a former CIA operative captured in Iran.

The most-salacious aspects of the federal probe into Gaetz have received saturation media coverage over the months. But scant attention has been paid to the mysterious cameo of Jake Novak, the broadcast media director of the Consulate General of Israel in New York.

Three days before the story broke in March that federal investigators were probing whether Gaetz had sex with a 17-year-old girl, Novak began corresponding with Dilbert cartoonist Scott Adams about the scandal. The two were pals on social media. Novak indicated to Adams he had inside knowledge of the probe and also suggested he was personally involved in an effort to get $25 million out of Gaetz's wealthy father to help free an American hostage in Iran named Bob Levinson.
"@IsraelinNewYork, care to comment on @JakeJakeNY's involvement in an extortion scheme against a U.S. congressman?" Gaetz tweeted.

Gaetz questioned whether the real hidden hand behind the extortion scheme targeting him and his father was "the government of Israel" itself.


Gaetz expressed exasperation at the notion Israel would try to extort him despite his relentless devotion to serving their interests.

Gaetz wrote a letter reaching out to Israel's Ambassador to the United States Gilad Erdan for comment.

The Consulate General of Israel in New York responded to the story by denying involvement in the scheme:



Note how they say they haven't fired him.


You can watch Gaetz's full segment on the extortion scheme on his show on Rumble (skip to 18:47):



Israel was reportedly caught planting stingray cellphone spying devices outside the White House and throughout sensitive locations in DC in 2017.

According to a Vanity Fair report in 2019, "prominent Republicans" believe that child-trafficking blackmail operative Jeffrey Epstein "was a Mossad agent."

The former Prime Minister of Israel and the head of Israeli Military Intelligence, Ehud Barak, was seen "hiding his face" while entering Epstein's lavish New York City townhouse in 2016.


Epstein also reportedly "entered a partnership worth millions" with Barak in 2015.

Epstein's alleged madam/handler, Ghislaine Maxwell, is the daughter of alleged Mossad agent Robert Maxwell, who has been dubbed "Israel's Superspy."

Epstein received at least $200 million in funding from from pro-Israel billionaires Les Wexner and Leon Black.

Former Israeli spy Ari Ben-Menashe claimed in late 2019 that Epstein and Ghislaine Maxwell were "Israeli spies" who blackmailed politicians through "honey trap" operations with underage girls.

Follow InformationLiberation on Twitter, Facebook, Gab, Minds, Parler and Telegram.