Revealed: Jeffrey Epstein Received At Least $200 Million From Billionaires Les Wexner And Leon Black
Chris Menahan
InformationLiberation
Jan. 25, 2021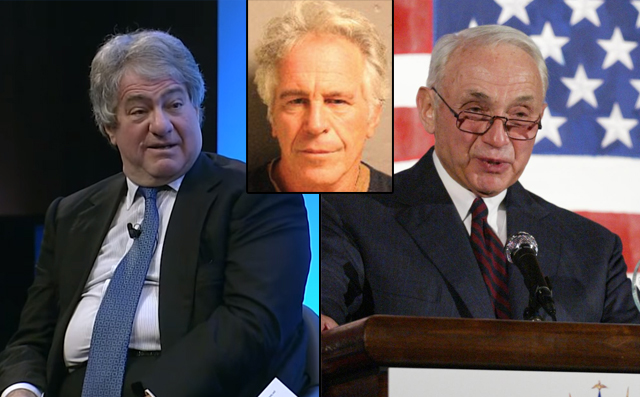 Jeffrey Epstein received $158 million from billionaire Leon Black and $46 million at a bare minimum from billionaire Les Wexner, according to the latest numbers.



From New York Times, "Apollo C.E.O. to Step Down After Firm Finds More Payments to Jeffrey Epstein":

The founders of Apollo Global Management, one of the world's biggest private equity firms, engaged in a brief power struggle this weekend over control of the firm, a rift that opened up after an inquiry revealed that one founder -- Apollo's chief executive and chairman, Leon Black -- had paid more than $150 million to the convicted sex offender Jeffrey Epstein.

On Monday, Mr. Black announced his plan to step down as chief executive this year. "I have advised the Apollo board that I will retire as C.E.O. on or before my 70th birthday in July and remain as chairman," he said in a statement.

The review -- ordered by the firm's board at Mr. Black's behest in October, after The New York Times detailed at least $75 million in payments -- found that Mr. Black had paid Mr. Epstein $158 million in a five-year period ending in 2017. He had also lent Mr. Epstein more than $30 million, only $10 million of which was paid back, the report found.

Mr. Black's payments effectively bankrolled the lifestyle of Mr. Epstein -- whom Mr. Black viewed as a "confirmed bachelor with eclectic tastes," according to the report -- in the years after his 2008 guilty plea in Florida to a prostitution charge involving a teenage girl.
Les Wexner admitted in January 2020 that Epstein got well over $46 million from him (Wexner, after being exposed as Epstein's money man, released a ridiculous story claiming Epstein "misappropriated vast sums" of his money and said $46 million that Epstein donated to Wexner's wife's foundation represented only a "portion" of the funds he took).

Wexner also appears to have given Epstein tens of millions worth of property and let him use his properties for free.


Epstein's estate is reportedly $600 million and Wexner and Black appear to be his biggest sources of funding.

Epstein entered into a "partnership worth millions" in 2015 with Ehud Barak, the former Prime Minister of Israel and the head of Israeli Military Intelligence.

Barak also reportedly regularly visited Epstein's other apartment building in New York (which was majority owned by Epstein's mysterious brother Mark who bought the apartments off Les Wexner) where underage girls say they were trafficked.


Both Wexner and Black are known for their commitment to pro-Israel and Jewish causes.

Epstein's alleged madam/handler, Ghislaine Maxwell, is the daughter of alleged Mossad agent Robert Maxwell, who has been dubbed "Israel's Superspy."

Former Israeli spy Ari Ben-Menashe claimed in late 2019 that Epstein and Ghislaine Maxwell were "Israeli spies" who blackmailed politicians through "honey trap" operations with underage girls.

Vanity Fair reported in July 2019 that "prominent Republicans" think Epstein "was a Mossad agent."

Follow InformationLiberation on Twitter, Facebook, Gab, Minds, Parler and Telegram.