Biden Says U.S. Arming Ukraine With 31 M1 Abrams Tanks is 'Not An Offensive Threat to Russia'
Chris Menahan
InformationLiberation
Jan. 25, 2023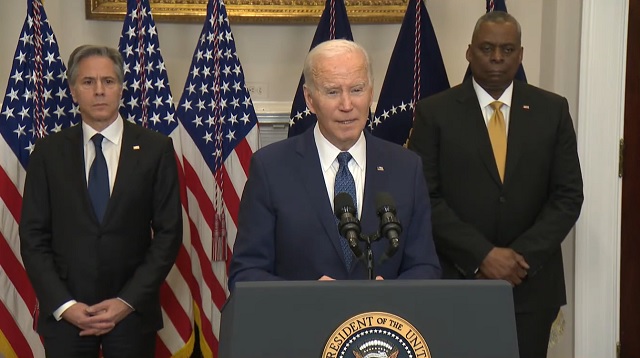 Joe Biden said Wednesday that the US arming Ukraine with 31 M1 Abrams tanks in addition to billions of dollars in high-tech weaponry does not amount to "an offensive threat to Russia."


"Today's announcement builds on the hard work and commitment from countries around the world, led by the United States of America, to help Ukraine defend its sovereignty and its territorial integrity," Biden said.

"That's what this is about, helping Ukraine defend and protect Ukrainian land. It is not an offensive threat to Russia. There is no offensive threat to Russia," he insisted.

"If Russian troops return to Russia, they'll be there for-- this-- where they belong," Biden said, stumbling over his word. "This war would be over today. That's what we all want -- an end to this war."

The neocons running the Biden regime have stated explicitly and repeatedly that their goal with shipping Ukraine billions of dollars in US weapons is to drag the war out for as long as possible and fuel "a long insurgency" against Russia.

The New York Times reported last week that the US is "warming" to the idea of working with Ukraine to attack Crimea because Russia has yet to use nuclear weapons.

As I noted previously, Biden's neocon handlers are essentially taunting Russia to use nukes against Ukraine. They don't give the slightest damn how many Ukrainians die in a prolonged war so long as it drags down Russia.

Follow InformationLiberation on Twitter, Facebook, Gab, Minds and Telegram.