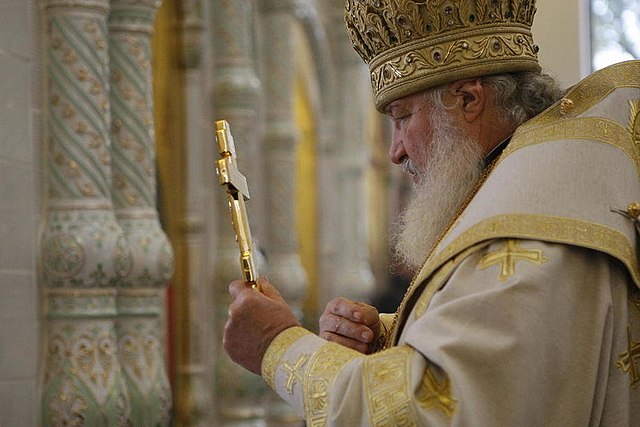 Russian Orthodox Church Patriarch Kirill on Thursday warned the "madmen" running the West that Russia has "powerful weapons" and "any desire to destroy Russia will mean the end of the world."

From RT, "Russian Orthodox Church issues apocalyptic warning":

Any attempts to destroy Russia could spell disaster for the entire world, the head of the Russian Orthodox Church, Patriarch Kirill, warned on Thursday.

Speaking after a religious service marking the Orthodox Christian holiday of Epiphany, the primate claimed that both the international community and Russia are facing "very huge threats."

According to Patriarch Kirill, the root of the problem is that some "madmen" believe that Russia, which "has powerful weapons and is populated by extremely strong people… who had never given in to an enemy and had always emerged victorious, could be defeated under the current circumstances."

Neither would it be possible to "impose on them certain values that cannot even be called values, so that they would be like everyone else and obey those who have the power to control most of the world," he noted.

"We pray to the Lord so that he enlightens those madmen and helps them understand that any desire to destroy Russia will mean the end of the world," he added.

The Patriarch's remarks echo a statement by former Russian president Dmitry Medvedev on Thursday, who warned those countries wishing to see Moscow defeated in Ukraine that nuclear powers such as Russia had "never lost a major conflict on which their fate depended." Should such a nation lose a conventional war, it could trigger a nuclear conflict, he added.
The New York Times reported Wednesday that the US is "warming" to the idea of working with Ukraine to attack Crimea because Russia has yet to use nuclear weapons.

From The New York Times, "U.S. Warms to Helping Ukraine Target Crimea":

For years, the United States has insisted that Crimea is still part of Ukraine. Yet the Biden administration has held to a hard line since Russia's invasion of Ukraine, refusing to provide Kyiv with the weapons it needs to target the Crimean Peninsula, which Russia has been using as a base for launching devastating strikes.

Now that line is starting to soften.

After months of discussions with Ukrainian officials, the Biden administration is finally starting to concede that Kyiv may need the power to strike the Russian sanctuary, even if such a move increases the risk of escalation, according to several U.S. officials who spoke on condition of anonymity to discuss the sensitive debate. Crimea, between the Black Sea and the Sea of Azov, is home to tens of thousands of dug-in Russian troops and numerous Russian military bases.

The moderation in position has come about as the Biden administration has come to believe that if the Ukrainian military can show Russia that its control of Crimea can be threatened, that would strengthen Kyiv's position in any future negotiations. In addition, fears that the Kremlin would retaliate using a tactical nuclear weapon have dimmed, U.S. officials and experts said — though they cautioned that the risk remained.
Biden's neocon handlers are essentially taunting Russia to use nukes against Ukraine.

"Fighting to the last Ukrainian" is their official policy.

With the reclaiming last year of Kherson in the south, Ukrainian forward lines can now use [American-provided HIMARS, long-range rocket systems] to hit the main supply routes coming out of Crimea, one American military official said in an interview.

This week, top U.S. and Ukrainian commanders will hold a high-level planning meeting in Germany to game out the offensive planning, another senior U.S. official said. The drill, the official said, is meant to align Ukraine's battle plans with the kinds of weapons and supplies NATO allies are contributing.
NATO Secretary General Jens Stoltenberg told the World Economic Forum on Wednesday that providing Ukraine weapons is "the way to peace."

"If we want a negotiated, peaceful solution to the war in Ukraine, we need to provide military support to Ukraine. That's the only way," Stoltenberg said. "Weapons are the way to peace."


War is peace!


Follow InformationLiberation on Twitter, Facebook, Gab, Minds and Telegram.