Poll: HALF of Americans Agree Jan 6 Suspects Are 'Political Prisoners'
Chris Menahan
InformationLiberation
Sep. 15, 2021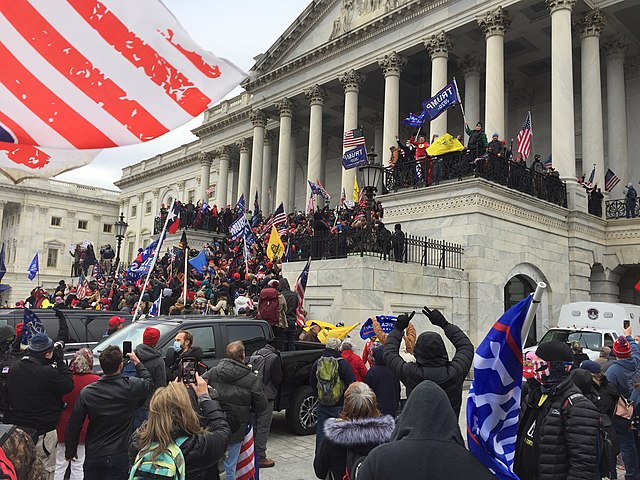 Despite the GOP establishment throwing Jan 6 protesters under the bus and staying silent as they're being held in indefinite detention, tortured, beaten, racially abused and locked in solitary confinement in DC jails, half of Americans now recognize they're "political prisoners," according to a new poll.

From the Washington Examiner, "Half agree: Jan. 6 suspects are 'political prisoners' ":

In a shock survey likely to draw even more attention to this weekend's "Justice for J6" rally, nearly half of voters believe those charged in the Capitol riots are political prisoners.

According to the latest Rasmussen Reports survey, 49% said that those jailed for violence and other charges are being held as "political prisoners." Some 30% "strongly" agree.

Just 42% disagree, said the survey.

Notably, 45% of Democrats agree that the more than 500 arrested are political prisoners.

Rasmussen also found more agree that the FBI's Jan. 6 dragnet is targeting "patriots."

Asked to agree or disagree with this statement: "The Department of Justice and the FBI have targeted, imprisoned, and persecuted non-violent American patriots," 48% agreed, and 46% disagreed.
As a reminder, these political prisoners were thrown under the bus by the GOP and even President Trump called for them to be prosecuted to "the fullest extent of the law."

It took Trump six months to even mention Ashli Babbitt's name.

Texas Sen. Ted Cruz (R) called the Capitol protesters "terrorists" who took part in a "terrorist attack" and said that "every terrorist needs to be fully prosecuted."


(Officer Brian Sicknick died of natural causes the day after the event, DC's chief medical examiner admitted in mid April after stalling for over three months.)

Oklahoma Rep Markwayne Mullin (R) in late July went on C-SPAN to praise the Capitol police officer who shot and killed unarmed Air Force veteran Ashli Babbitt at the Capitol and said he "gave him a hug" and told the killer cop, "Sir, you did what you had to do."

Meanwhile, just days later North Dakota Sen. Kevin Cramer (R) went on a radio show to say he's "grateful" to the Capitol police officer who shot and killed Babbitt because she was a "criminal."

Ben Shapiro just last month said the Capitol protesters are "evil" and will "all end up rotting in prison, as they should."


Nonetheless, despite near-unanimous demonization of the Jan 6 protesters on the part of our ruling class and mass censorship of everyone who has stood up for them, half the country now recognizes they are political prisoners!

[Header image by TapTheForwardAssist via Wikimedia, CC BY-SA 4.0]

Follow InformationLiberation on Twitter, Facebook, Gab, Minds, Parler and Telegram.