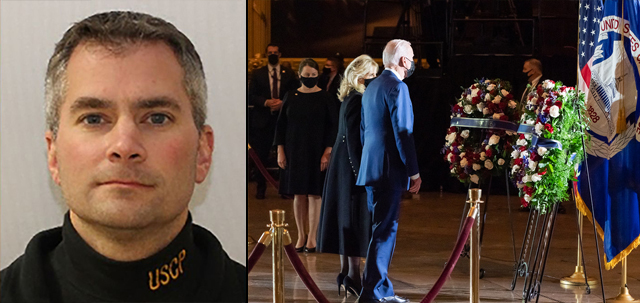 DC's chief medical examiner revealed Monday that Officer Brian Sicknick died as a result of natural causes the day after the storming of the Capitol, once and for all destroying the media's false narrative that Sicknick was "killed by a pro-Trump mob."

The admission has come over three months after Sicknick's death.

From The Washington Post,"Capitol Police officer Brian Sicknick, who engaged rioters, suffered two strokes and died of natural causes, officials say" (Archive):

Capitol Police officer Brian D. Sicknick suffered two strokes and died of natural causes a day after he confronted rioters at the Jan. 6 insurrection, the District's chief medical examiner has ruled.

The ruling, released Monday, likely will make it difficult for prosecutors to pursue homicide charges in the officer's death. Two men are accused of assaulting Sicknick by spraying a powerful chemical irritant at him during the siege.

In an interview with The Washington Post, Francisco J. Diaz, the medical examiner, said the autopsy found no evidence the 42-year-old officer suffered an allergic reaction to chemical irritants, which Diaz said would have caused Sicknick's throat to quickly seize. Diaz also said there was no evidence of internal or external injuries.

[...] Diaz said Sicknick suffered two strokes at the base of the brain stem caused by a clot in an artery that supplies blood to that area of the body. Diaz said he could not comment on whether Sicknick had a preexisting medical condition, citing privacy laws.
The disinformation that he was killed by "a pro-Trump mob" was spread by the biggest media outlets and the government itself to millions.

Acting U.S. attorney general Jeffrey A. Rosen said in a Jan. 8 statement that Sicknick died of "the injuries he suffered defending the U.S. Capitol." He promised that local and federal authorities would "spare no resources in investigating and holding accountable those responsible."

The Capitol Police had previously said in a statement that Sicknick "was injured while physically engaging with protesters."
The state charged two random guys to boost their fledgling false narrative just last month:

In March, two men were accused of assaulting Sicknick with chemical spray during the riot. At the time of the arrests, the autopsy had not been completed.

Julian Elie Khater, 32, of Pennsylvania and George Pierre Tanios, 39, of Morgantown, W.Va., grew up together in New Jersey, authorities said.
Are any journos going to get banned from social media for spreading this disinformation?


Is the New York Times going to get deplatformed and have their bank accounts closed?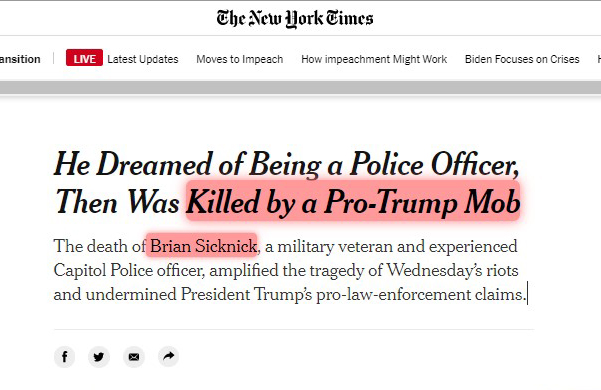 Are the government officials who lied about it going to be censored and fired from their jobs?

Those are their rules for us little people, shouldn't they apply equally to all?

We've been told for three months now that pro-Trump rioters staged an armed and deadly "insurrection" where they killed a cop.

We now know that no cops were killed and not even one person was arrested for having a firearm in the Capitol building or on Capitol grounds.

The only people killed were five pro-democracy protesters, including 14-year Air Force veteran Ashli Babbitt who was executed on video by Capitol police.

Her killer was let off without any charges by Merrick Garland's DOJ last week.

It should be highlighted that Sicknick himself was a Trump supporter who was disgusted with our corrupt ruling class and had previously called for "regime change" in Washington.

I wonder what he'd think about the corrupt regime in Washington exploiting his death from natural causes to advance the vicious persecution of mostly peaceful pro-democracy protesters?

Follow InformationLiberation on Twitter, Facebook, Gab, Minds, Parler and Telegram.