Donald Trump on Thursday evening condemned his own supporters and called for them to be prosecuted to "the fullest extent of the law," just days after he chose to pardon "the king of medicare fraud" and release traitor Jonathan Pollard from parole to "make aliyah" in Israel.

"I would like to begin by addressing the heinous attack on the United States Capitol," Trump said in a statement from the White House released on social media. "Like all Americans, I am outraged by the violence, lawlessness, and mayhem."

"The demonstrators who infiltrated the Capitol have defiled the seat of American democracy," Trump said. "To those who engaged in the acts of violence and destruction, you do not represent our country -- and to those who broke the law, you will pay."

Trump refused to say the name of Air Force veteran Ashli Babbitt, his own die-hard supporter who was brutally executed by Capitol police while unarmed.



White House spokeswoman Kayleigh McEnany on Thursday condemned Trump's supporters as "a group of violent rioters" who represent "the opposite of everything this administration stands for."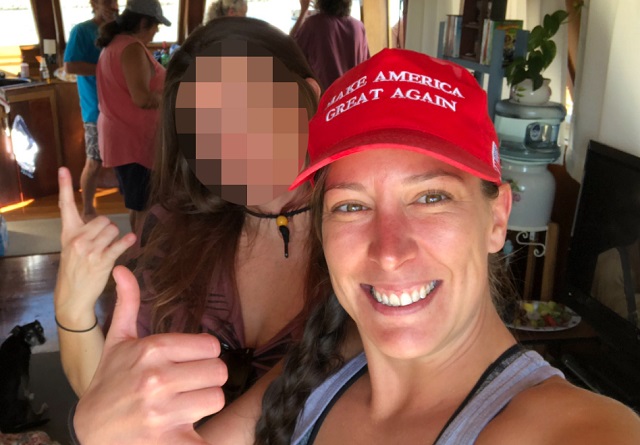 Her name is Ashli Babbitt.


"I am here to deliver this message on behalf of the entire White House," McEnany said. "Let me be clear, the violence we saw yesterday at our nation's Capitol was appalling, reprehensible and antithetical to the American way."

She continued: "We condemn it -- the president and this administration -- in the strongest possible terms. It is unacceptable and those that broke the law should be prosecuted to the fullest extent of the law."


Just days ago, Trump pardoned a host of fraudsters who donated to the Aleph Institute -- an organization that was started by the Orthodox Jewish Chabad-Lubavitch movement which counts the president's son-in-law, Jared Kushner, as a member.




Trump also pardoned Jared Kushner's criminal father, Charles Kushner, as well as "career con-man" Mark A. Shapiro and his partner Irving Stitsky, who stole millions of dollars from hundreds of investors by selling worthless interests in bogus real estate investment offerings.

In November, the Trump administration quietly ended traitor Jonathan Pollard's parole to allow him to leave the country and "make aliyah" in Israel.

Pollard, a Jewish-American intelligence analyst who stole US military secrets and sold them to Israel, received a hero's welcome last Wednesday by Prime Minister Benjamin Netanyahu after being flown out of the US on billionaire GOP megadonor Sheldon Adelson's personal private plane.


Another criminal Trump pardoned early in his term was Sholom Rubashkin, a money laundering fraudster who ran a Kosher slaughterhouse and meatpacking operation in Iowa employing hundreds of illegal aliens -- including illegal alien children -- that resembled a house of horrors.

Trump invited Rubashkin to a White House Hanukkah party last month.


Though Trump showed those criminals all the leniency in the world, he is now condemning his own supporters -- who he personally told to march on the Capitol after telling them the election was stolen from them in the crime of the century -- to potentially decades in prison.


For his part, Trump -- after losing the election -- managed to raise $207 million from his supporters (many of which may now be imprisoned) with claims he would "stop the steal."

It turns out he only spent a couple million on legal efforts to overturn the election.


Instead, most of the money went towards his new "Save America PAC" (which can be spent on anything, including potential Ivanka Trump and Lara Trump Senate runs) and towards paying off campaign debts.


If you donated to that effort, you should demand your money back and check to see if you can file a chargeback.

While Trump claimed in his speech on Thursday that he had exhausted all legal options, he had voluntarily dropped four lawsuits challenging the election in Georgia just hours earlier.


While America is losing everything, Jared Kushner and Ivanka just bought a new $30 million lot in the ritziest locale in Miami.

He's currently working on cashing in with $100 million in "kickbacks" from Israel for the billions of dollars he secured for them (most of Kushner's "peace deals" between Arab states and Israel were just him promising to give billions of US taxpayer dollars and high-tech US weaponry to various Arab kings in exchange for them normalizing relations with Israel).


Though Democrats seizing control of all three branches of government is going to be a nightmare, I must say I'm glad Trump's presidency is finally over.

It's better to be ruled by people who openly hate us rather than "allies" who promise us the world while stabbing us in the back.

If they want to throw Trump and his family in prison the same way he signed on to throwing his own die-hard supporters in prison, then so be it. At this point, it wouldn't shock me if he actually quietly signed a deal with Biden to ensure he and his family weren't arrested. The existence of such a proposal was reported on last month but never confirmed.

His presidency was the greatest chance to save this country in my lifetime. He squandered the opportunity and failed miserably.

The only redeeming thing I can say about him is it's possible he's being blackmailed.

Despite all this treachery, we should take heart in the fact Wednesday showed us we have millions of brave patriots who love this country and are willing to act to see it liberated from the evils of prog-globalist tyranny.

Our ruling class exposed themselves as nothing but feckless cowards who hid in the pews of congress with bags on their heads while their mercenaries murdered an unarmed woman for scaring them by climbing through a window.


Follow InformationLiberation on Twitter, Facebook, Gab, Minds and Parler.