FDA Approves Pfizer's mRNA Jab Despite Control Group Being Compromised And CDC Admitting 'Protection' Rapidly Waning
Chris Menahan
InformationLiberation
Aug. 23, 2021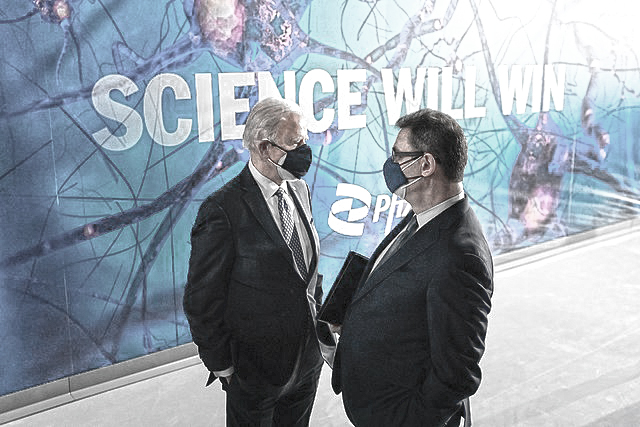 The FDA only approved Pfizer's experimental mRNA vaccine for "emergency use" last year after President Trump's chief of staff Mark Meadows told then-FDA commissioner Stephen Hahn to approve it by December 11th or be fired by the end of the day.

Hahn caved to the threats and approved the shot on December 11.


Trump admitted this was the case during his CPAC 2021 speech in February.

"I pushed the FDA like they have never been pushed before," Trump boasted. "They told me that loud and clear. They have never been pushed like I pushed them."

Trump continued:

"I didn't like them at all. But once we got it done, I said I now love you very much. What the Trump administration has done with vaccines has in many respects, perhaps saved large portions of the world. Not only our country, but large portions of the world."

"Not only did we push the FDA far beyond what the bureaucrats wanted to do, we also put up billions and billions of dollars, $10 billion, to produce the vaccines before we knew they were going to work."
Pfizer claimed back in December that their shots were around 95% effective at preventing covid infections but data out of Israel released in July showed that number is now down to 39% and officials are now rolling out "boosters" in Israel and here in America despite zero clinical trials being completed to show their side-effect profile or effectiveness.


During Pfizer's pivotal clinical trial, 15 patients died who received the vaccine versus 14 patients who received the placebo.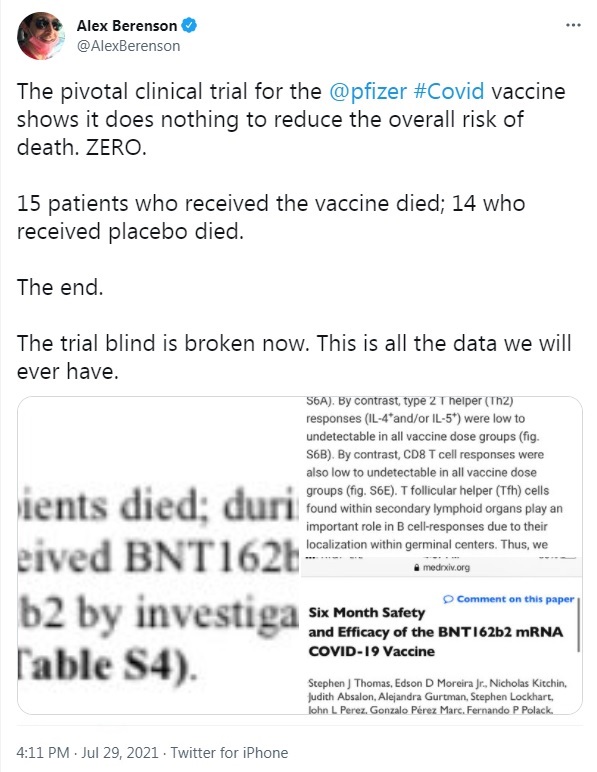 As tons of people who were in the placebo group went out and took the vaccine the trial was broken and effectively ended.

Every day now we're seeing new "breakthrough cases" and the most vaccinated countries in the world are seeing large spikes in covid cases.




In a stunning admission last week, CDC Director Rochelle Walensky said that the vaccine may be making the disease worse (i.e. causing antibody-dependent enhancement).

Walensky said:

"Even though our vaccines are currently working well to prevent hospitalizations, we are seeing concerning evidence of waning vaccine effectiveness over time and against the Delta variant. Additionally, reports from our international colleagues, including Israel, suggest increased risk of severe disease amongst those vaccinated early. Given this body of evidence, we are concerned that the current strong protection against severe infection, hospitalization and death could decrease in the months ahead. Especially among those who are at higher risk or who were vaccinated earlier during the phases of our vaccination rollout. In the context of these concerns, we are planning for Americans to receive booster shots."
WATCH:


[Embed starts 16:32]

The entire premise of Pfizer's vaccine being "95% effective" has now been completely trashed and yet we've seen no change in policy and our public health officials are instead just doubling down!

On Monday, the FDA approved the "Biologics License Application" for Pfizer's experimental mRNA vaccine.


Was the head of the FDA threatened again this time?

What went on behind the scenes to get this approved?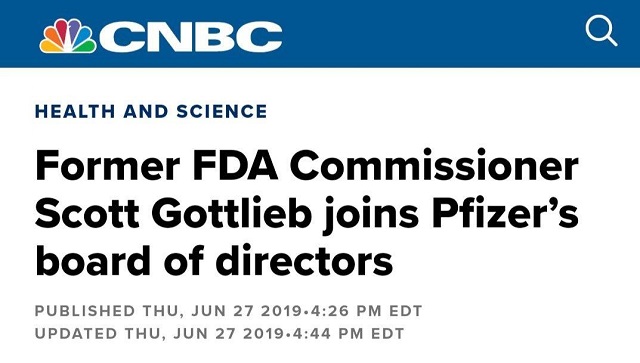 The military was the first major institution to jump on the approval and demand everyone take the shot.


Please know if you're in the military you can easily claim a religious exemption.

All government workers can claim a similar religious exemption.

There are going to be tens of millions of Americans refusing this shot and there's currently a massive labor shortage which will only get worse if companies demand their employees take it or be fired.

Biden's approval rating is imploding and most Americans now correctly recognize he's nothing more than a puppet.


Follow your conscience and do not be intimidated!

Follow InformationLiberation on Twitter, Facebook, Gab, Minds, Parler and Telegram.