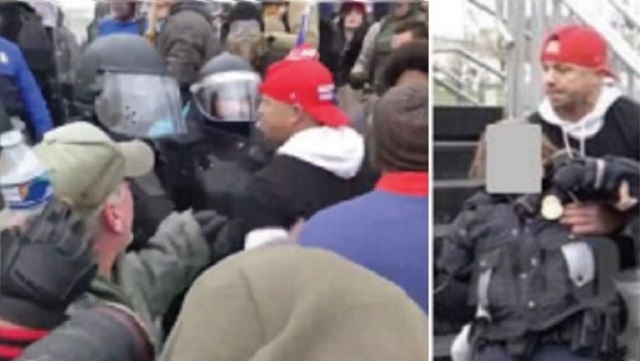 January 6th Capitol protester Ryan Samsel was "severely beaten" by DC correctional officers and is now "blind in one eye" and "has a skull fracture" and a "detached retina," according to his attorney.

Samsel's story is just one of many detailing vicious torture and racial abuse being meted out to Capitol protesters who have been detained in some cases for nearly three months.

From Politico, "Capitol riot defendant alleges beating by jail guards":

Tensions are running high between guards and inmates at a D.C. jail housing many of the defendants in Jan. 6 cases, with at least one of those prisoners alleging that he was brutally beaten by correctional officers.

For weeks, Capitol riot defendants being held in Washington have complained that they are locked in their cells with virtually no human contact for 23 hours a day. But a startling, graphic account offered publicly in court on Tuesday by one such inmate, Ronald Sandlin, went further: alleging that guards have subjected those charged in the Jan. 6 events to violence, threats and verbal harassment.

"Myself and others involved in the Jan. 6 incident are scared for their lives, not from each other but from correctional officers," Sandlin said during a bail hearing conducted by video before U.S. District Court Judge Dabney Friedrich. "I don't understand how this is remotely acceptable," he added, saying he was being subjected to "mental torture."

In an unusual direct plea to the judge, Sandlin said another Capitol riot defendant, Ryan Samsel, "was severely beaten by correctional officers, [is now] blind in one eye, has a skull fracture and detached retina."


Sandlin also described racial tension between minority guards and the largely white defendants, some of whom have been publicly accused of membership in or association with white supremacist groups.

Sandlin said guards tackled "to the ground" one high-profile prisoner, Richard Barnett, 60, who was photographed with his boot up on a desk in Speaker Nancy Pelosi's office. Sandlin said one of the guards declared, "I hate all white people and your honky religion."
The media smeared everyone involved in this mostly peaceful protest as "white supremacists" and now these "minority" jail guards appear to be convinced they're taking racial vengeance on them.


The D.C. Department of Corrections proudly congratulates and welcomes our newest Correctional Officers to our family!...

Posted by DC Department of Corrections on Monday, April 9, 2018


Tucker Carlson highlighted this story and others in a segment on Tuesday night titled, "Unequal treatment under the law."


Where the hell are our representatives and why aren't they speaking out against this?

Does anyone think Democrats would sit around silently if white jail guards filled with racial animus were beating the hell out of the handful of Black Lives Matter protesters who were jailed during the 2020 riots?

Follow InformationLiberation on Twitter, Facebook, Gab, Minds, Parler and Telegram.