AOC Emails Supporters, Asks Them to Mass-Report People Who Tweeted #AlexandriaOcasioSmollet
Chris Menahan
InformationLiberation
Feb. 04, 2021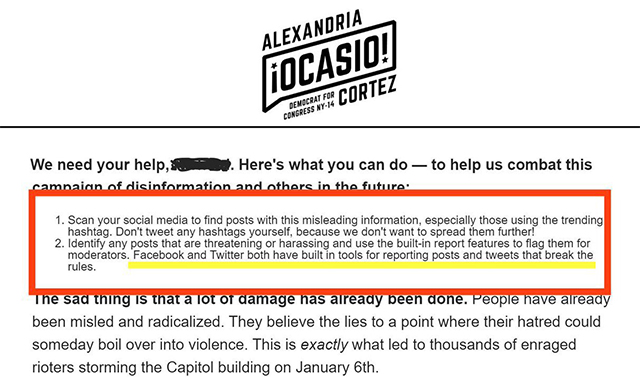 Democratic Rep Alexandria Ocasio-Cortez emailed her supporters on Wednesday night to encourage them to mass-report everyone who tweeted #AlexandriaOcasioSmollet, a hashtag making fun of her for claiming she "narrowly" escaped "death" during the Capitol protests despite not even being in the Capitol building.


The email was first shared by a leftist YouTuber who derided AOC as "controlled opposition."


As a reminder, AOC personally pushed for Parler to be deplatformed:



She also said last month she's working with congress to censor "disinformation."


When Ted Cruz reached across the aisle in a rare moment of bipartisan unity in defense of the American people last week amidst the GameStop short squeeze, AOC derailed the effort with her narcissism.


While the Biden regime is aggressively dismantling the country through executive orders eliminating our borders and enforcing anti-white discrimination across the board, conducting mass arrests of political dissidents for "crimes" as meager as sharing memes and supporting mass censorship on social media, AOC's melodramatic whining is instead taking center stage.

At this point, it wouldn't surprise me in the slightest if Twitter did start purging everyone who shared the hashtag. AOC knows full well the purge could be justified as fighting so-called "targeting harassment."

Snopes already hilariously labeled the story as "mostly false" in an article titled, "Did AOC Exaggerate the Danger She Was in During Capitol Riot?"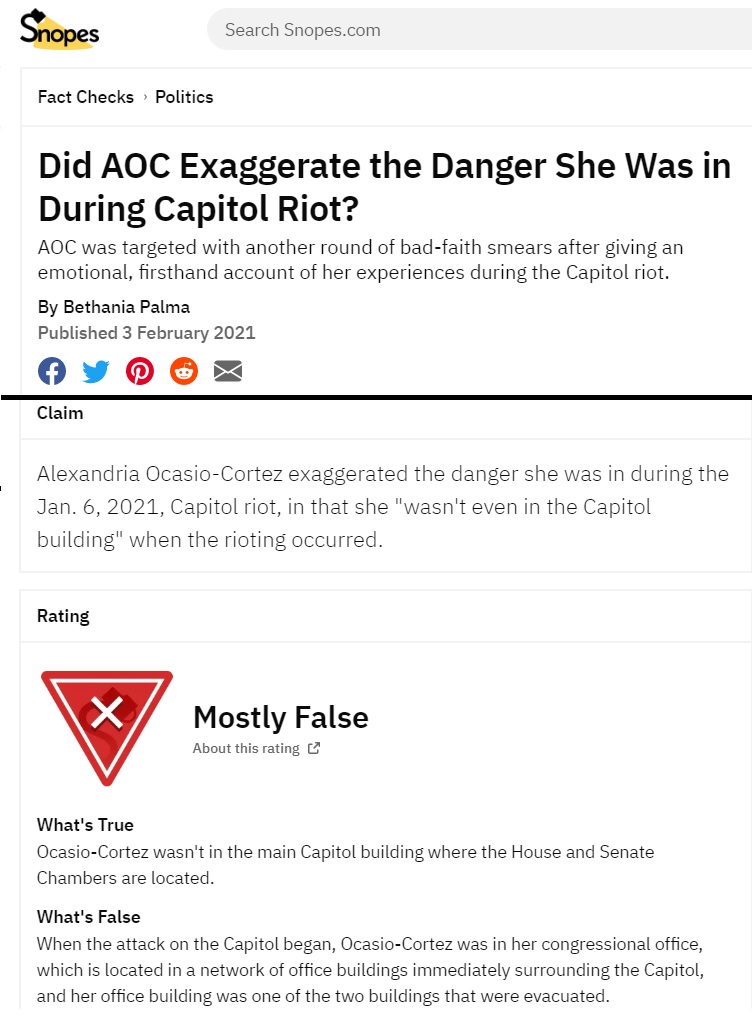 Just two days ago, NBC News' Brandy Zadrozny pushed for prominent antifa critic Andy Ngo to be banned from Twitter for noting the birth name of a transgender antifa activist in his new book.

"Andy Ngo has done more harm than I can ever explain--with a heavy assist by news orgs and fancy book publishers," Zadrozny said without feeling the need to provide any evidence for her claims. "Most know him as a manipulator of truth and Antifa boogeyman opportunist. He's also a transphobe. Emily Gorcenski is a kind person who tracks terrorists and doesn't deserve this."


Gorcenski is a radical leftist who openly endorses political violence.

We'll have to wait and see if Zadrozny comes out with an article tomorrow demanding Big Tech act to counter this "campaign of disinformation" targeting AOC!

Follow InformationLiberation on Twitter, Facebook, Gab, Minds, Parler and Telegram.