AOC Wasn't In Capitol Building During 'Storming,' Office Is In A Different Building Down The Street
Chris Menahan
InformationLiberation
Feb. 03, 2021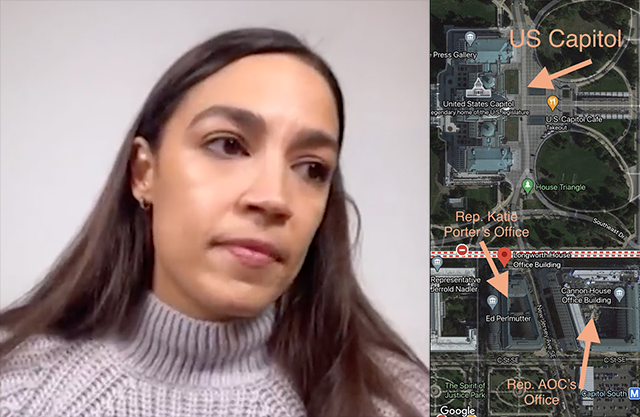 Democratic Rep Alexandria Ocasio-Cortez, whose melodramatic story of "narrowly" escaping "death" during the Capitol protests was the top story the past two days, was not in the Capitol building during the event but instead the Cannon Building down the street and a fellow congresswoman two doors down from her says their hallway wasn't "stormed."



From Red State:

AOC wasn't even in the Capitol building where all the action was going down. If she was in her office, she was in the Cannon Building which is nearby, but a different building. But of course, many didn't get the logistics and just assumed that she was in the Capitol building.

According to Rep. Nancy Mace (R-SC), who has an office in the same hall as AOC, two doors away, there were never any rioters in their hall so there was never any physical danger from rioters coming in at any point.
Mace is an establishment GOPer who went along with this whole "insurrection" hoax, which makes this even funnier:


AOC, after having her tall tale exposed, said she was still in danger because the buildings are connected by an underground tunnel system (which was never breached):


"We are all on the Capitol complex," AOC insisted. She went on to falsely claim that "Trump supporters" planted "bombs" outside their offices.



As a reminder, House Majority Whip Steve Scalise (R) was shot by fanatical Bernie Sanders supporter James T. Hodgkinson in 2017 and he never made any such drama out of it. The same goes for all the other Republican members of Congress who had run from his bullets.

The fact remains to this day that the only person who was killed in the Capitol building was unarmed Air Force veteran Ashli Babbitt, who was brutally executed by a Capitol police officer at point-blank range despite not posing any threat.


The officer's name is still being hid from the public and reports are indicating he's going to be let off without any charges.


"Almost a month since Jan 6 and the discussion has still not progressed to any re-evaluation of the censorship purges, civil liberties infringements, and/or militarization of DC -- but instead how 'traumatized' lawmakers are owed by the public to have their experiences 'validated,'" Michael Tracey said on Tuesday.


As Tracey noted, we must now accept the Biden regime transforming America into a militaristic police state lest "we invalidate the trauma of those who suffered."


Follow InformationLiberation on Twitter, Facebook, Gab, Minds, Parler and Telegram.