President Trump on his last day in office pardoned criminal mastermind Sholam Weiss, whose looting of a life insurance company for $450 million and defrauding of elderly Americans out of their life savings earned him the longest sentence in US history for a white collar crime and his own episode of CNBC's "American Greed."

Weiss' pardon was pushed for by Jeffrey Epstein's former lawyer, Alan Dershowitz, as well as Brett Tolman, a former US Attorney with close ties to the Aleph Institute -- an organization that was started by the Orthodox Jewish Chabad-Lubavitch movement which counts the president's son-in-law, Jared Kushner, as a member.

From Haaretz:

Another person [Trump] pardoned was Sholam Weiss, a Hasidic businessman from New York, who was sentenced to 845 years in prison in 2000 for masterminding one of the largest insurance fraud scams in history.

[...] Weiss, meanwhile, fled the United States while out on bail, averting authorities in Israel and other European and South American countries for a year prior to being arrested in Austria. International law enforcement officials were able to begin tracking him after discovering he was kicked out of a Brazilian hotel for a party with nearly a dozen prostitutes. Authorities originally focused on Brazil due to Sao Paulo's capacity to entertain his exorbitant lifestyle while also being home to a large Jewish community.


According to the New York Times, Weiss' case was put on Trumpís radar by lawyers Alan Dershowitz and Brett Tolman. Both Dershowitz and Tolman have close ties with the Trump White House and the Aleph Institute, a nonprofit affiliated with the Chabad Lubavitch Hasidic movement that played an outsized role in Trumpís earlier round of pardons and commutations.

Tolman is a former U.S. attorney from Utah who reportedly advised Jared Kushner on the Trump administration's criminal justice reform moves, and was specifically cited by the White House in the pardon of Charles Kushner, his father. Of the final clemency wave, Dershowitz lent his support to four of the pardons (including Weiss) and the Aleph Institute lent support to five of the pardons.
CNBC's episode of American Greed profiling Sholam Weiss portrayed him as a criminal mastermind with an insatiable desire for prostitutes and booze who "wore a black suit [and] a yarmulke every day and professed to be a very conservative hasidic Jew."




Weiss went to prison in 1994 for burning down his first business as part of an insurance scam. While serving his sentence, he asked for and received permission to spend four days at home with his family to observe Passover. Instead, Weiss flew to Donald Trump's casino in Atlantic City for a $70,000 gambling binge with a young female companion.

Weiss later went on to loot National Heritage Life Insurance Co. for $450 million in "the largest life insurance fraud in American history."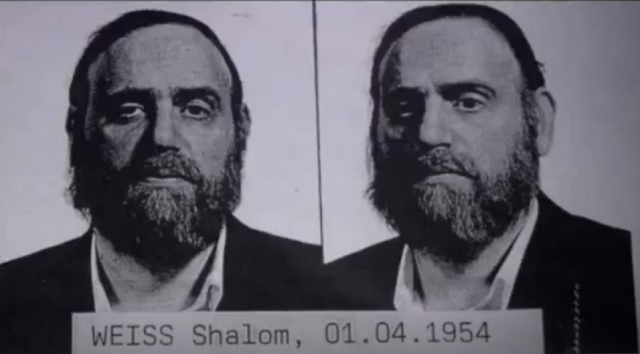 You can watch the full episode of American Greed on Weiss here.

"Mr. Weiss was convicted of racketeering, wire fraud, money laundering, and obstruction of justice, for which he has already served over 18 years and paid substantial restitution," Trump's White House said in a statement on his pardon. "He is 66 years old and suffers from chronic health conditions."

Weiss faked a heart attack after being captured by authorities in Austria to try and stop his extradition flight to America.

Trump declined to pardon Julian Assange, Edward Snowden or any of his own supporters who marched on the Capitol under his orders but he had no issue with pardoning "the largest life insurance fraudster in American history," the "king of medicare fraud," the "prince" of medicare fraud, a drug kingpin who was friends with Snoop Dogg, the Israeli handler of traitor Jonathan Pollard and a Ponzi schemer.

Follow InformationLiberation on Twitter, Facebook, Gab, Minds, Parler and Telegram.