Support For BLM 'Protests' Plummets: 44% Oppose Versus 39% Who Approve in New AP-NORC Poll
Chris Menahan
InformationLiberation
Sep. 24, 2020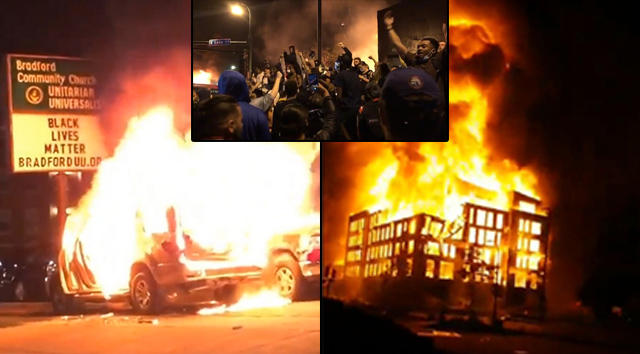 More Americans now disapprove of "protests against police violence" than approve after a dramatic 15 point swing over the last three months, a new AP-NORC poll found.

From The Associated Press, "AP-NORC poll: Support for racial injustice protests declines":

The poll from The Associated Press-NORC Center for Public Affairs Research finds that 44% of Americans disapprove of protests in response to police violence against Black Americans, while 39% approve. In June, 54% approved. The new survey was conducted Sept. 11-14, before Wednesday's announcement that a lone Louisville police officer would be charged in the Taylor case, but not for her actual death.

[...] Just 35% of white Americans approve of the protests now, while 50% disapprove. In June, 53% approved, while 34% disapproved.

Among Latinos, 31% approve, compared with 44% in June; 63% of Black Americans support the protests, down from 81%, with more now saying they neither approve nor disapprove.
AP-NORC chose to exclude Latinos from their chart to make it seem like this is just a Black vs White thing (note too how they've started capitalizing "Black" but refuse to capitalize "white").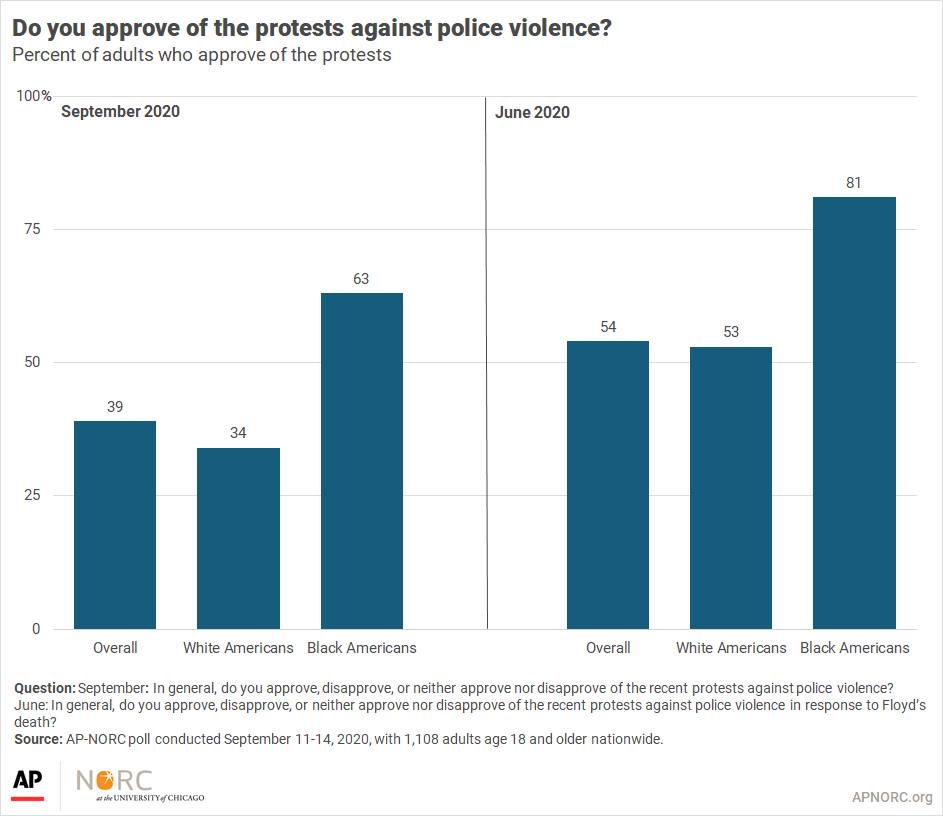 The media's decision to ramp up racial tensions based on phony victimization narratives is getting innocent people and cops killed but they quite simply don't care.

Among Republicans, 75% say they disapprove of the protests, up from 56% in June. Just 9% approve, down from 29% then. And more Republicans now describe protests as mostly or all violent, 52% vs. 36%. Among Democrats, 70% approve, and close to half describe them as mostly or all peaceful. Still, roughly as many describe them as a mix of both.

[...] Overall, Americans are less likely than they were in June to say deadly force is more commonly used against a Black person than a white person, 50% vs. 61%. And fewer now say that officers who cause injury or death on the job are treated too leniently by the justice system, 52% vs. 65%.
The poll was taken before the latest round of cops being shot by "mostly peaceful" protesters in Louisville but started started one day before two Los Angeles Sheriff's deputies were shot allegedly by a Black gunman on Sept 12, which hit the media mostly on Sept 13.

Regardless, the media claiming the riots and shooting of cops is "mostly peaceful" clearly isn't working.

Follow InformationLiberation on Twitter, Facebook and Gab.