60 Minutes Australia Shows How 'Former' Mossad Agents Worked to Shut Down Harvey Weinstein Story
Chris Menahan
InformationLiberation
Jan. 15, 2020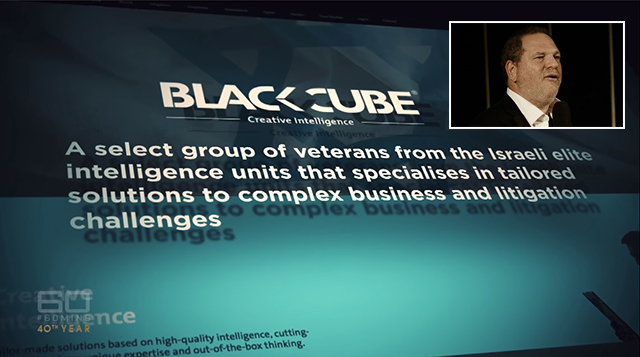 60 Minutes Australia released a short documentary Tuesday on YouTube showing how "former" Israeli Mossad agents worked on behalf of Hollywood mogul Harvey Weinstein to allegedly spy on and intimidate his accusers into silence.

WATCH:



Description:

In a major 60 MINUTES investigation, Liam Bartlett reveals an added level of Weinstein wickedness. To cover up his many crimes, the one-time Hollywood heavyweight had at his disposal a so-called "army of spies". These "agents" collected sensitive and embarrassing information about his victims, which was then used to discredit or shut them up. Among Weinstein's trusted allies was Australian Dylan Howard, who a few days ago went to court to try to stop his part in Bartlett's story being broadcast. Unfortunately for Howard, he failed.
The documentary first aired in 2018 but was only now shared online.

The part on Black Cube starts at 15:09.

Until his recent downfall, Harvey Weinstein was the undisputed top dog in all of Hollywood and was thanked during the Oscars more than God. Meryl Streep even called him "God."



As Ronan Farrow reported in 2017, Harvey Weinstein -- on former Israeli Prime Minister Ehud Barak's recommendation -- hired Black Cube, an Israeli firm comprised of "former" Mossad agents to take down his accusers.



Ex-NBC producer Rich McHugh, who worked together with Ronan Farrow to expose Weinstein, claimed Black Cube and agents of another intelligence firm hacked his phone, broke into his home and messed with his phone wires.


Roman Khaykin, who was hired as a subcontractor by Black Cube to shut down Ronan Farrow's investigation allegedly through hacking Farrow's phones and stalking his home, reportedly told his partner -- fellow private investigator Igor Ostrovskiy -- the reason he worked for Black Cube was because: "To me, this is like doing a mitzvah. I'm doing something good for Israel."





Harvey Weinstein was photographed partying at Princess Beatrice's 18th birthday bash at Windsor Castle in 2006 with Jeffrey Epstein and his alleged madam/handler Ghislaine Maxwell, both of whom have been of accused of being Israeli spies.

It's worth noting that Dylan Howard rushed out a widely-promoted book on Jeffrey Epstein after his arrest and alleged "suicide" in 2019 and did some solid reporting on the case.

Follow InformationLiberation on Twitter, Facebook, Gab and Minds.