Dems Angry Over Syria Pullout Storm Out Of WH Meeting After Trump Calls Pelosi A 'Third-Rate Politician'
Chris Menahan
InformationLiberation
Oct. 16, 2019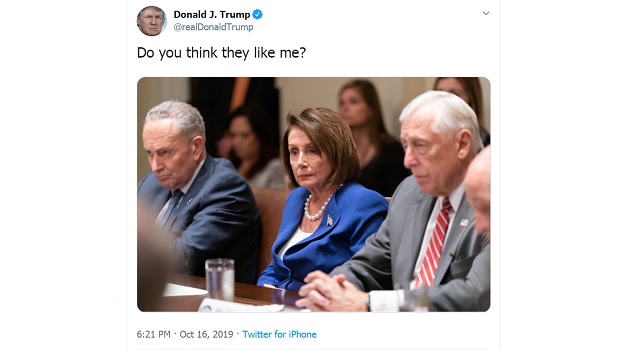 War-hungry Democrats furious over President Trump's decision to get our troops out of northern Syria stormed out of a meeting with Trump at the White House on Wednesday evening after Trump allegedly called Nancy Pelosi a "third-rate politician."





From the New York Post:

Speaker Nancy Pelosi and Sen. Chuck Schumer stormed out of a White House sitdown on Syria with President Trump after he called Pelosi " a third-rate politician" and a Communist sympathizer in what the House speaker termed "a meltdown."

"He was insulting, particularly to the speaker. She kept her cool completely. But he called her a third rate politician. He said that there are communists involved and you guys might like that," Schumer said.
"This was not a dialogue. It was sort of a diatribe, a nasty diatribe not focused on the facts, particularly the fact of how to curtail ISIS, a terrorist organization that aims to hurt the United States," he said.

Pelosi said Trump was shaken by an earlier House vote condemning his decision to pull troops from northern Syria.
A major faction of the Kurds are communists. That's what Trump was obviously talking about. He's absolutely right they support them -- as does antifa.




ISIS collapsed after Trump ordered the CIA to stop funding them and gave Putin the OK to wage total war on all their strongholds in Syria.

Based off the statements of Pelosi, Schumer and Hoyer, it seems like they're the ones who threw a fit.

Remember how Chuck Schumer was all smiles and literally cheered after exiting a meeting with Trump on Iran back on June 20 after Iran shot down a US drone?

Trump had allegedly approved strikes on Iran that day, though he backed out before giving the final go-ahead.


Our crooked establishment on both sides is absolutely furious Trump is actually moving to put America First and potentially exit their beloved forever war in Syria.

They're doing everything in their power to keep the US involved.


Lindsey Graham has been whining incessantly about how Trump's decision to pull some of our troops out may "become a nightmare for Israel."



Trump smacked Graham down during an epic press conference Wednesday afternoon:


Nothing unites our criminal establishment more than their lust for forever wars.

Watch Trump's full press conference:



Follow InformationLiberation on Twitter, Facebook, Gab and Minds.