Trump Ends Obama-Era CIA Program Which Armed ISIS-Aligned Terrorists In Syria
Chris Menahan
InformationLiberation
Jul. 19, 2017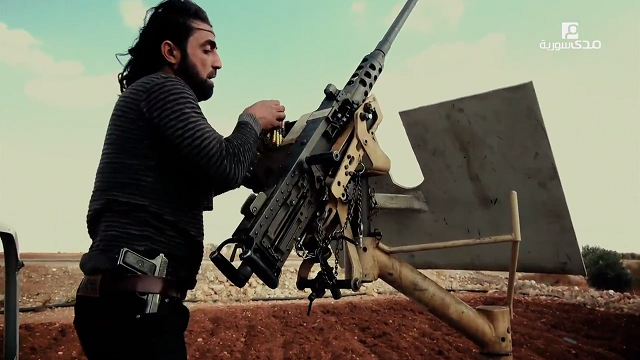 President Trump has ended Obama's CIA program which armed ISIS-aligned terrorists in Syria as part of a scheme to overthrow the government of Syrian President Bashar al-Assad.

The weapons regularly fell into ISIS's hands directly, and unquestionably advanced ISIS's aims in overthrowing Assad -- aims which Obama, Israel and the neocons controlling US foreign policy all shared.

From Reuters:

WASHINGTON (Reuters) - The Trump administration has decided to halt the CIA's covert program to equip and train certain rebel groups fighting the government of Syrian President Bashar al-Assad, two U.S. officials said, a move sought by Assad ally Russia.

The U.S. decision, said one of the officials, is part of an effort by the administration to improve relations with Russia, which along with Iranian-supported groups has largely succeeded in preserving Assad's government in the six-year-civil war.

The CIA program began in 2013 as part of efforts by the administration of then-President Barack Obama to overthrow Assad, but produced little success, said the officials, both of whom are familiar with the program and spoke on the condition of anonymity.

The Washington Post was first to report the program's suspension on Wednesday. White House spokeswoman Sarah Sanders declined to comment on the topic at the White House briefing.

The CIA also declined to comment.

The decision was made with National Security Adviser H.R. McMaster and CIA Director Mike Pompeo after they consulted with lower ranking officials and before Trump's July 7 meeting with Russian President Vladimir Putin at the G-20 summit in Germany. It was not part of U.S.-Russian negotiations on a ceasefire in southwestern Syria, the two officials said.

One of the officials said the United States was not making a major concession, given Assad's grip on power, although not on all of Syria, "but it's a signal to Putin that the administration wants to improve ties to Russia."
This is what I voted for. An end to the schizophrenic policy of arming ISIS-aligned rebel terrorists on the one hand, while ostensibly trying to fight ISIS terrorists on the other.

Predictably, the lying media is acting as though this foreign policy shift is more evidence of a Russkie conspiracy.
Trump is under intense scrutiny by Congress and a special counsel investigating Russian interference in the 2016 presidential election and whether Trump's campaign had ties to the activity. Russia has denied U.S. intelligence agencies' allegations of Moscow meddling, and Trump has denied collusion between his campaign and Russians.
This was the policy Trump advocated throughout his campaign.

Nonetheless, Reuters admitted this program was arming terrorists:
A downside of the CIA program, one of the officials said, is that some armed and trained rebels defected to Islamic State and other radical groups, and some members of the previous administration favored abandoning the program.
Unfortunately, they're still arming other rebel groups:

A separate effort by the U.S. military effort to train, arm and support other Syrian rebel groups with air strikes and other actions will continue, the officials said.
Still seems like a large step in the right direction.

Follow InformationLiberation on Twitter and Facebook.