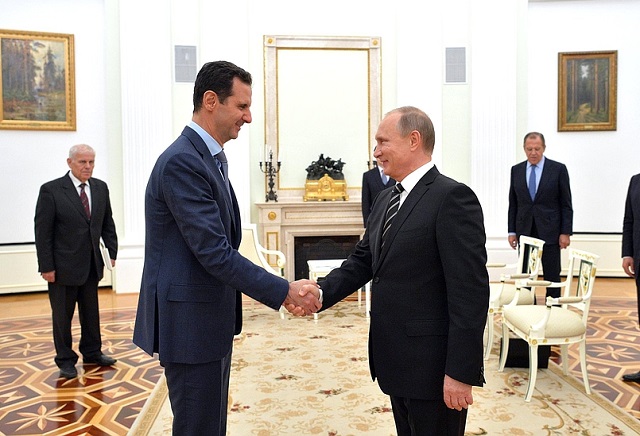 After Trump was elected, he had a private talk with Vladimir Putin. Hours later, Putin declared total war on ISIS in Syria.

Over the last two weeks, as the International Business Times reports, they've managed to "bomb their way to victory" in Aleppo.

From the IB Times, "How Bashar al-Assad and Vladimir Putin bombed their way to victory in rebel-held Aleppo":

Bashar al-Assad is poised to take back the whole of Aleppo from rebel forces after seizing key opposition neighbourhoods in the besieged east of the city. His army has split rebel-held territory in Syria's second city in half after a two week offensive backed by Russian air strikes.

As many as 10,000 civilians fled the east of the city, where some 250,000 still live among the ruins of what was once Syria's commercial and financial hub. The Syrian army captured the rebel-held area of al-Shakour just days after gaining control of two other districts, Jabal Badro and Hanano.

"The revolutionaries are fighting fiercely but the volume of bombardments and the intensity of the battles, the dead and the wounded, and the lack of hospitals, are all playing a role in the collapse of these frontlines," a member of Jabha Shamiya, one of the largest rebel groups, told Reuters.

Hours later, both Syrian state TV and the Syrian Observatory for Human Rights reported the entire district had fallen to Assad's forces. Russia's defence ministry said that Syrian government forces had taken back 40% of rebel held territory in Aleppo.
Here's a good run down of their military offensive from Al-Masdar News:



Predictably, Western agents are whining about "human rights" (which they didn't give a damn about when Hillary, Obama and Bush were destroying the Middle East).

The residents that remain in eastern Aleppo are not only under heavy military bombardment but are suffering a severe shortage of food, after UN access was cut off to rebel areas of the city on November 13. The head of the Syria Civil Defence -- known as the White Helmets -- told al-Jazeera on November 25 that inhabitants had just 10 days before they ran out of food completely.

Less than a week ago, United Nationals Emergency Relief Coordinator Stephen O'Brien said the humanitarian crisis in Syria was a source of shame for the entire world. "I am more or less at my wit's end," O'Brien said in New York, "shame on us all for not acting to stop the annihilation of eastern Aleppo and its people [...]."
This offensive is to save the people of Syria from the ISIS terrorists Hillary Clinton and Obama unleashed. As Donald Trump has said, there used to be a delicate power balance in the Middle East where strongman leaders created stability.



There is no turning the Middle East into a Western democracy, most of which are collapsing and moving towards strongman leaders themselves.

With Russia, Syria and the US under Donald Trump hopefully soon uniting to destroy ISIS and US-funded rebel groups armed by Hillary Clinton and Obama, it's just a matter of time before the entire nation of Syria is retaken.

Follow InformationLiberation on Twitter and Facebook.